No ethnic community is in Kenya by mistake, says Ruto
POLITICS
By DPPS | August 14th 2015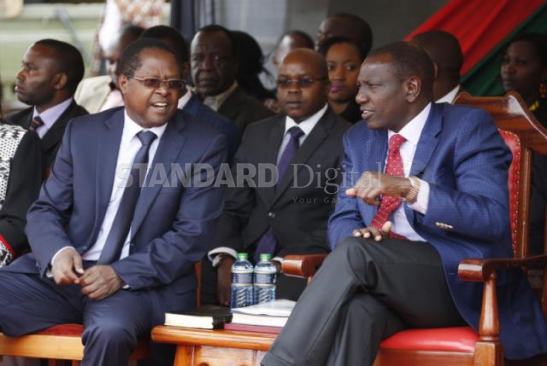 Deputy President William Ruto has called on all Kenyan communities to unite saying tribal or ethnic hegemony had no place in the present day Kenya.
Speaking in Embu today at the ongoing conference of the Full Gospel Church, Mt. Kenya south region, the Deputy President said Kenyans should aspire to eliminate tribalism and ethnicity and build a united, cohesive, progressive country.
"We want to bring all Kenyans together, there is no single community which is in the country by mistake, all of us are Kenyans by God's design," said Ruto.
He continued: "That is why it is our resolve and passion as government to eliminate tribalism, ethnicity and any form of discrimination in the country and build a united, cohesive and progressive country."
The DP noted that if it was not for their resolve to unite Kenyans as a people, it would not have been possible for President Kenyatta and himself to form a government because of the historical differences among some Kenyan communities that set them on a collision course every election time.
He said: "It was the will of God that enabled us to form a government, and we thank the church and other religious organizations for praying for us and this country to overcome that trying time in our country's history."
The Deputy President went on to say that the government recognized the complementarity of the church in national development noting that the church has been instrumental in the provision of social services including health, education, and in bringing peace in the country.
Mr. Ruto at the same time cautioned the church against allowing quacks in its ranks saying a law was recently passed to have all clerics registered to help in removing quacks form the church.
Said the DP, "The law has been passed to remove conmen and quacks from the church so that the church is not infiltrated by such people who earn the church bad name, those who want to plant seeds can ask for land where they can be facilitated to plant the seeds."
Senators Lenny Kivuti(Embu)Kithure Kindiki( Tharaka Nithi),MPs Muthomi Njuki(Chuka Igambangombe), Cicely Mbarire, urged Kenyans to pray for the leadership of this country to continue on the development path it has embarked on.