Stakes high as Siaya County voters pick governor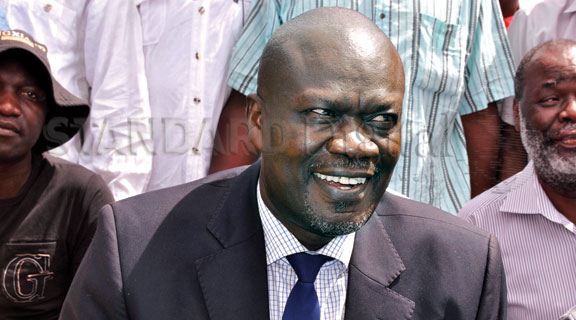 Former Governor Cornel Rasanga is the Orange Democratic Movement Siaya gubernatorial candidate.
By EVELYN KWAMBOKA and ISAIYA GWENGI
NYANZA; KENYA: All eyes will be on Siaya County as voters go to the polls to decide who will be their governor for the next four years.
This election is especially critical for the Orange Democratic Movement that had more gubernatorial seats than its political rival Jubilee Alliance before its candidate Cornel Rasanga's win was nullified by the High Court.
The two coalitions currently have 23 seats apiece.
And it's due to the high stakes in the by-election that CORD's big-wigs have camped in the area to rally support for Rasanga.
Rasanga is to face National Agenda Party of Kenya's William Oduol and independent candidate Noah Winja, who returned from Denmark to serve his people if he wins.
In the leadup to today's poll, CORD leaders have been on an all-out war calling on voters not to let down former Prime Minister Raila Odinga who comes the area.
Oduol and Winja on the hand have also been traversing the County drumming up support for their bids.
Meanwhile, police indicted that security has been beefed up for today's gubernatorial by-election.
1330 officers
Siaya Returning Officer Jackline Osiemo told The Standard that a total 1330 police officers will be manning polling stations in the entire county, with each centre expected to have two officers.
"Ballot materials have also been dispatched in the company of to security officers, presiding and deputy presiding officers," she said.
Siaya County has six constituencies – Gem, Bondo, Rarieda, Ugenya, Alego, Ugunja and Rarieda – with a total of 312,441 voters. According to IEBC records, 311,919 are biometric voters while the remaining 522 are not. The 522 not registered using the biometric machine will be allowed to vote.
Alego Usonga has the biggest number of polling stations (151) followed by Bondo (123). Gem (122), Rarieda (107),Ugenya (83) and Ugunja (79).
She added that a total of eight boats had been hired to transport the materials to islands in Bondo and Rarieda constituencies. Some of the islands include Mageta, Hama, Siro, Oyamo, Ndeda, Magare, Wayasi and Lolwe.
"Since voting will end at 5pm, most of the presiding officers on the islands will not be able to travel back to Siaya town to relay results due to tides in Lake Victoria," she said.
The officers will be required to send the results on phone then bring the signed forms in the morning, adding they expect most of the provisional results to have been relayed to the tallying centre by 7pm.
CORNEL RASANGA (ODM)
Former Governor Cornel Rasanga is the Orange Democratic Movement Siaya gubernatorial candidate.
The 56-year-old lost the seat following a successful petition by rival, William Oduol.
Rasanga, who is a procurement specialist cum lawyer, has served in several public and private organisations both local and international organisations. He holds a Bachelor of Arts (Economics) and Bachelor of Laws degrees from the University of Nairobi. He is currently pursuing a masters degree in Public Finance and Procurement at the same university.
WILLIAM ODUOL (NAP)
William Oduol currently serves as a Chief Executive Officer in a multinational company.
Born 40 years ago and brought up in Siaya County's rural area of Alego, Oduol went to Hawinga Primary School and afterwards Usenge High School. He later joined Strathmore where he graduated as Certified Public Accountant and a Certified Public Secretary.
Oduol holds a Master of Business Administration (MBA) degree in Strategic Management from United States International University (USIU) and has worked as the general manager at Coca Cola Africa as well as a sales manager at Safaricom.
DR NOAH MIGUDO WINJA
(INDEPENDENT)
Mr Noah Winja will be vying for seat as an independent candidate.
The lawyer cum medic, who went into exile after the 1982 coup, lived and worked in Southern Africa and Denmark before returning to the country in 2002. He holds a masters in medicine and another in law.
He has held various positions in both the public and private sectors, representing clients who range from marginalised communities in South America to major companies in Europe.
He also worked in Namibia and South Africa during the freedom struggles.
10 Signs That Your Marriage Is Doomed
The divorce rate has sky-rocketed over the past few years: as a matter of fact, some studies have revealed that most of the time, women are the ones who take the first step and file the divorce papers, when they feel like their marriage has become a burden.