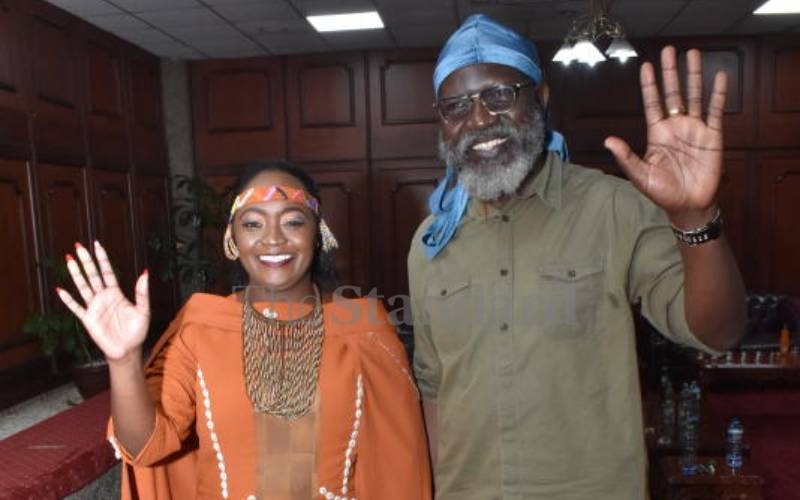 Roots Party presidential candidate George Wajackoyah was reportedly filmed in a Kisumu nightclub (yes, he often campaigns at night, in such venues). But he was campaigning not for himself, but for the Azimio candidate Raila Odinga.
I don't know what had taken him to Kisumu, since that region isn't renowned for the two elements that underpin his manifesto: tracts of land under marijuana cultivation, or forests of hyenas, whose testes he hopes to export to China. Or venomous snakes. The only snake he would find there is the famous Omieri, which has deep spiritual significance for the lakeside community.
But Wajackoyah, whose ratings tipped at 5 per cent, before plummeting to 2 per cent, has some lucid explanation for the rumours swirling about his impending defection to Azimio. As a former spy himself, he says, he is aware of the efforts to spy on him, so he deliberately threw those spying on him off the spoor.
I don't know if his running mate Justina Wamae has similar antics, but she appeared quite upset that their party's colourful run was about to end. She suggested she might back a different candidate.
I admire the democratic culture that's taking root in their party. They are able to differ, even publicly, without the sort of histrionics that punctuate falling out in other camps. That's not to say Roots party is immune to chicanery that defines our politics.
I think the solid explanation that would have earned Wajackoyah even more supporters was to concoct an explanation that he had gotten his election dates wrong and smoked a bit of bangi in pre-election celebration.
For those who have forgotten, Wajackoyah has said he'll puff a little something to celebrate his election as president, even though he's still polling at 2 per cent. One could say 2 per cent is a lot for a fringe candidate, one who is aiming to get very high.