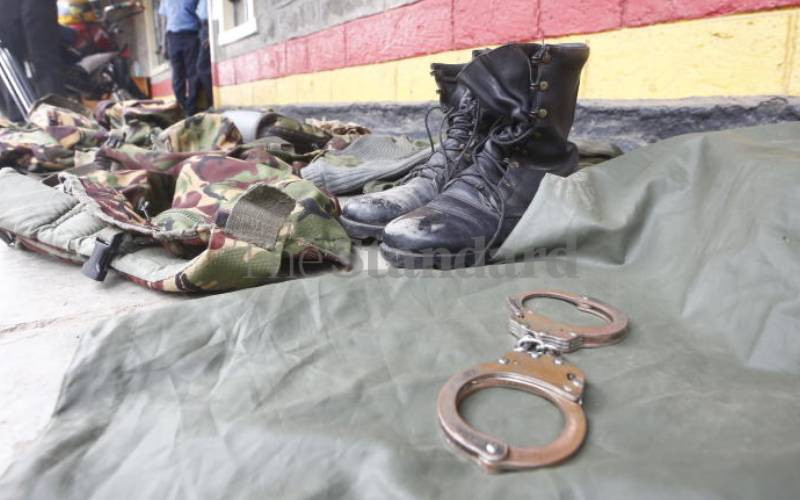 Five traffic police officers are reportedly on the run after they were busted by Ethics and Anti-Corruption Commission sleuths who espied on them receiving bribes in Kangaru, Embu.
When accosted, the officers fled on foot, leaving their official vehicle, where a stash of some Sh20,000 was found. The five included their boss, an officer at the rank of inspector. They were also armed.
I can imagine them converging at a nyama choma joint where they regularly sit to stuff their bellies with ill-gotten wealth, but also to review their daily collection and how it's to be divided.
But on this day, they meet to review their losses - loss of official car, lost earnings and potentially their jobs. They all arrive at different intervals each having taken a different path. They arrive surreptitiously, unsure if their assailants could be lurking in the vicinity.
When all five are assembled, and in spite of everything, they burst out laughing. They are laughing at how they look. Two have lost their hats, boots are covered in red soil and tufts of blackjack cling to their pants.
"I didn't know any of you could run that fast," the inspector enthuses, making light of their circumstances, "you should have tried athletics instead of this work."
They all laugh some more, before the female officer calls them to order. "Nyinyi watu," she warns, "You still laugh even at a time like this?" Her comment elicits even more laughter. She has lost her hat and looks like she just escaped a lynching.
The inspector appeals for calm. "Madam has a point," he says, trying to assert his authority. "We have a serious matter to deal with…"
There is agreement among the five that things are elephant. Since the life of a police officer starts and ends at the Occurrence Book (OB), they have to think of a statement that will cover their tracks and somewhat account for the vehicle they left behind. There is also the question of Sh20,000 loot in Sh50 bills.
Over the next hour, they deliberate how to craft the statement. It is agreed the person with the hardest task is the officer who was driving. The other four can somehow extricate themselves. "After all," the inspector offers, "it's their word against ours."
The question of the money in the vehicle is quickly dispensed with; one of them will claim to have been recently bereaved and was fundraising.
After their deliberations, the driver crafts the following statement: "On June 20, 2022, at Kangaru location of Embu County, at 0800 hours or thereabout, I was deployed to the Embu-Meru Road.
"I was accompanied by Inspector X and officers W, Y and Z. The vehicle had run out of fuel. I was answering a call of nature in a nearby bush when I heard a certain rustle in the bush. Before I could say Shembeteng, I turned and saw someone or something dash towards me. I instantly knew this person or animal was intent on attacking me, perhaps to cut off my organ.
"I wailed, which attracted the attention of my colleagues, who were manning the road. They ran towards me but when they saw the assailants, who we couldn't discern if they were animal or human, my colleagues also took off, running deeper into the bush. Although we were armed, no shot was fired because we are diligent officers.
"By the time we emerged from the bush, we had walked a considerable distance and couldn't remember where we had parked. We understand our official vehicle was delivered to the station, so it's not fuelled and ready to go. We regret for fleeing into the forest and ruining our boots with red soil and blackjack on our pants. We shall not repeat this mistake."