Baba unveils 'mandazinomics' to pull minions out of mass poverty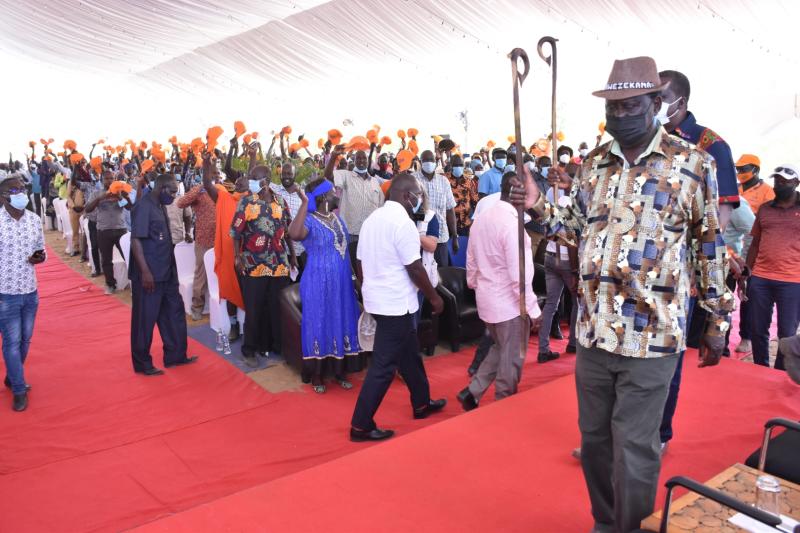 It struck me as odd for 'opposition' leader Raila Odinga to hit the campaign trail before declaring his candidature for any seat in the forthcoming General Election, but I assumed wanderlust is a legitimate response for those suffering from cabin fever, after nearly two years indoors.
So, the man better known as Baba returned, to use a clichéd expression, to his 'stomping grounds' of Kamukunji grounds, the epicentre of the push for multiparty politics 30 years ago.
For those uninitiated to the nation's recent history, Kamukunji was a no-go zone as proponents of multipartyism defied authorities barring unlicensed meetings, even though freedom of assembly was, and still is, enshrined in the Constitution.
I do not recall anything dramatic about Baba being at the Kamukunji riots of 1991—same way he was captured cowering under a seat in the resultant 1995 skirmishes in Thika, when party supporters went on the rampage, forcing police to issue tear-gas to disperse them.
But I digress. The Baba I saw in Kamukunji this week was energised, declaring that the cockerel of city politics had returned with a might crow. And since Baba is given to mixing metaphors and inventing new ones—same way he introduced crocodiles to the biblical wilderness enroute to Canaan—he claimed the rooster had crowed three times to signal a new dawn.
Actually, the rooster crowed three times to signal Jesus' betrayal by Peter, his most ardent disciple, but given recent political developments in our land, perhaps Baba knows a thing or two about betrayal.
But he was back to Kamukunji, he said, to redeem millions of Kenyans from the shackles of poverty. That narrative isn't entirely new, and neither is his vision of a welfare state. What's new is that Baba announced if he comes to power next August, he'd disburse Sh6,000 to every household without an income.
That's what Kenyans call pesa pap! But as always, the devil is in the detail. Baba's economic stimulus package wouldn't come from a special tax on the rich, for instance, especially those stealing Sh1 billion daily from the national coffers.
Instead, Baba said, he would fund his economic recovery plan by cutting down on expenses in government ministries by outlawing junkets abroad, and the chai and mandazi budgets in the office.
Nusu-mkate government
In his previous life, when Baba shared in that legendary nusu-mkate government, his office hosted the Efficiency Monitoring Unit whose mandate was to scrutinise the efficiency of government ministries.
To his credit, quite a few corruption networks were exposed and some technocrats were sent to jail. But that's a long time ago, as Baba must know. In his other life as former 'opposition' leader, he complained that the Jubilee administration was engaged in a vice he called 'over-thieving'.
And therein lies what Kenyans call kizungumkuti. Indeed, the word is a tangle, like the roots of hyacinth on the floor of Lake Victoria. The weed hampers movement of fishing vessels and deprives the fishes of oxygen.
And getting a ndazi from the mouth of a hungry civil servant will be as difficult. Perhaps the office worker will forfeit her job and wait to receive Baba's Sh6,000 mandazi at home.