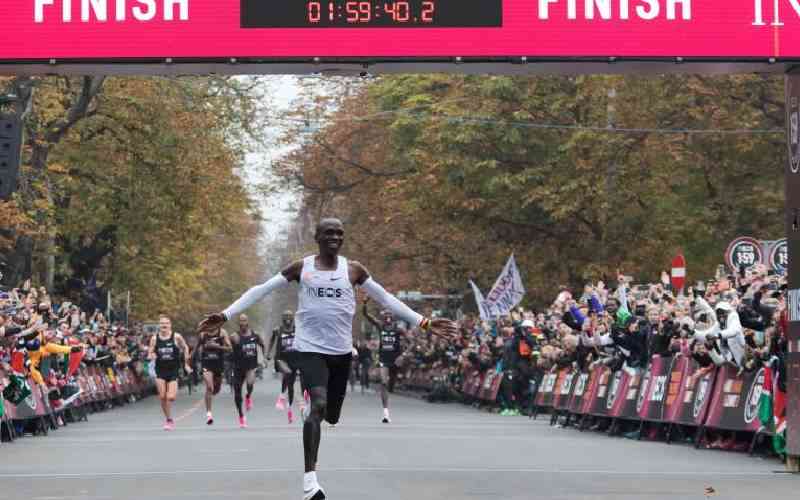 It's an interesting statistic. President Uhuru Kenyatta assumed office as the fourth head of state on April 13, 2013 and a month later Athletics Kenya (AK) conducted its elections.
Since then AK have not gone to polls and Uhuru will leave them in office. It's still unclear as to when the federation will hold elections.
Accidents
Deaths and misfortunes conspired to taint the last decade of Kenyan athletics. It has been a difficult moment for the athletics fraternity as a myriad of problems kept sweeping across Kenya's favourite sport.
Last year alone, a horrifying trend emerged. Four top athletes died in mysterious circumstances –three of them faced with incidents of mental anguish just within a week.
The global athletics stage woke up to horrifying news that women-only world 10km record holder Agnes Jebet Tirop had been brutally murdered in their home in Iten.
Just before the dust settled, another incident stole the headlines.
Edith Muthoni, 27, was murdered the following day by her husband. Muthoni, the athlete who competed in local races, died of injuries after a fight with her lover Kennedy Kamau in Kirinyaga. It was painful moments given that former Africa junior silver medalist Hosea Mwok Macharinyang committed suicide that week at his home in Murkwijit village in West Pokot. The trend seemed to escalate because deaths of athletes are always attributed to suicide, family conflicts, alcoholism and drug abuse.
They continue to go unchecked and the tragedies boils down to issues of mental health.
Doping
Doping menace has reared its ugly head in the last ten years. So far, more than 200 Kenyan athletes have been banned for violating anti-doping regulations. A majority of them were banned for not updating their whereabouts. The 2020 athletics season went down in history as the year that most Kenyan stars failed to update their whereabouts, missed tests and ended up getting suspended and even handed bans.
This year, 20 athletes have been banned. It was shameful some athletes were dropped just hours away from their races at the World Athletics Championships in Oregon, USA, last month and the ongoing Commonwealth Games in Birmingham, UK.
Leaving Kenya
It's during Uhuru's term that Kenya witnessed the highest number of athletes switching nationalities to other countries. At the World Championships in Oregon, there were more than 40 former Kenyans representing USA, Turkey, Bahrain, Kazakhstan, Belgium, Israel, Qatar and others.
The world beating stars then attributed their change of citizenship to lack of compensatory remuneration from the Government. For example, Norah Jeruto who changed her citizenship to Kazakhstan and won gold in 3,000m steeplechase at the World Championships in Oregon was rewarded with Sh30 million and other bonuses. Kenyan gold medalist earn Sh1 million. The same script reads for Ruth Jebet, who changed her citizenship to Bahrain.
The scandals
The Uhuru regime was rocked by a fair share of sports scandals. The 2016 Rio Olympic Games scandal, queries surrounding the 2021 Tokyo Olympic Games and the just concluded World Athletics Championships in Oregon, where claims of joyriders included in the team, are cases in point.
Former Sports Cabinet Secretary Hassan Wario was prosecuted for the Rio Olympic scandal, found guilty of abuse of office charges. He was fined the sum of shillings 3.6 million failure to which he'd spent 6 years in prison. He paid and was released.
Global victories
Despite such shortcomings, Uhuru's ten-year term will remain in history as the moment Kenya staged historic global athletics competitions. They include 2017 World Under 18 Championships, 2021 World Under 20 Championships and the Kip Keino Classic, the World Athletics Continental Tour event. The administration also started the Uhuru Classic Marathon, which now stands out as Africa's highest paying marathon. Winners receive Sh6 million.
It's during this regime that crucial legistations were enacted to streamline sports operations. They include Sports Act 2013 and the Anti-Doping Act 2020.