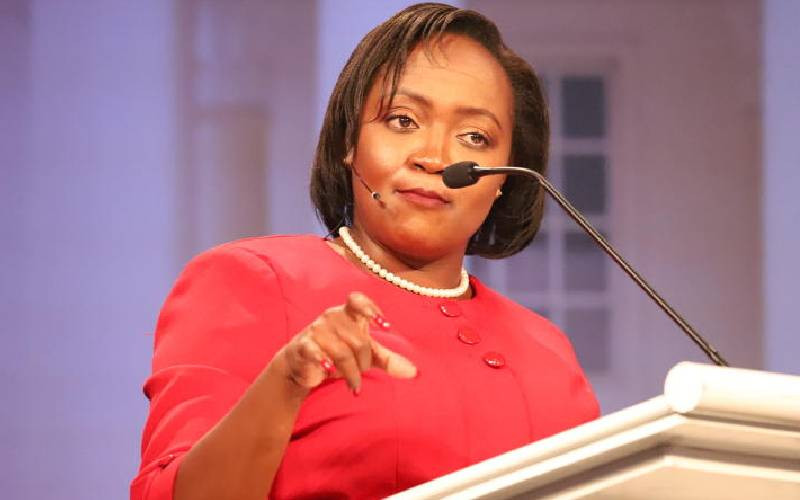 For a predominately religious country, the Roots Party manifesto is anchored on religious teachings which vouch for self-reliance and national pride.
In the Biblical book of Deuteronomy 15:6, for instance, God promises to bless our nation, as he has promised: "You will lend money to many nations, but you will not have to borrow from any; you will have control over many nations, but no nation will have control over you." It is is very spirit amplified in our national anthem, when we say "Kenya Istahili Heshima."
To begin to reclaim this respect, the country's youth must be placed at the centre of focus, including leadership. The opportunity presented to me by my party has brought to the fore the untapped potential that the Kenyan youth and women possess. As a party, we have laid on the table all our plans to emancipate the youth from the yoke of poverty and hopelessness.
We have declared, at a very practical level, that our organising principle is an economic upswing fueled by what we have around us. The idle land, the natural resources, our energy as the most productive segment of the population, our brain power.
There is so much rural to urban migration due to high cost of farm inputs and minimum returns which makes agriculture less lucrative. Declining global prices can be blamed for this. Hence why we settled on industrial hemp, trading at Sh159,000 per kg in the global market.
When we say that we shall revive Panpaper which was mainly shut down due to lack of raw materials - trees - due to the logging law that came into place in 2018, it is achievable since we shall use industrial hemp as a raw material, which is environmentally sustainable without destroying our forest cover. The revival of this translates to the need for labour thereby tackling the inherent unemployment bedeviling us as a country.
Similarly, high cost of animal feed has caused the dairy and poultry sectors to decline. Industrial hemp, being multipurpose, can be used to make affordable animal and chicken feed to boost the two sectors. So, when we promise the school going children of Kenya Maziwa Ya Roots and Mayai Ya Roots, we are not lying to the future of this country since the programme will be easily sustainable.
Snake and snail farming are already being done in Kenya. However, it has not gained traction. Our role is to give Kenyans an alternative revenue stream as we explore creativity in investment. This lack of creativity was noted by Bitange Ndemo as the reason why businesses fail in Kenya.
Hyena meat is now a delicacy in Somalia, Morocco and Saudi Arabia. In China, hyena skins and body parts are used as traditional medicine. However, there are concerns that they will be extinct. The process we shall use is the culling the weak ones which cannot compete for food in the forest and instead terrorise wananchi as recently seen in Roromo in Limuru. To control this human wildlife conflict, we will cull out the weak ones and make money as a country instead of them killing each other or being killed by humans which has no economic benefit to the country.
The above are just a few examples of alternative revenue streams that are not only creative but sustainable that both women and youth can engage in. Women in Kenya need to be actively involved in the development agenda. Sadly, the Kenyan woman remains vulnerable. A population situation analysis by UNFPA in 2020 showed that 18 in every 100 girls aged between 15-19 years become pregnant in Kenya.
This situation can be blamed on lack of financial independence among women who are mothers, which translates to mothers not being able to provide secondary needs for their daughters. Due to these economic pressures, teenage girls may end up practicing sex to get financial favours. Similarly, due to lack of financial muscle, women in politics may end up trading sex for nominations and opportunities. This will in turn lead to the deterioration of society's moral fibre. At the workplace, women are forced to yield to their male bosses' advances for career growth. This negative impact on society can only be curbed by financially empowering the women of Kenya.
We also appeal to every Kenyan man who is a father, grandfather, uncle, brother, or husband to allocate at least one percent of land they own to women. Further to this, we pledge as a party is to support small and medium sized enterprises (SMEs) through the provision of affordable credit; increasing the resilience of the manufacturing sector by ensuring long-term policy stability and improving the ease of doing business.
We will develop regional value chains to minimise exposure from external shocks such as the current shortage of US dollars, which constraints the local money markets. Our solution to this is availing liquidity in the market which is critical to allow businesses to focus on their core activities of cost-efficient production and avoid panic buying. With these interventions in place, we shall be able to achieve a 24-hour economy in eight hours shifts in four working days which is in our agenda.
Roots Party intends to suspend parts of the Constitution that are not working. For instance, Chapter 11 provides that counties are entitled to least 15 per cent of the total national revenue collected. Many counties feel the budgetary allocations need to be increased, and that the central government is reluctant to do this.
The national government does not have the funds for this hence our approach that counties organise themselves along the former eight provinces and in caucuses which most of them have formed. Though this, they will collect revenue in their regions and appropriate accordingly. They will then only remit 10 per cent to Roots Party national government for purposes of instrumentation and administrative costs. The positive impact is that county governments will fully run their projects and service delivery, pay their suppliers in good time as well as increase salaries of medical staff and other county staff, which is a function of devolution.
Roots Party will run a profitable government that is innovative in getting alternative sources of funding government projects away from increasing taxes and burdening Kenyans further with debt, which will be repaid at high interest rates. It is such measures that account for the high cost of living.
The justification for this is that in 2021, China alienated 164,819 acres for hemp and the sales were US$1.2 billion. Going by China's figures, if Kenya alienates the Kulalu Galana, the one million-acre project will earn US$6 million in four months, which is five times more of what China earned in 2021 from legalization of industrial hemp. This means that when we in Roots Party say that we shall increase salaries of teachers, doctors, civil servants, the police and other staff employed by the National government by 300 per cent in phases across the sectors, we are speaking the truth.
The health sector is driven by the medical staff who for a very long time have been pushing for a Health Service Commission. Our doctors deserve their own employer, which will be similar to the Teachers Service Commission and the Judicial Service Commission.
Roots Care will be a free health care for pregnant mothers, the old and vulnerable who are also entitled to a monthly stipend that will be used make them comfortable. This stipend will be readily available because Roots Party will get the money from the sale of industrial hemp and actively exploiting of idle public land as a factor of production.
The programme will focus on good nutrition, through promoting organic farming and food and also ban importation of HFCS (High Fructose Corn Syrup) which is also found in the ugali we consume mostly. This will result in curbing and reducing cancers and metabolic ailments such as high blood pressure and diabetes.
We have proposed to move the capital to Isiolo in order to create significant social and economic improvements for the northern Kenya region. Additionally, Nairobi as of now is at a point of diminishing returns as it is congested and polluted and proportionally smaller profits are derived as more money is invested in it: the upside of this is that devolution which is in our agenda will facilitate urban to rural migration hence making this transition easily achievable. In this regard the issue of many Kenyans who live in informal settlements with no access to water, electricity and sanitation will be a thing of the past. Consequently, opening the Northern Frontier will create other revenue streams such as tourism, direct link to the LAPPSET projects, increase in price of land, opportunity for long distance matatu services as Kenyans explore the untouched fortunes of the Northern frontier.
Education is also at the heart of Roots Party agenda given that our presidential candidate and I are professionals who are committed to give prominence to our Competency Based Curriculum that is both well written and well thought out. This can be achieved by successfully facilitating transition of CBC to virtual platforms as a counter to global shocks such as Covid-19, which saw the academic calendar disrupted and schools closed down. The aforementioned strategy aims at making the process, the procedure and systems easier for parents who want to home school their children. In the long run, these interventions will yield in internationalisation of our CBC, which will be offered outside Kenya like most global curricula such as IB, various variations of the British National Curriculum and various variations of the American Curricula.
In conclusion, I wish to submit that our manifesto is well thought out and we hope to consolidate the over 22 million votes from Kenyans who are bearing the pain of the harsh economic times irrespective of tribe.
To ensure Kenya does not go the Sri Lanka ways, we must move away from tribal politics and embrace leaders who have interests of Kenyans at heart. I believe the Roots Party of Kenya presidential and running mate candidates have inspired Kenyans who had planned to vote for our competitors, the undecided and even those who had vowed not to vote to willingly vote for a solution-based ticket which is Prof George Wajackoyah and Justina Wamae.
We are brave enough to shake the status quo as specified in our party slogan 'Shake the tree or 'Tingiza Mti.' This submission, my fellow Kenya is The Why Roots Party is good for county.
The writer is a Roots Party presidential running mate; [email protected]; @justinawamae