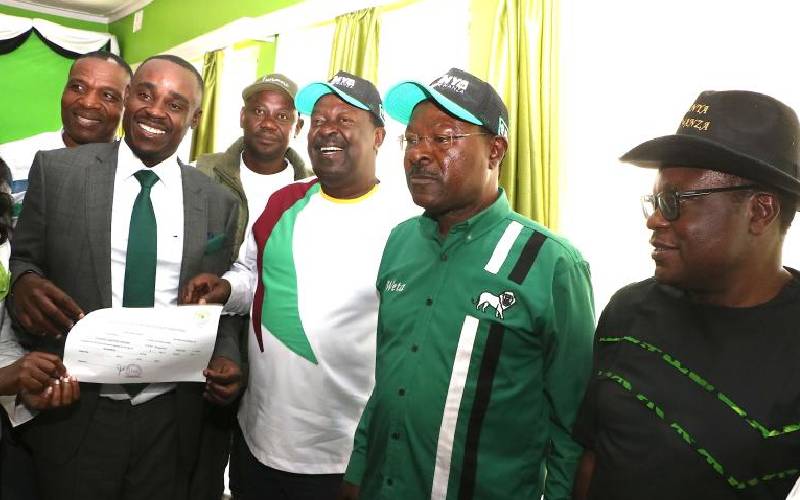 Western Kenya voters are increasingly curious of the 30 per cent share of government offered by the Kenya Kwanza alliance. From the history of political appointments, voters understand that a cabinet position does not immediately change fortunes of a community in delivering socio-economic rights.
Yet, Kenya Kwanza's commitment is a tangible, political and policy offer the Luhya community can rely on thanks to the coalition agreement signed and filed with the registrar of political parties.
The agreement speaks to composition of government beyond the cabinet and senior management of ministries, departments, and agencies. To the electorate, therefore, this offer must be looked at keenly.
Currently, the Luhya community comprises 23,863 civil servants at 11.3 per cent, plus 15,135 parastatal workers at 15.02 per cent. A 30 per-cent stake in government would mean an additional 39,490 jobs in the civil service and 15, 095 jobs in parastatals. How could two political positions that would only benefit the households of the said politicians be compared to the 94,000 households that would be directly benefiting from inclusion into the Kenya Kwanza administration?
The position of prime cabinet secretary ala non-executive prime minister would simply be the icing on the cake in terms of ensuring that development reaches the region empower the Luhya community.
Kenya Kwanza has therefore committed itself in writing to ensure the upward mobility of the Luhya nation thereby improving its capacity to rise into a higher social or economic position.
Such is the politics that is tapping into the imagination of the Western Kenya chapter of the Hustler nation because it speaks directly as to how movement of individuals and their families will take place within society.
Essentially, the mechanism of government, the wheels and cogs of power, will be firmly entrenched in the region beyond simply relying on the principals.
This glaringly contrasts with the outdated Azimio notion that offering to simply select two individuals at the beck and call of their master will quench the political or developmental desires of a region.
In assessing the Azimio promise that two appointees are enough to carry the community to Canaan, the Western electorate cannot run away from the consistent sense of déjà vu in relation to a tendency towards political falsehoods, and betrayals.
Prevailing challenges related to poverty, income or expenditure inequalities, access to education, and employment cannot be solved by two individual appointees.
The same goes for issues such as improved housing, access to water, upgraded sanitation, better sources of lighting, advanced cooking fuel and energy transition. This goes to show that Kenya Kwanza is right to present the issues as a matter of government composition as opposed to government appointments.
The writer comments on national issues. [email protected]​