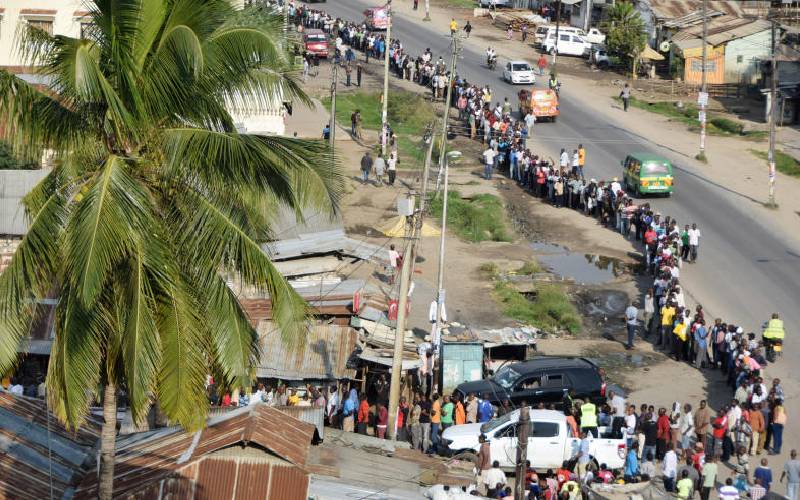 This year's elections bear telltale signs of a revolution, albeit mild. A case in point is the shift of affiliation in what were hitherto secure voting blocs for ethnic chieftains.
Big money appears to have had little sway in some constituencies as big shots tumbled in nominations. Grassroots voices are expressing strong displeasure on imposition of candidates especially at the county. Initially prejudiced to vote uniformly for all candidates of the same party regardless of credentials (six-piece), some voters are promising to defy that twisted logic.
Thus, we might witness a high number of independents elected. Such cases may be few. That will revolutionise how local government is constituted and managed.
The nature and operations of county governments will be a game-changer. The essence of devolution was empowerment.
Sadly, the political class hijacked the gift the 2010 Constitution gave the common man. The political class raided Wanjiku's purse and delivered air, if media accounts of corruption at the devolved units, and the sorry state of development, are anything to go by.
Meanwhile, Wanjiku was reduced into a mere voting machine. Humiliated and forced to begging "serikali saidia."
Yet, it shouldn't be like this. The construct of the local government meant a theatre for Wanjiku to make sense of issues and direct own development. Wanjiku knows where it pinches. This could be feeder roads, health care, market structures, water, and or security. Honchos at the party headquarters are normally clueless of grassroots dynamics. That's why there is a wind of change.
In other jurisdictions, citizens take local governance seriously. They hold town hall meetings or surgeries, as is the case in Britain. They hold leaders to account. That model augments representation and spurs growth.
In his book, Democracy in America, French political philosopher, Alexis de Tocqueville saw the power of local government firsthand as critical for democracy, liberties and distribution of opportunities and wealth. "Local assemblies of citizens constitute the strength of free nations," Tocqueville writes.
America has 87,576 local units, 3,034 counties, 19,429 municipalities and 16,504 townships. That's elaborate and nuanced. Such network creates a platform for civic participation. Kenya's 47 counties and about 295 sub-counties with 1,450 civic wards to boot, should attract citizen's passionate engagement on civic issues.
Kenyans should learn that they are in charge of their fate, which is participatory development. But this is not to say folks at the grassroots will always have a solid grasp of issues and attend to them objectively. As Tocqueville observed, local government could be "instinctive, blind, full of prejudices, devoid of rules."
This challenge, which is traceable even in our system, can be fixed. It requires robust civic education. The population needs empowerment to engage meaningfully. Therefore, there's a strong case for rigorous civic education to tailor active civic-conscious populations. Such population for instance, should be primed for deliberative democracy especially by holding town hall meetings with the county executives and elected leaders.
A culture of participatory local debates will help voters refine their needs, build confidence and gain insight and perspective. This framework will activate the ultimate sphere of influence that will hold leaders accountable and procure service delivery to the people.
The writer is a communications consultant. [email protected] Twitter: @manjis