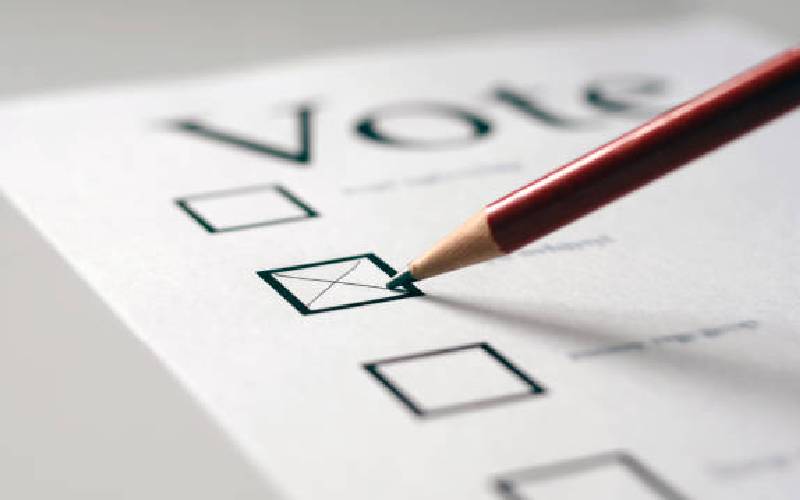 A lot supports the eventual vindication of Internal Security CS Fred Matiang'i. While addressing Anglican Church clergy last month, he fretted that if Kenyans dropped their collective guard, they will facilitate criminals into powerful elective offices - as many as 40 per cent – through the August 9 election.
Indeed, it's probable we could end up with a bandit-controlled bicameral Parliament. Verbose politicians reinforce this fear whenever they refer to each other as "thief" without fear of being subpoenaed for libel.
The altruistic among us urge other Kenyans to be careful in the choices they make for, as Johnny Carson, US Assistant Secretary of State once said, "Choices have consequences". None suffers the pain of poor choices than the ordinary Kenyan.
Yet making bad choices is our forte. Every five-year electoral cycle, we repeat mistakes we previously made, which raises the question; should voters bear blame for the poor choices when the options presented are tainted?
Citizens are hemmed in by the government, the Judiciary and the legislature, both of which exist for the good of citizens but have become tormentors. Government policies and intransigence give politicians the lever with which to unfairly manipulate voters. At independence, poverty, illiteracy and diseases were singled out as our greatest enemies. But rather than fight them, State mandarins discovered the only way to exact subservience from citizens is to keep them in fear, poverty and constant need. That has since become our governance modus operandi.
Conspicuously missing are modalities for eradicating poverty. Successive government policies serve to squeeze every coin out of struggling citizens through excessive taxation that ends up driving commodity prices through the roof while remuneration for workers either remains constant or takes a dunk amid soaring unemployment. Politicians know this too well and milk the situation to their advantage. Thus, the highest bidder, irrespective of character, carries the day. The tragedy is that the highest bidder could give a voter a mere Sh200.
Often, we end up electing corrupt leaders because the electoral agency, NCIC, EACC, DPP and the Judiciary have failed Kenyans. Rivalry and mistrust between EACC and DPP gives the corrupt latitude to operate. Inordinate delays at the Judiciary in clearing cases cannot put the corrupt on short leashes.
Today, there are individuals seeking elective office who have graft cases in court. Either evidence, or some documents are missing, or a judge has been compromised to give unnecessary injunctions or postponements just to buy the accused time. When such individuals thwart the law because a bad precedent was set that allows them to contest, what chances do voters have of remedying the situation?
If voters have a choice of three or more corrupt individuals on the ballot, they end up electing one. Speedy processing of corruption cases and yanking criminals out of our midst will go a long way in ensuring only the upright are available for elective offices. As American philanthropist Ross Perot once opined, "If you see a snake, just kill it. Don't appoint a committee on snakes".
-Mr Chagema is a sub editor at The Standard. [email protected]​