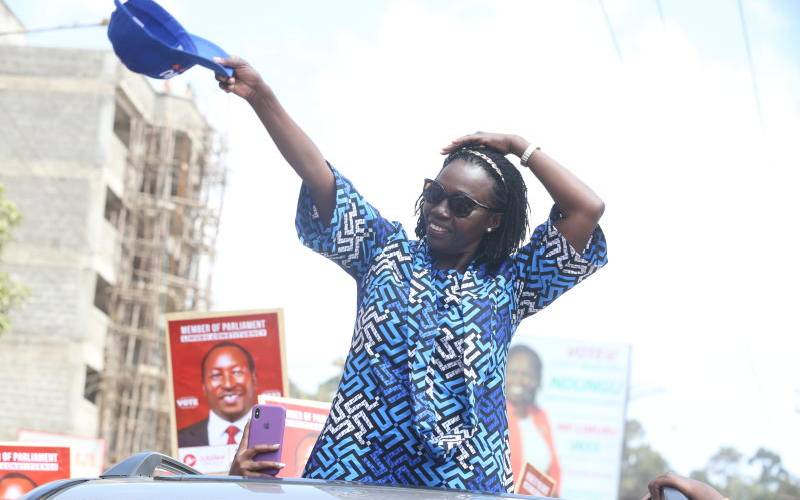 From the sublime to the ridiculous is but a step - Napoleon Bonaparte
Life is unpredictable and so is politics. The unknown probabilities and uncertainties is what make life and politics the roller coaster that it is. An elementary reading of the Holy Bible and the Holy Quran paints a clear picture of how life, and indeed anything, is not black and white.
In the Holy Bible, for instance, we are implored to live a life that is pleasing to God because no one knows the day nor the hour. Further, in the book of Proverbs, we are reminded not to boast about tomorrow for no one knows what a day may bring forth. This is the same with the Holy Quran where we are reminded that the life of this world is nothing but play and amusement. And like in the Bible, the Quran reminds us of one fundamental truth — that only Allah knows.
The political events in the past few weeks seem to be a pointer to how uncertain politics can become. Prior to the naming of running mates by leading political formations, some had been boasting about the future and thus ballooning more in confidence and drifting away from reality. However, the choice of running mates, and specifically, the naming of Martha Karua as Raila Odinga's running mate, has birthed a lot of political excitement.
Before going to press, TIFA Research had just made public their survey, on Presidential Candidate Popularity, which placed the candidature of Raila Odinga with Martha Karua at 39 per cent which is above that of William Ruto and Rigathi Gachagua at 35 per cent.
Based on this research, we can unequivocally confirm that the popularity index of Ruto in the Mt Kenya region had reached the point of diminishing returns. And as such, the choice of Ruto's running mate notwithstanding would have attracted negative and dire consequences to his candidature. The new bag of toys from Martha has since made the average Mt Kenya voter to abandon what they had in hand.
Running mate controversy
On April 21, 2022, constitutional lawyer Kibe Mungai, wrote an article in The Standard newspaper titled "What quest for deputy from Mt Kenya means for top candidates" which looked at the dilemma Ruto and Raila faced on the Kikuyu factor in the running mate controversy.
Kibe argued that he conducted some 'research' which indicated that out of every 10 Kikuyus, five were diehard members of the Hustler Nation, two of them either hate Ruto with passion or consider the bottom-up philosophy as deceptive while three could be persuaded to vote either way depending on the deal that Ruto and Raila will offer the Kikuyus through their representatives.
If this analysis is anything to go by, and considering Kibe is a decent and honourable man and thus his research is reliable, then the claim that Ruto's popularity had reached the point of diminishing return is legitimate. Let me extrapolate using the current euphoria in Mt Kenya.
First, it means that both Ruto and Raila can equally command 50 per cent of the votes in Mt Kenya. As strange as it might sound, there is a science to it. This strange claim reminds me of a similar 'strange' claim I made in 2011 during a discussion with colleagues at the University of Nairobi Senior Common Room — which nearly saw me kicked out of the senior common room by a professor of political science whom I respect.
We were discussing politics in view of the 2013 presidential elections when I made a bold claim that "I think we might just have another Kikuyu president."
My colleagues turned wild because they couldn't believe that another Kikuyu might become president after the late President Mwai Kibaki. Had we been in Parliament, I would have been asked to withdraw my claim, and apologise, so my sentiments would be expunged from the Hansard. Then, it was unimaginable that another Kikuyu might become president after Kibaki.
It came to pass. Uhuru Kenyatta won the 2013 presidential election. Who would have thought my 'strange' claim would have come true? Not even a professor of political science.
But I go back where we began, that politics and life are defined by uncertainties. And for this election, the most uncertain, strange, and shocking incident would be that 50 per cent of Kikuyus voted for Raila.
Second, in their choice of running mates, Ruto was bound to be dammed by whichever decision he made while Raila was bound to benefit from whoever he picked, especially from Mt Kenya.
If Ruto chose Kithure Kindiki, he would have had to deal with the 'real' Kikuyus who would have felt alienated. Equally, Ruto would have been seen as a man who is only interested in dealing with weak Mt Kenya leaders. Kindiki is a good person but he is bad for Ruto. Good that he is not overambitious, as his boss, but bad that he doesn't come across as a strong leader.
If Ruto would have chosen Anne Waiguru, he would have had to deal with the tainted history that hangs over her head. Methinks the only woman who would have made a good running mate for Ruto is Susan Kihika. However, Kihika, just like Kindiki, would have been considered a foreigner considering that she comes from "diaspora".
Raila would have benefitted from having any Kikuyu as a running mate. But, lo and behold, Karua was the wild card that would have decisively upset this election.
This reminds me of Robert Wangila who, in 1988 gave Kenya its first, and so far the only, Olympic gold medal in boxing. As a Black man from Africa, he made history. But what reminded me of Wangila was an interview with the press where he talked about what it takes to win over a white man.
Wangila said that as a Black man, winning against a white opponent on points is just a dream. As such, you had to put your opponent on the floor. Robert Wangila won the gold medal through a knockout.
The August presidential election must be won in a similar manner. This is because winning by a small margin will attract doubt. The loser in this scenario is likely to claim that the election was rigged. Therefore, the gap between the winner and the loser must be a near 10 per cent margin. The narrower the gap the higher the chances of revolt.
The failure by Ruto to consolidate the Mt Kenya votes that Jubilee had in 2017 is a pointer that even if he were to win the August polls, he can't do so decisively. A Ruto win might only arise with the possibility of low voter turnout in Raila strongholds and this will occasion a fresh election considering none will get above the 50 plus 1 requirement.
Blessing in many ways
The growing popularity of Raila in Mt Kenya, before Karua, and the choice of a running mate in the person of Karua is a pointer that if Raila were to win the August polls, he will do so decisively. This is because Karua is to Raila today, what Ruto was to Uhuru in 2013. If indeed it is true that Ruto made Uhuru president, then Karua will make Raila president.
Making Karua a running mate was a blessing in so many ways. First, the gender card. Whether you like it, elections mostly revolve around divisive issues such as tribe, race, religion and gender. And gender, like tribe, is a strong organising and mobilising factor.
The "Baba na Mama" narrative is strong enough to garner and consolidate significant votes for Raila. If only Azimio was to capitalise on this narrative, which they should, they will ultimately dilute the hustler narrative. Even though Ruto and his brigade have already started downplaying the gender card by saying "it is not about gender but agenda", this is not well thought out considering the reverse is also true: "there is no agenda without gender".
Finally, and why Karua is a game-changer, is the personality, energy, history and other credentials she has. No other Mt Kenya running mate would have been the one-stop-shop that Karua is. First, she is the complete opposite of what Mt Kenya doesn't want: Uhuru.
In Karua, Kikuyus have a person that is diametrically opposed to their current leader. For this reason, it will be counterproductive for President Kenyatta to campaign for Raila. Having Karua as a running mate, Raila has shed off the "project" tag. In Karua, many Kenyans have been reminded that Raila is a true reformist.
In Karua, Kenyans see a maverick. Importantly, in Karua, Kikuyus see a strong and energetic woman who can't be compromised by the elite.
As in many elections before, victory is always one step and not a staircase. This is experience and strategy versus energy and tactics. Ruto has taken the staircase while gods have conspired to direct Raila to make a simple step. Like poet Robert Frost in The Road not Taken, Raila had two roads: Kalonzo Musyoka or Martha Karua. And the road not taken has made all the difference.
Manyora is a lecturer at the University of Nairobi, while Otiato is a political scientist