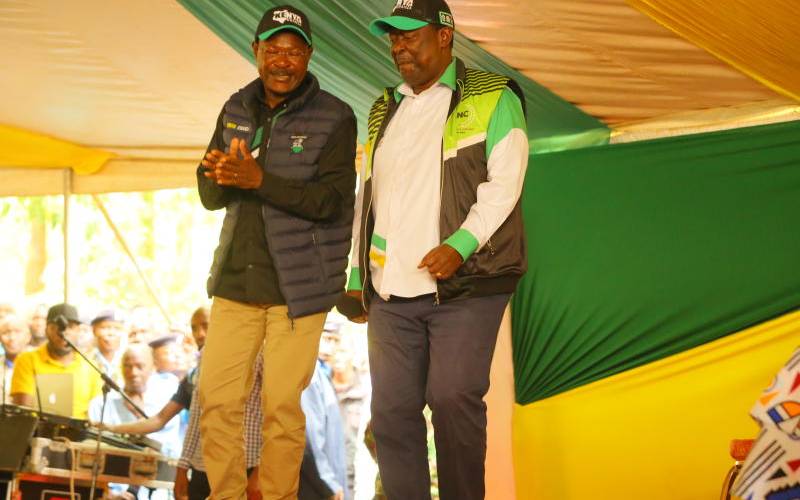 There are times that the things we profess to detest actually define us. As it were, while Kenya Kwanza's call to arms has been 'hatupangwingwi", it turns out that constituent parties and their leaders have been 'pangwad'. Recent intra Kenya Kwanza alliance happenings appear to have stymied diehard ANC and Ford-K supporters who, by now, are wondering whether their leaders drove themselves into a political cul de sac.
Musalia Mudavadi (ANC) and Moses Wetang'ula (FORD-K) have been promised top leadership positions should Kenya Kwanza run away with the trophy in the August election. Though they were allocated a share of 30 per cent of government by UDA, actualisation of the deal is dependent on them delivering 70 per cent of the Luhya vote.
It is interesting that Mudavadi also went ahead to accept a non-existent position of Prime Cabinet Secretary. Granted, there is a precedent after the position of Prime Minister was hastily crafted to cool down political temperature post 2007 general election, but the circumstances are different.
Besides, having accused Azimio of seeking to mutilate the Constitution to suit its designs, why would Kenya Kwanza seek to go down that route? Kenya Kwanza's share of positions, which former Kiambu Governor William Kabogo called out, runs counter to the alliances' assurance that its emphasis is on service delivery to the people, not which position individual party leaders who make up Kenya Kwanza will apportion themselves.
However, like other political outfits, Kenya Kwanza has its owner(s). To them, 'democracy' remains an alien concept whose invocation is a mere means to an end. Leaders are already being imposed on poor Kenyans long before the elections. Sundays' unveiling of Rigathi Gachagua as Ruto's running mate and the tense atmosphere and events that preceded it on Saturday attest to this.
Yet interestingly, while Ruto might have succeeded in arm-twisting and placing ANC and Ford-K in their cramped quarters within the Kenya Kwanza camp, his own arm appears to have been roughly twisted regarding the choice of a running mate. Credible insider information says Kindiki was the preferred running mate choice, but a section of leaders from Central Kenya had other ideas. It was the reason Ruto couldn't name his running mate on Saturday as earlier announced. Horse trading notwithstanding, we cannot put it past Gachagua to have pulled a lever that effectively put Ruto between a rock and a hard place.
Seemingly, the lofty promises the Kenya Kwanza leadership has been churning out in a bid to appear different are a mirage. The alliance is at risk of falling prey to the very ills it has exuberantly blamed on Azimio and hoped to make hay out of. Having run around in circles, they are likely to fall back on BBI, a concept they vilified and subjected to ridicule. With a population of 6,823,842 by the 2019 national census count, the Luhya tribe accounts for slightly more than 14 per cent of the total population of Kenya, second to the Kikuyu who number slightly above eight million. However, these are statistics that consecutive Luhya leaders, unlike their Kikuyu counterparts, have been unable to turn into something valuable for the community.
Cultural and religious biases, including an ingrained culture of selfishness among leaders have conspired to ensure the Luhya only play second fiddle in the share of the national cake. There are about 1,927,043 registered voters in the four western Kenya counties. It is hard to see how Mudavadi and Wetang'ula will deliver at least 1,348,930 votes to Ruto, assuming (impossible though) that there will be a 100 per cent voter turnout.
ANC and FORD-K suffered a hemorrhage of Members of Parliament after many of them decamped to Azimio la Umoja early this year. These are the individuals who Mudavadi would have used to marshal the Luhya vote. Short of a miracle, the 70 per cent demand is an extremely tall order for Mudavadi and Wetang'ula.
The Governor of Vihiga and some MPs in Vihiga and Bungoma belong to ODM and Jubilee, a demonstration of the shaky ground on which Mudavadi and Wetang'ula are standing. In Bungoma, the Democratic Action Party, under the Azimio la Umoja, is wreaking havoc on Ford-K, and Wetang'ula must be a worried man despite the public show of bravado.
The way things are panning out, it is easy to conclude, rightly or not, that William Ruto is a hard task master who, in his quest for the presidency, discovered Mudavadi and Wetang'ula had a price to their heads, and paid it. They will go along with anything Ruto does in order not to rock the boat.
Mr Chagema is a sub-editor at The Standard