County commissioners have role in fighting HIV, teen pregnancies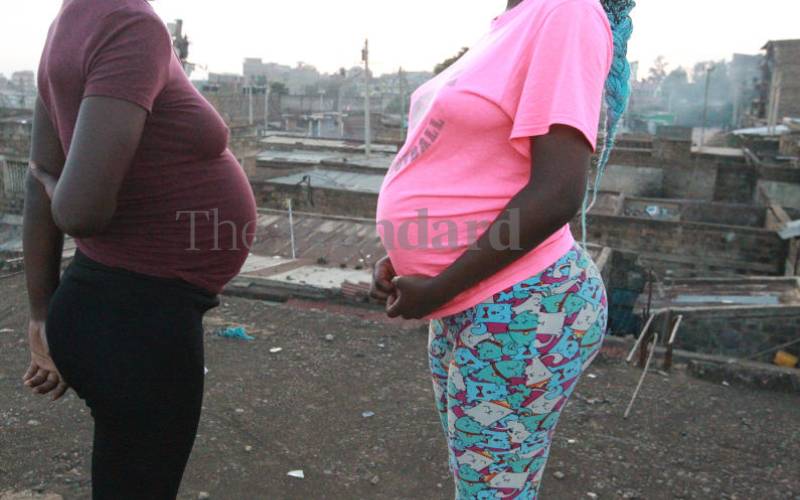 In December last year, President Uhuru Kenyatta led the nation in marking the 33rd edition of World Aids Day under the theme, 'End Teenage Pregnancies Towards Eliminating Inequalities and New HIV Infections'.
The theme was a call to action to address the unacceptably high numbers of teenage pregnancies, new HIV infections among the youth and gender-based violence against girls and women.
The president's attendance was significant on many fronts.
Besides using the occasion to re-commit his government's efforts against the triple threat facing young people, that is, HIV infections, teen pregnancies, and gender-based violence, he directed State security agencies and administrators to ensure culprits of teen pregnancies and gender-based violence are apprehended and that victims are offered government assistance.
These include ensuring girls whose education may have been disrupted are smoothly re-admitted to school.
His commitment was a shot in the arm for sustained advocacy efforts led by the National Aids Control Council (NACC) and its partners.
While Kenya has made significant strides against HIV, we must re-double our efforts to stem the number of new infections among adolescents and young people.
According to the Kenya Aids estimates report 2020 by NACC, of the 32,027 new HIV infections recorded, adolescents and young women (15-24) accounted for 42 per cent (11,229) of the adult new HIV infections.
Proxy to HIV risk
The report further estimates that around 30 new HIV infections occur daily among adolescents and young people. HIV and Aids has also been cited as among the leading causes of death among this cohort.
On the other hand, data on teen pregnancies in Kenya released by the National Council for Population and Development reveals that there were 274,507 adolescents aged 10-19 presenting at facilities for ante-natal services.
Some 8.4 per cent (23,156) were aged 10-14 while 91.6 per cent (251,351) were aged 15-19.
The report also shows that 21 per cent (1,305,044) of all first ante-natal care visits were by adolescents.
Similarly, data from the Kenya Demographic and Health Survey (2014) shows one in every five girls aged between 15 and 19 years are either pregnant or already a mother.
Adolescent pregnancy is a proxy to HIV risk. This is the disturbing reality requiring concerted efforts by all of us.
Why should we involve the county commissioners in this fight? Inequalities, poverty, stigma and ignorance have been documented in several studies as leading factors behind the unprecedented situation among young people.
To confront these factors, all stakeholders — beyond the health sector — must be involved.
County commissioners are strategically placed in the governance structure and coordination of national government at the county level. They provide an interesting avenue for collaboration and partnership in addressing some of the aforementioned factors.
Through structured and strengthened working relationships, the county commissioners could be springboards in changing not only the HIV narrative but critical also in tackling teen pregnancies and gender-based violence.
Girls and young women continue to be disproportionately affected by HIV than men. As such, efforts toward this group are particularly critical. Evidence has shown that keeping girls in school reduces their chances of new HIV infections and pregnancies by 60 per cent.
Education is not only key for socio-economic development but it equalises societies, thus addressing inequalities. The county commissioners are better placed in ensuring 100 per cent transition, as well as ensuring victims of violence and teen pregnancy continue with their education and have the potential to realise their dreams.
County commissioners would also play an important role in ending HIV-related stigma and gender-based violence. Evidence has strongly linked stigma to low uptake of HIV services, including testing and non-adherence to treatment.
By ensuring perpetrators of stigma and gender-based violence are apprehended, the commissioners will help a great deal in tackling the two problems.
Maximum outreach
Similarly, the commissioners, through regular community engagement and barazas, offer an interesting platform to reach, sensitise and rally communities against HIV, teen pregnancy and gender-based violence.
Further, the administrators' presence across the country would ensure maximum outreach in spreading both preventive and curative interventions. As government officers, partly charged with law enforcement duties and responsibilities, their involvement will close the gap occasioned by outright contraventions.
Collaboration with county commissioners will be an additional armour in neutralising the stubborn enemy aptly named the triple threat to our girls and young women.
The president set the tone and the onus is on us in the health sector to incorporate other players in this conversation, including county commissioners under the one government approach to effectively address these issues.
This is because the economic dividend of a healthy budding youthful population thriving and realising their life aspirations far outweighs any other investment in this cohort.