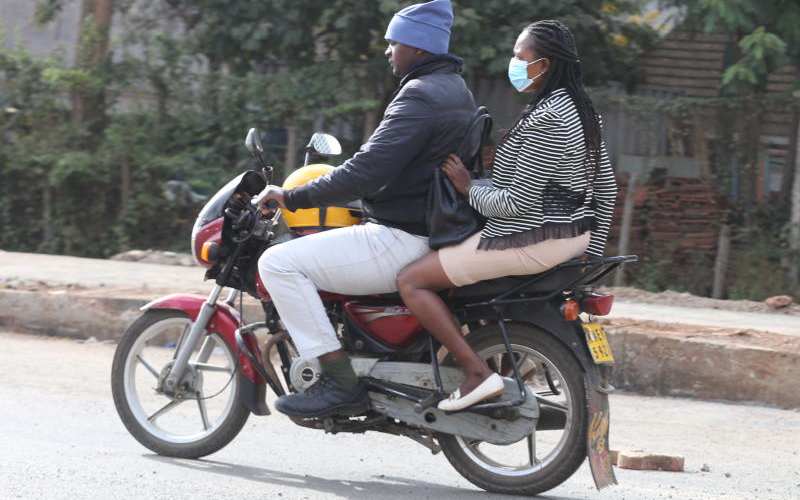 On Friday March 4th, just days before International Women's Day, a young woman was assaulted, stripped of her clothes and dignity by marauding inhumane boda boda riders while several men watched as she screamed in terror.
Some men were groping her private parts while she was seatbelt strapped at the driver's seat. I can't imagine what this young woman, terrified and clearly traumatised for life must have felt through her ordeal as men watched in acquiescence.
One of them caught this macabre scene in a video that went viral, prompting immediate responses through statements and protests from the Judiciary, Kenya National Commission on Human Rights and the Federation of Women Lawyers (FIDA-Kenya) among others.
More institutions and individuals including the President and the First Lady strongly condemned the incident, demanding deterrent action, with the President ordering a crack-down on boda bodas and their fresh registration. It is about time.
As much as some rotten riders are spoiling for some good ones, eking a living from this trade, the menace and lawlessness had spiralled out of control with unbridled impunity.
Sadly, such immunity has permeated into most sectors of our society. Even the Police seem overwhelmed. But, why is this the case and will anything actually change?
The late John Michuki brought sanity in the matatu sector but that went with him. The public service vehicles (PSV) buses, matatus and boda bodas operate with incredible impunity with jungle-like conduct; survival for the fittest. The police thrive in the public transport sector to chagrin of Kenyans.
The worst drivers in Kenya, dangerous and precarious are of these PSVs, but the boda boda riders, take the medal. Everyone has a nasty experience with boda riders.
I recall one time I was at the front of traffic that the police had stopped to allow oncoming traffic. Right in front of a police officer, a boda rider flew past on my left taking with him my car's bonnet mirror!
The police officer calmly told me to follow that rider and teach him a lesson (he was more explicit on the type of the lesson).
I was with my daughter in the car and I just couldn't believe what had just transpired. I didn't, "teaching him a lesson" would not pay for the damage on my car.
On the way home my daughter asked me, why the police officer didn't act and wanted me to? Why everyone just watched as the rider got away with a crime? Isn't there security and protection that we can expect from the police?
Is there a limit to the number of passengers they carry? Are they not required to wear helmets and masks?
Why and how do they get away with this behaviour? Don't they have parents who can teach them good manners and behaviour? Why do they behave like animals?
All I could say is, getting away with crime leads to impunity; but we shouldn't lose hope because there are many good people amid evil and when we keep on doing the right thing, the good will prevail but we must always be cautious and protect ourselves.
The young woman joins a huge number of women and girls, survivors of Gender Based Violence (GBV). These forms of violence; assault, rape, dehumanising violations, assault with deadly weapons and even murder are common – including emotional and economic abuse.
There are few NGOs dealing GBV cases like FIDA-Kenya though more tangible efforts against GBV in government should be structured, coordinated and regular – the Ministry of Gender has done an excellent job in collaboration with commissions and civil society; but these interventions are not sufficient.
More investment and multi-sectoral, inter-ministerial and inter-agencies approaches are required to end GBV. We all must collaborate with government and each other to end impunity everywhere. We need a lot more civic education on GBV and how to address it.
Women deserve and demand protection, respect and dignity. We must bring back being human to human beings. When half of the population is dehumanised, the entire population must hold their heads in shame.