After ANC leader's move, Kalonzo's best option is to join Azimio la Umoja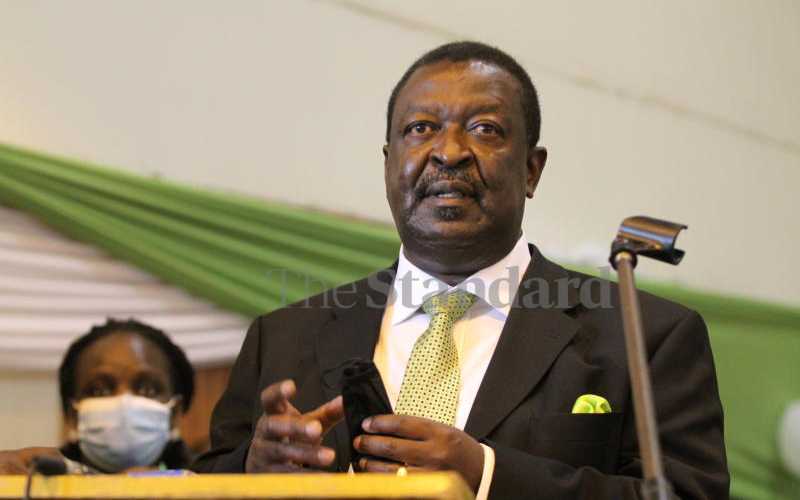 Kalonzo Musyoka has been my friend for many years. At one time he was my party leader. I believe he is a much-misunderstood man and maligned by tags that have unfortunately defined him. But love him or hate him, he remains the undisputed Kamba kingpin. In the interregnum between 2013 and 2017, we disagreed vehemently politically but remained friends.
He often joked with me that I should teach him business and he teaches me politics. That sounds like a fair exchange. Following yesterday's surprise announcement by Musalia Mudavadi that he was aligning his party with Ruto's quest for the Presidency, let me throw in some business analysis to what's happening. There is so much similarity between business and politics.
The idea of One Kenya Alliance (OKA) was good. OKA offered a Third Option to those who were uncomfortable with the Jubilee and ODM political behemoths. In principle it was a great product, but was poorly marketed and hence failed to gain momentum. OKA spent too much time trying to woo Central Province. It was looking for love in all the wrong places. Now the cheese has moved, and my friend Kalonzo must immediately move and look for cheese in new places.
Trying to sell the same product to a market that has moved will leave the vendor with a product that won't sell, in business terms it's called "dead stock". No matter how great, noble and enticing the idea of OKA was, that is now history.
I spent many years trading financial markets. Trading is guided by some fundamental rules that determine whether a trader wins or loses. The more disciplined he is, the better trader he becomes. In fact, if he doesn't quickly learn the tricks of the game, he will be eaten alive in the market. Politicians have all become readers of John Greene's book, "The 48 Rules of Power" and the similarities between trading, business, employment and politics are strikingly similar.
In trading, there are two fundamental rules. First is to go with the trend. Second, it's difficult to reverse the momentum that has built up. There are two clear market leaders in Kenyan politics today— Raila and Ruto. With little time left, it is impossible for a new party to get enough momentum to reverse this trend. Remember, never go against the trend.
These two lead Azimio and UDA. My principles go in handy with Raila's and for that reason, I have placed my bets clearly with the Azimio side. The momentum has been built already. At this late stage, to try to reverse the trend or stop the momentum of these two giants is wishful thinking. It makes better business sense to try and sell products that are fast selling rather than try to create an alternative product when the market has clearly decided.
It is time for Kalonzo to go back to the drawing board quickly. He is sitting on a unique opportunity. It is the equivalent of sitting on an enhancer that could make the leading product even more attractive; like a company having faster microchips. Very attractive, but if you sit on them too long the products will go to market without you.
All the dynamics now dictate that Wiper should work with Azimio. The ground also demands this. My friend, you are holding very attractive chips, negotiate now and let's close this deal. It's the winning formula.