State's job pledge will remain a mirage if it can't protect existing ones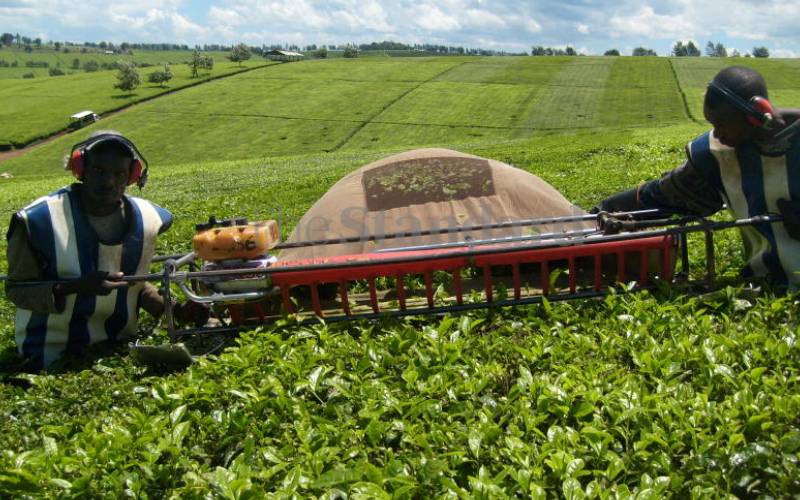 The ongoing sacking of tea pickers in the multinational tea farms, and the lay-offs that we have witnessed in the sugar and coffee industries have lifted the lid on the government's jobs creation policy.
The introduction of tea plucking machines to replace human labour has made many Kenyans to lose their livelihoods. The tea sector is estimated to employ over 500,000 workers who earn directly from tea farms, and over four million who benefit from it indirectly.
Before tea plucking machines were introduced, tea pickers used to earn between Sh15,000 and Sh20,000 a month. However, after the introduction of the machines, the wage plunged to below Sh8,000 a month.
Hundreds of thousands of tea pickers are now jobless, with some surviving on menial jobs and others engaging in illegal businesses like brewing illicit liquor. Their children have dropped out of schools and colleges due to lack of fees.
The economy of the tea belt has plummeted to worrying levels with local businesses taking a nosedive since tea plucking machines have taken away jobs.
Besides, the government is directly responsible for challenges in the sugar industry. The State failed to ensure effective regulatory framework and oversight mechanism for coordinating imports and exports of sugar. Sugar from Comesa and East African Community member states as well as other parts of the world has flooded the local market, killing the Kenyan sugar industry.
Coffee industry
Over six million Kenyans whose livelihoods depend entirely on the sugar industry face a bleak future due to failure by the government to set in place mechanisms that would secure and protect the industries from cartels that have exploited sugarcane farmers, leading to job loses.
The pyrethrum sector slumped, while the coffee industry is now on the verge of collapse. Hundreds of thousands of jobs have been lost in the two sectors. It is estimated that over 700,000 small and large-scale farmers are involved in coffee farming – and over six million people have been benefiting from the industry directly or indirectly.
If deliberate steps are not taken to streamline the operation of the coffee industry, the challenges facing the sector will snowball into a national crisis with dire consequences.
President Uhuru Kenyatta's plan to create 600,000 jobs in 2022 will to be a mirage if the government does not protect existing jobs.
Job creation and economic growth are related. Job creation is necessary because, the more people work, the more they pay taxes.
Therefore, the next government will be obligated to redraft Job Creation and Protection Policy with the understanding that if we create and secure jobs, we will be lifting many people out of poverty.
Since Kenya is among countries with the highest unemployment rates, the incoming government should develop new policies to facilitate creation of small and micro-enterprises. These businesses will greatly help to reduce unemployment.
Mr Sossion is a member of parliamentary committees on Education and Labour