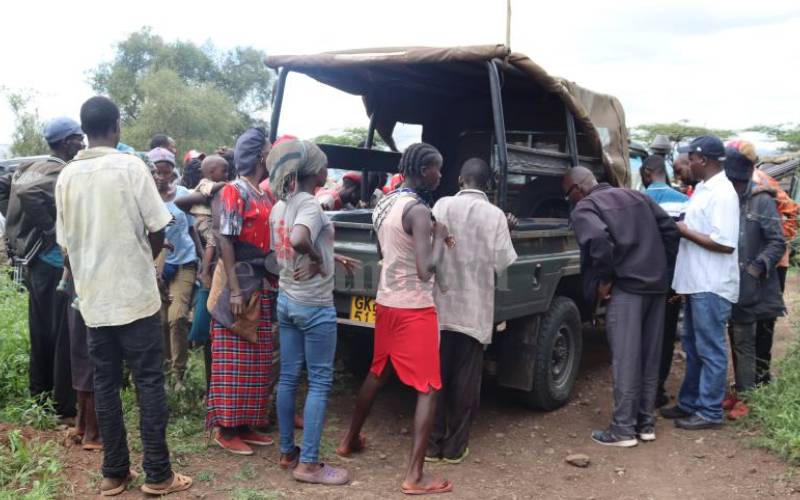 Loss of lives in attacks, disasters and accidents have a way of making 'relevant' eyes open wider to the seriousness of certain matters.
Killings over natural resources, banditry, terrorism, accidents, human/wildlife conflict, deadly pollution, to mention but a few, have sometimes made 'relevant authorities' to act faster.
Often the need for long term solutions has emerged after several knee jerk responses fail, and as a result, compensation done to victims, killer roads widened or repaired, security tightened, or outlawed groups such as Sabaot Land Defence Force, Mungiki, Sungusungu and Mombasa Republican Council dealt with decisively.
This week's attacks over grazing land, which cost seven lives in Meru, may pass as tribal chaos or a result of unresolved issues; or just politics. But it is unacceptable.
Much as it may be obvious that climate change is a huge contributor to such conflicts at the Meru/Isiolo border, and several other parts of the country, the surface is barely scratched when addressing the problem. Lethargy, helplessness or focus on dialogue and general security seem easier options.
Overall, Kenya is doing well on climate action, with the Climate Change Act (2016), besides several national adaptation and other action plans, plus an active committee in Parliament.
With devolution, passage of Bills, policies and climate action-enabling frameworks at the grassroots has been commendable. Budget allocation for climate action is now easier, and there are more funding opportunities locally and abroad. But knee jerk reactions to deadly climate-induced attacks will only negate the efforts; taking us back.
Areas more likely to experience attacks over watering points or grazing lands are mostly semi-arid or those neighbouring them. As was the case for many ranches in Laikipia in 2021, having rich grazing land becomes insecurity, as herders target them and will do anything for their livestock. This could also be one of the problems at the Isiolo/Meru border.
With such, and as campaigns for the next polls intensify, politically instigated conflict may be made to appear as climate-induced, and more lives will be lost. There is need for long term plans to allocate more resources to relevant institutions and ministries to address climate change in areas with contested resources or those hardest hit by bad weather.
Communities may not clash, but that does not translate to peaceful coexistence, as there will always be mistrust between neighbours if one has food and others lack.
Climate-induced conflict has encouraged proliferation of arms, displacements, least investment; which in the long run result in retarded economic growth, while health provision, education and agriculture are adversely affected.
Areas prone to climate-induced conflicts should always be kept on the radar, especially now, and all efforts made to avert bloodshed.
Collectively, we must also be kinder to the environment. It pays.