State of urbanisation drives small businesses in the Mt Kenya region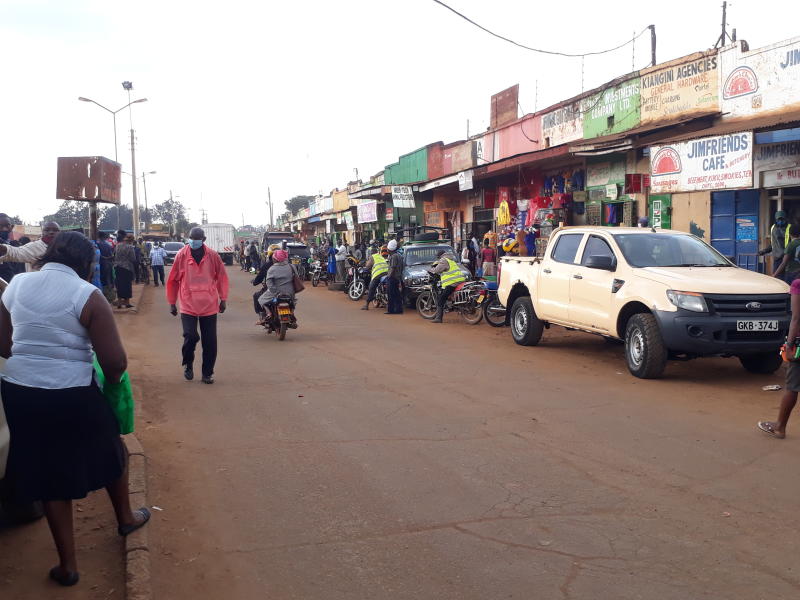 Urbanisation is a key determinant, or at the very least has a high correlation with the number of licenced businesses and respective economic size among the counties of the central region economic block, more popularly known as Mt. Kenya.
The 10 Mt Kenya counties that comprise the Central Region Economic Block (CEREB) had an estimated 670,000 licenced small businesses by mid-year, 2020. This was a 31 per cent growth from 2016, when the number stood at 465,000.
Nakuru has the highest number of registered small businesses at 154,500, according to latest estimates by the economics section of the CEREB secretariat. It is followed closely by Kiambu at 150,350 and Meru at 137, 379. Nyeri and Murang'a counties are in the middle of the pack with 59,000, and 42,200 respectively.
The smaller economies of Laikipia and Embu are at 25,550 and 25,200 licenced small businesses respectively, while Tharaka Nithi has just over 9,000 licenced small businesses.
Economic giants
The significant growth (31 per cent) in number of licenced businesses in the last four years has varied across the region. Murang'a and Laikipia have had the fastest growth of the business register at 113 per cent and 88 per cent respectively. Regional economic giants Kiambu and Nakuru grew the business register by 63 per cent and 31 per cent respectively, while Tharaka achieved a modest seven per cent growth.
The business registers have on average 140 classifications. The category is with highest number of licenced businesses at 40 per cent (265,000), is small traders, shops or retail services, often with premises of 50 square feet or less.
As an economist, the presence of significant number of manufacturing enterprises is exciting. In this category we include businesses that are categorised as small, medium and large size workshops; and small, medium and large industrial plants in the business licence registers that are maintained by various counties.
Manufacturing enterprises
The region has 27,200 manufacturing enterprises. And just as the size of the economies of respective counties vary from 100 to 650 billion, so does the number of manufacturing enterprises in each county. Meru has 5,700 manufacturing enterprises, while Murang'a has 985. The figures are 8,100 in Nakuru, 589 in Laikipia, and 6,040 in Kiambu. If you were to include processors of agricultural produce, the number would be higher still.
In drawing inferences from the data, I looked at population trends. The 2019 population census found that 14.8 million Kenyans live in urban areas. Nairobi alone has 4.4 million urban population. In the mountain, the number is 3.6 million people.
There are no prizes for guessing that Kiambu is the most urbanised of the 10, according to the 2019 census. The county has an urban population of 1.7 million people. It has three towns (Thika, Ruiru and Kikuyu) with populations of over 250,000 people each. Kiambu is followed by Nakuru at just over one million. Tharaka is the least urbanised with 33,000 people living in urban areas.
In the middle of the pack are Nyeri with 151,000 urban population, Meru with 139,000, Kirinyaga (136,000), Laikipia (127,400) and Murang'a at 118,400. But it is Nyandarua and Embu that surprise, at 66,500 and 76,000 respectively.
Nyandarua is geographically the biggest of the counties of the former Central Province. At 3,300 square kilometres in size, it accounted for one third of the province. It also has some urban areas with well-known names– Ol Kalau, Ol Jororok, Dunduri, Tumaini, Miharati, Murungaru, Dunyu Njeru, Engineer and Njabini. It is, therefore, quite surprising that the county's urban population is low. Perhaps it is the character of the urban centres. People live in their farms but have day activity in the towns.
Similarly, Embu surprises because of the Embu town itself, which is old and was a provincial headquarters. Nonetheless, that is the census data.
Relating the urban population data set to the number of licenced small businesses leads to the conclusion that the more urbanised a county is, the more populated, and the higher the number of small businesses.
For instance, Nyeri has twice the size of urban population as that of Nyandarua county (66,500). It also has twice the number of licenced small businesses, 59,000, compared to Nyandarua's 27,000. The situation is similar when you compare Tharaka and Embu counties.
Looking at Nyeri County, it has Nyeri town, Mweiga, Nairutia, Kiganjo, Chaka, Naru Moru, Karatina, Mukurueini, Othaya, Giakanja as notable urban centres. Not necessarily a longer list than Nyandarua's. Only that there appears to be more people who, not only work, but live in those towns in comparison.
The same case obtains when you examine the urban centres of Nakuru County: Nakuru city, Naivasha, Gilgil, Bahati, Solai, Kabazi, Subukia, Molo, Njoro, Elburgon, Mai Mahiu, Again not a much longer list, but one with towns where people both live and work as opposed to town where people work before retiring back to the farms for the night.
By far the best prospects for rapid improvements in living standards is provided by the 27,000 manufacturing enterprises. But growing this pool, and improving their global competitiveness needs courageous policymaking and implementation. It cannot be achieved by quick, slap-dash catchy slogans or guess-work.
Informed policy
First, manufacturing takes place in urban settings. Both counties and national government must therefore drive urbanisation, taking care to ensure proper work spaces for manufacturing enterprises, particularly small business. Such an effort could be achieved by extending and enhancing the Kenya Urban Support Programme.
Second, manufacturing requires well-structured, long term capital to finance capital expenditure – machines, equipment, production lines and so on. This can only happen with deliberate, informed policy action.
Third, the cost of energy must be globally competitive. We wish Energy CS Monica Juma well with ongoing reforms. While at it, she must examine Schedule Four of the Constitution of Kenya 2010 carefully. Electricity reticulation is a county function.
Fourth, we must reduce distribution costs, by eliminating double taxation as goods move among counties. Fifth, we require thousands more production engineers and technicians to work in those manufacturing enterprises. The Engineers' Registration Board must facilitate not impede this goal.
Sixth, it requires national determination to industrialise. Buy Kenya, build Kenya.