What if Ruto says 'Raila tosha' in the 2022 poll contest?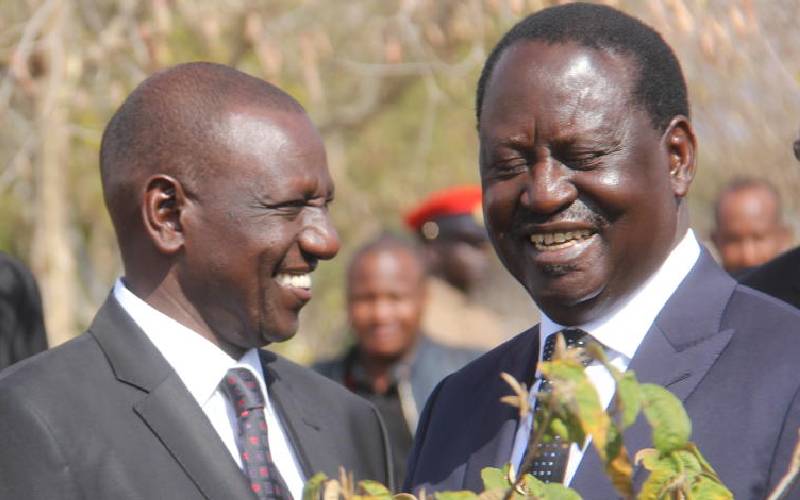 When Raila Odinga made the famous 'Kibaki Tosha' pronouncement on October 14, 2002, only weeks to the General Election, he instantly became a darling of Mt Kenya who only days earlier saw him as a rival as he prepared to oppose Mwai Kibaki in the presidential race.
Raila, a distant third in previous polls after Moi and Kibaki was now not only the kingmaker but also the man to beat at the subsequent elections.
He had 'bought' the Mt Kenya votes wholesale with one pronouncement. Other Kenyans saw a statesman, whose only agenda was to bring peace by shelving his personal ambition.
This explains why Raila remained popular even after his fall out with Kibaki and consequently the Mt Kenya region. He had made his name among Kenyans, who saw an aggrieved statesman.
If there is anything for Deputy President William Ruto to learn from Raila, it is his respect for then older opponent Kibaki. His shelving of personal ambition united the opposition then. 'People' forget, but 'a people' don't.
The very Kenyans who previously consigned Raila to a distant third in the presidential contest, with less than 700,000 votes comprising less than 11 per cent of total votes cast, elevated him to the top of the table with over four million votes constituting of 44.1 per cent in 2007. A figure even Ruto believed was higher.
Now, Ruto will be 56 years old next year as we vote, if he were to be magnanimous enough to declare 'Raila Tosha' and Raila becomes president for ten years, he would be 65 in 2032, a ripe age to be the commander-in-chief.
At that time, the Kikuyu will be calling him Jamba, the Luo Ratego, the Luhya Omwami and his own clansmen will call him Orkoiyot. I can imagine the backing Ruto would get from the Luo in 2032 if he backed Raila.
The Kikuyu already owe him and the Kalenjin would still be ready to back him. It would be the most cost-effective election for him ever.
However, if Ruto continues in his chosen path, I can see him lose the 2022 elections to Raila and then proceed to lose Mt Kenya backing in 2032 as they too would be backing their own son who will have backed Raila in 2022. Bill would be alone and lonely. But again, this is just my thinking.
Nevertheless, if history is anything to go by, Ruto will not yield. At the beginning of the 20th century, Orkoiyot Koitalel arap Samoei refused to let railway construction reach the lakeshore. He resisted the British with all his might. Today, Ruto has refused to let the presidency reach the lakeshore.
-The writer is chairman, Luoland Dialogue Initiative