Digital revolution: Media houses, journalists must adapt or perish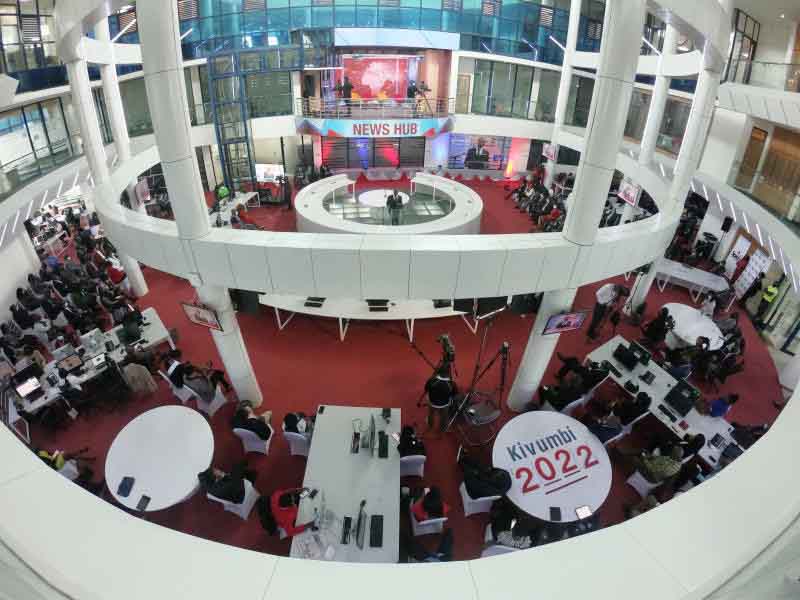 The Standard Media Group has taken the bold step to transform its editorial processes to keep up with the industry best practices. Such agility and willingness to embrace more efficient ways of doing business will ensure that it remains relevant in an increasingly competitive sector.
The ultra-modern converged newsroom is a mirror of what Standard Group has become over the years; a mature, confident, dynamic media house that is proud of its heritage and is in step with Kenya's predominantly youthful and urban population.
I am aware that convergence journalism brings together multiple forms of media to tell a more effective story. Rather than just reading an article in a newspaper, convergence allows consumers to read the article online, scroll through a slideshow, click on a video link, and then listen to the related audio.
The digital revolution is the source of profound change for journalism and the media and media houses must adapt to it or risk perishing. Media convergence is important because it blends together content, communication technologies and computer networks, thus leading to the immediate transformation of many established industries, services, as well as work practices. Through all these, new forms of content are borrowed or shared.
The converged newsroom at the Standard Group, the first such in East Africa, speaks to a brand extension effort that takes content from the traditional print platform into the digital space, especially to the mobile phone, which is currently the leader in content consumption among Kenyan audiences.
The Kenyan media have played a major role by the political, economic and social development of our country. They have the key function of informing public opinion and serving as watchdog to monitor whether the government is keeping its promises. We urge them to practice balanced, professional reporting to fulfill their mandate to the country.
The government is committed to investing in media development, respecting freedom of the press and fostering improvement in the sector through standards, procedures and practices that promote goodwill among stakeholders.
We wish to see a situation where the electronic media provides free public service announcements to the Kenyan people. This happened recently when the media supported the government to disseminate information about Covid-19.
The government has made great efforts to lay down the infrastructure we need to transmit information. Our purpose in landing the fibre-optic cable at the Coast, and laying it throughout the country, was and remains, to promote the rapid spread and exploitation of knowledge. That is a single, very prominent, example of the lengths to which we are going to modernise the country's ICT infrastructure.
Media is a corporate citizen, with duties and obligations similar to those of any ordinary citizen and perhaps much more. Salient among these is to represent issues and facts in a manner that creates a positive perception about the state of affairs of our country. This not to say that media sits on the fence and watches bad governance thrive without sounding the alarm. Speaking truth to power and holding those in authority accountable is what qualifies the media to be the Fourth Estate.
Kenyans expect the media to help them make a difference in their lives and promote transparency and good governance in a professional and responsible manner.
Public interest
The ICT ministry is keen on working with the Media Council of Kenya and other stakeholders in the industry to ensure the regulatory and policy environment is reviewed to reflect the present industry needs.
It is in the interest of journalism and country at large that media reports factually, objectively and within context on matters of public interest. We note with concern cases of sensational reporting and caution journalists against relying on unverified sources of information, especially in this era of misinformation, propaganda and misuse of online platforms.
We are aware of the challenges facing the industry including loss of revenue, loss of jobs for media practitioners, inability to catch up their operational models with current market demands, poor training and capacity, and weak financial positions, which had been made worse by the Covid-19 pandemic.
Given the digital transformation, media must find new ways of doing business, including introducing converged newsrooms, using digital business models and retooling media workers. Additionally, the emergence of social media channels as news sources has affected the flow of revenue in terms of advertising. Other challenges include training standards where the national media curriculum has not changed, thus hampering the quality and agility of media workers in an ever-changing media environment.
The migration from analogue to digital gives us greater room to provide extra information, to provide more diverse information, and to provide far more local content of direct importance to Kenyans. There is no real reason, for instance, why we cannot feature substantial agricultural information, letting our farmers plan their activities. There is no reason why the abundant information we possess about our environment should not make its way to our screens and radios.
Beyond the current obsessions with partisan politics, soap operas, and foreign popular culture, this country's media will need to find and supply serious, responsible and analytical content that is directly relevant to Kenyans.
The digital migration is their opportunity. As that process continues, we as policy leaders must protect the public's access to information. Investors in the media industry expect returns from their investment; they may be tempted to limit access to television and radio content to subscribers only. But access to vital information is a basic right, and the media models we adopt must protect this right for our people.
Our policies therefore will guarantee that accessing free-to-air broadcasts remain free. Free universal access to quality content will be guaranteed.