Duale may be Ruto's secret pick for running mate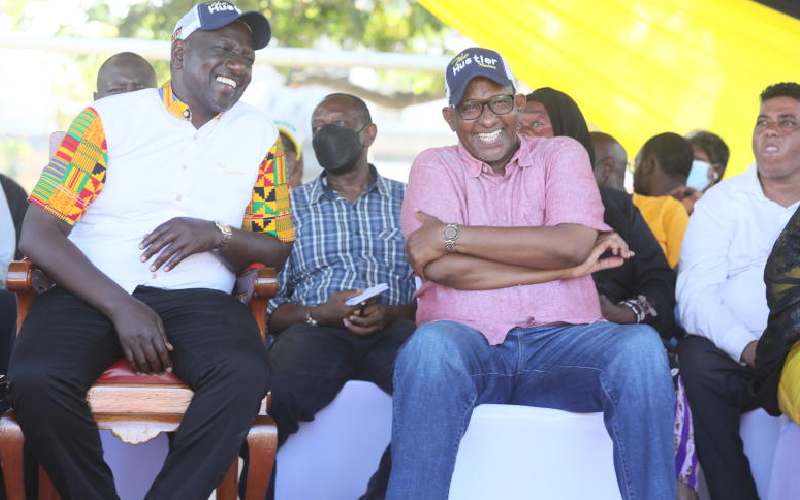 Garissa Township MP Aden Bare Duale is for many reasons, a potential choice for Deputy President William Ruto's running mate. Duale has been loved and hated in equal measure especially during his tenure as leader of majority in the National Assembly.
Numerous Bills were passed during his tenure. He is a diplomatic legislator with exemplary mobilisation ability. Duale's political star has been rising consistently since 2005. He was in the Orange camp during the constitutional referendum politics. He was then elected MP for Dujis constituency in 2007 on an ODM ticket. He was then elected Garissa Township MP in 2013 on a URP ticket and re-elected in 2017 on a Jubilee ticket. He became leader of majority in the National Assembly in 2013 and 2017. This shows the level of confidence party leadership and members had in him.
After his ouster as majority leader, he said betrayal is the denominator of Kenyan politics. One must give it to him though, the tag of betrayal or political disloyalty can be distanced from Duale. This is as far as his political relationship with Ruto is concerned. Both were founder members of ODM in 2005. When Ruto fell out with Raila Odinga in the build up to the 2013 elections, Duale was part of the pro-Ruto team that walked out of ODM. They formed URP that later formed a coalition with Uhuru Kenyatta's TNA. URP later dissolved alongside other parties to form Jubilee Party in 2017.
In his 7-year tenure as majority leader he successfully sponsored a record more than a hundred legislations in support of government business in the House. Duale easily marshalled support for government appointees to constitutional offices. Against a determined and formidable opposition, he defeated impeachment motions against cabinet secretaries. As majority leader, Duale was the third most powerful politician after President Kenyatta and his deputy. This has made him the most prominent politician from Northern Kenya. Duale is also patron of the pastoralists' parliamentary group, formed in 1988 to align the pastoral communities' agenda with the national political processes.
He is well versed with needs of the pastoralists' community and is highly respected. The pastoralists' community has 15 counties and 66 parliamentary constituencies. The 2021 registration by the IEBC saw the counties record an additional 316,736 voters, bringing the total to a little shy of 3 million. The community also has huge numbers in other urban areas, particularly Nairobi.
Politics being about marshalling numbers, Duale ticks another box. He is married from the family of the famous General Mohamed Mohamud.
The writer is a political analyst