Diet and expert guidance can put Type 2 diabetes into remission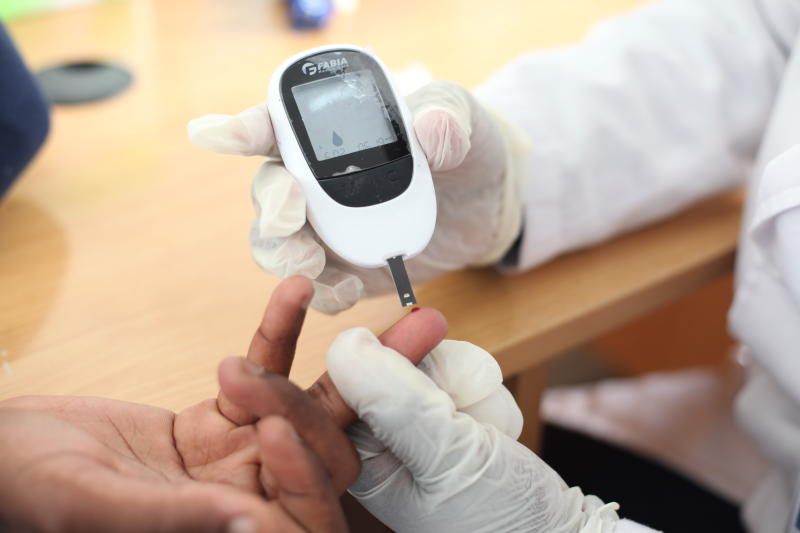 Anchors must be raised when the ship needs to sail to better waters.
For George, having lived with Type 2 diabetes for a decade, self-injecting with two types of insulin daily was becoming burdensome. Just like a ship looking to make a smooth sail, he urgently needed to make a lifestyle change.
A doctor's visit last May showed his health was on the rocks; he weighed 84kg, had a waist of 102cm and a BMI of 33, which meant he was obese.
Type 2 Diabetes accounts for nine out of every 10 of all types of diabetes worldwide. In Africa, it is currently estimated at 17 million, with a projected increase to 40 million by 2045.
Closer home, 3.3 per cent, about 1.6 million in Kenya have diabetes with majority aged between 20 and 60. Sadly, about one of every two Kenyans with diabetes is not aware.
As Kenya marks World Diabetes Day, this year's theme, 'Access to diabetes care' emphasises the need for better diabetes treatment and management.
Diabetes is a condition that occurs either when the pancreas does not produce adequate insulin or when the body cannot effectively use the insulin it produces.
Insulin is a hormone that regulates blood sugar. Type 1 diabetes is characterised by deficient insulin production and requires daily administration of insulin.
Type 2 diabetes is associated with insulin resistance, a state where the body is producing insulin but it's not working properly.
The World Health Organisation notes that diabetes is a major cause of blindness, kidney failure, heart attacks, stroke and lower limb amputations.
Consumption of carbohydrate-rich foods especially refined foods results in high blood glucose levels and stimulates the pancreas to produce more insulin.
Brown carbohydrates also have lots of carbohydrates including brown ugali, rice, bread, arrow roots, cassava, sweet potatoes, yams and some fruits like mangoes, grapes, and bananas.
Glucose enters muscles cells aided by insulin to be used for energy. Excess glucose is stored in the liver as glycogen and then as fat in the same liver, pancreas and sub-cutaneous tissue leading to weight gain.
Over time, in about three to four years the pancreas gets exhausted and cannot keep up with the demands of excess sugars, slowing down the production of insulin.
Reversing diabetes
In the last one and a half-decade, successful scientific studies have shown that diabetes can be reversed through a systematic process of losing fat from the liver and pancreas, restoring normal insulin production. This is achieved by losing about 10 per cent to 15 per cent body weight through a lifestyle change by lowering your carbohydrate intake to less than 130g per day.
For example, a slice of brown bread is 30g of carbs and an apple is 20g of carbs. If your breakfast contains these two, you are already at the 50g mark to kick off the day.
Prof Royal Taylor through the direct study at the New Castle University in United Kingdom demonstrated that a very low-calorie diet can achieve 46 per cent and 36 per cent remission in the first and second year respectively. With expert guidance, intermittent fasting can also be used to lose weight, and also put Type 2 diabetes into remission.
Four months later, George had lost 13kgs, waist is currently at 86 cm, Body Mass Index (BMI) down to 25, HBA1C of 4.6 per cent using the low carbohydrate approach and is currently off all medications, including insulin.
He walks 2km twice a week in the evenings after work, enjoys a football game with his eight-year-old twins, is more alert at work and looks forward to more productive days ahead.
Better public health education that Type 2 diabetes can go into remission, especially if the individual starts lifestyle changes within five years of diagnosis.
Healthcare professionals need to be trained on Type 2 diabetes remission and how to adjust medications appropriately.
Health policies that favour a healthy lifestyle, including increased taxation on sugary products like sodas, juices and using the cash to promote the consumption of vegetables, healthy fats and proteins should be formulated.
Curriculum training for healthcare professionals should include new concepts of Type 2 diabetes remission.
Let us build hope together for better diabetes treatment and management in Kenya.
Dr Katambo is also a low carb practitioner. [email protected]