School fires, unrest are beyond the tight Covid-19 calendar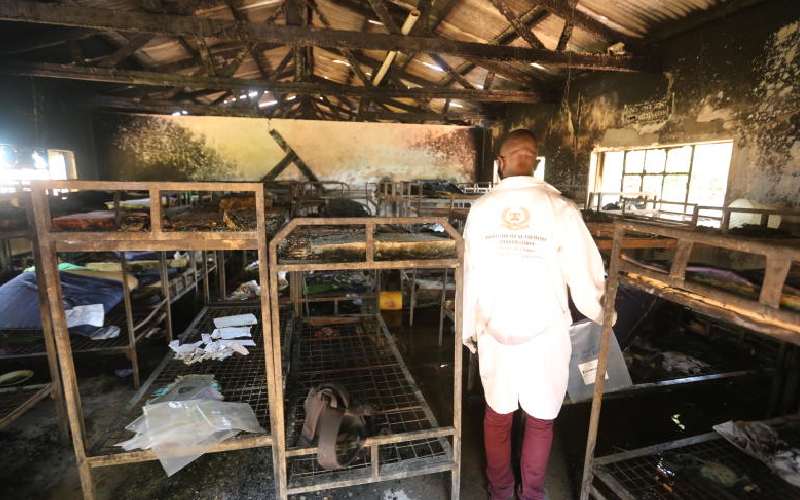 Many Kenyans are still baffled by how quickly the government gave in to students striking and burning school buildings. While a half term break is not a bad idea, the decision by the Ministry of Education to offer it as a solution and a response to criminal activities of arson is likely to fuel more of such incidences.
School fires and strikes are not new in Kenya. The ministry should be aware that the reasons are beyond exhaustion of students due to the squeezed school timetable. The real issues have been elaborated before through several task forces and research reports with the more recent being the Claire Omollo Committee of 2016.
One of the reasons is lack of communication. Students only react to demand attention which they would appreciate if they got in another way. A lot of issues raised can be solved through effective communication. For instance, in one school the main issue was that the administration denied them a chance to watch a game between Liverpool and Manchester United. This problem would have been sorted in 90 minutes if there had been clear cordial communication.
Poor administration is another reason. The administration must know what to give and what to take to maintain effective student-teacher relationships. In an environment where the administration is already aware that they are dealing with exhausted students, surprise treats come in handy.
I was in a school where, the principal P C Kendagor, now deceased, would slaughter a bull for his boys anytime he felt they needed a treat. One piece of meat would then be the source of peace for a considerable period. Students also do go on a rampage over poor diet or poorly cooked food, an issue that must be addressed. School unrests have also been triggered by transfer of teachers or school heads. In other instances, students openly reject their school heads or teachers for high handedness, ineffectiveness and poor track record.
Parents and guardians too cannot be blameless. Schools have become a dumping ground for their wayward children. Some students unfortunately come from dysfunctional families. There is thus need for functioning guidance and counselling particularly for students caught up in the web of drug abuse and other social ills. School heads can also invest in open forums and motivational talks.
The writer is an anchor at Radio Maisha