Let's adopt agro-ecology and do away with harmful pesticides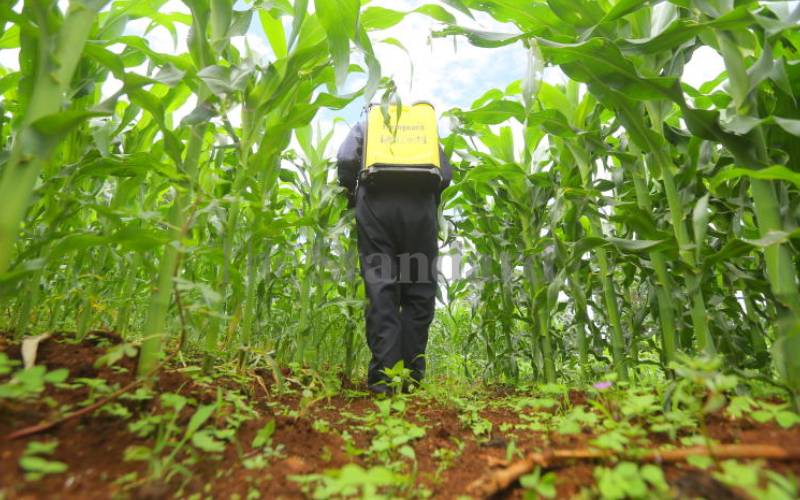 Given the agricultural nature of the Kenyan economy, pesticides have increasingly been used to boost production. Agricultural practices are listed among leading contributors of land degradation and destruction of the ecosystem. It is estimated that 75 per cent of the country's population is either directly or indirectly involved in agriculture.
In 2018 alone, Kenya imported 17,803 tonnes of pesticides worth 128 million dollars ranging from insecticides, fungicides, herbicides, fumigants, rodenticides, growth regulators, defoliators, proteins, surfactants and wetting agents.
Although pesticides have increasingly been used to improve crop production, their use has devastating consequences on health and environment. While they form a small fraction of pesticides, highly hazardous pesticides can have short-term acute effects and long-term effects on humans.
Stomach aches
Some of the acute effects include headaches, stomach aches, skin irritation and shortness of breath. On the other hand, chronic effects include endocrine disruption (acting on the hormone system), carcinogenicity can be toxic to different wildlife species or are known to cause a high incidence of severe or irreversible adverse effects.
Some of these pesticides have been linked to chronic and non-communicable diseases such as diabetes, Alzheimer's, cancer, osteoporosis, chronic lung disease, stroke, and heart disease.
Notably, many Kenyan consumers and farmers are not aware of the extent of pesticide use, their concentrations in food and environment and their possible effects on the environment and ecosystem services despite being most frequently and directly exposed to pesticides. With this low awareness, many farmers and consumers continue to be exposed to the devastating impacts of pesticides.
Crop rotation
A study conducted by Center for Environmental Justice and Development in 2019 to assess the Situation of Highly Hazardous Pesticides and Alternatives in Kenya found that of the 1,627 pesticides products registered in 2018, 1345 (83 per cent) of the products are registered for use in crops; 145 (9 per cent) products are for use in public health; 101 (6 per cent) are registered as technical grades for local formulation; 35 (2 per cent) are temporarily restricted; and five products' severely restricted for use in pesticides have increasingly been used to boost agricultural production in Kenya, with agricultural production contributing about 34.6 per cent to the country's Gross Domestic Product in 2018, according to Kenya National Bureau of Statistics.
To ensure smallholder farmers continue to produce food, there is need to educate them on integration non-chemical approaches to control pests and disease, including crop rotation, cover cropping and biological pest control methods such as uprooting and early planting. In terms of soil fertility, smallholder farmers can employ Boma manure, mixed cropping, green manure and rotational cropping to improve soil fertility.
However, as we seek to shift to agro-ecology, there is inadequate research on agro-ecology; low emphasis on agro-ecology in the education system for human capacity development. There are inadequate training programmes on agro-ecology, inadequate extension services for agro-ecology, lack of an effective system for production and standardisation of quality inputs and inadequate market infrastructure and labeling requirements for non-chemically produced foods.
To address the challenges of putting in place safeguards on how pesticides are used to protect human health and environment calls for promotion of safer alternatives to pesticides among farmers and rural communities such as the use of agro-ecology and reduction of the impact of pesticides exposure on human health and environment.
Agro-ecological based farming has been recognised by the International Assessment of Agricultural Knowledge, Science and Technology Development as the future for agriculture because of the ability to deliver productivity without depleting the environment and disempowering communities.
Sensitise farmers
There is need to sensitise farmers, through extension officers, on the importance of agro-ecology approaches by developing and testing organically propagated seeds and non-chemical pest control approaches. Rigorous and targeted awareness, education, and training programmes will be needed to sensitise and amplify adoption of agro-ecology among smallholder vegetable farmers as well as encourage the consumption of ecologically produced foods.
To protect farmers and consumers from the devastating effects of pesticides, there is a need to lobby for a progressive ban of highly hazardous pesticides registered for use in Kenya. Finally, to ensure capacity development and skills transfer, there is need to streamline agro-ecology in the public education system through curriculum development.