Jubilee government has failed us; the next one should not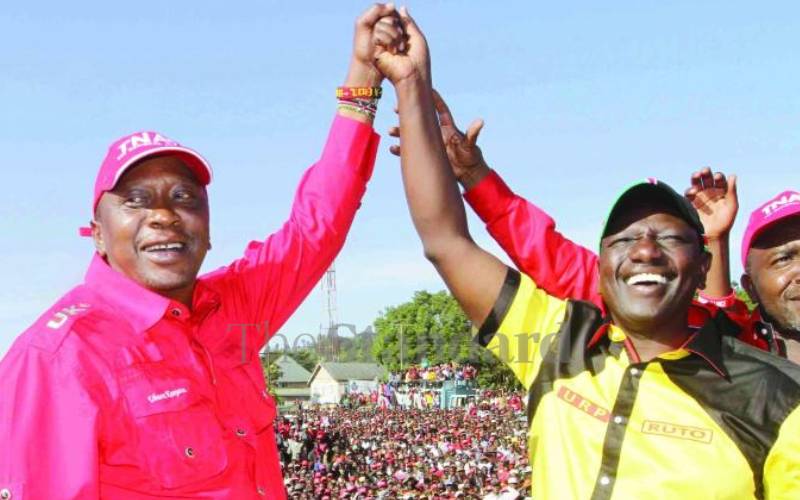 The transition from President Daniel Moi's Kanu to Mwai Kibaki's Narc was epic.
Kibaki, among many promises, assured Kenyans of prudent tax collection, sealing corruption loopholes and funding Free Primary Education. Indeed, and rightly, he lived to the expectations of many by rolling out Universal Free Primary School Education and the Subsidised Secondary Education.
Under his watch, Constituency Development Fund was established and grassroots development grew exponentially. He rolled out and supported micro-economic enterprises such as boda boda with a strong financial support from commercial banks. Employment boon created in informal sector is worth mentioning.
The Kibaki administration had a proper strategy to fight corruption, and never entertained criminal tender-entrepreneurs. He increased revenue targets, lured investors and improved infrastructure all over the country.
He had a team of advisors drawn from all sectors who sat in the National Economic and Social Council whose job was to gather views, refine them and turn the good ones into government policies.
He delivered the elusive new constitution that brought in devolution that is stimulating rural economy. It is instructive to note that during Kibaki's tenure was the economy grew by 7 per cent from a low of 1.7 per cent in 2002.
Above all, the Kibaki administration promoted the rule of law, constitutional order and respected human rights – unlike the Jubilee government.
As l pen this article, the Cabinet has not met for over eight months – this is worrisome and indeed disturbing especially in a country like Kenya where the economy is underperforming, there is heightened political temperature, there is insecurity in parts of the country and the education system is on the verge of collapse.
If Kibaki were to be on the ballot in 2022, he would be massively elected without campaigning. Kenyans, now preparing for a transition next year, seriously need another Kibaki – a leader committed to the rule of law, who will revive the economy and, more importantly, promote democratic tenets and human rights.
All that Kenyans are witnessing today is the reverse of the gains made under the Kibaki administration. President Uhuru Kenyatta and Jubilee government have back-pedalled and, sadly, failed to live up to their billing despite enjoying resolute support of the opposition.
During the electioneering period, The National Alliance party (TNA) the precursor of Jubilee Party, made lofty promises such as provision of Universal Healthcare, School Laptop Project, Free Maternity Programme to end maternal and child mortality, lower taxes for the middle class, creation of more jobs, implementation of the Constitution in its entirety, among many others. To date, nothing much has been achieved. Most of the promises have turned out to be falsehoods, and illusions.
President Kenyatta's development blueprint, the Big Four Agenda, comprising of Food Security; Affordable Housing; Manufacturing and Affordable Healthcare among other undertakings like Competency-Based Curriculum (CBC) is tough to pin down because of lack of specificity, though some are easier to evaluate.
The Head of State promised to take Kenya to the next level socially, politically and economically. He said he would work closely with all Kenyans, including those who critique his government and who did not vote for him.
This turned out not to be the case. Leaders with dissenting views have either been haunted, vanquished, subdued or suppressed in one way or the other.
UNDP Human Development Report ranked Kenya as one of the most unequal societies in the world as 30 per cent of the population live in poverty. The report further revealed that the country's top 10 per cent of households control 42 per cent of total income, while the bottom 10 per cent control less than 1 per cent.
What divides this country is not our tribes. It is the unequal distribution of resources which make a section of ethnic groups to feel alienated.
It is our hope that the transition will usher in a president with a strong vision, an uncanny ability to articulate goals, and a willingness to use all possible powers to achieve the targets in his manifesto; a president who will make a "good faith" effort to keep his campaign promises. If we choose one with no goals at all, or no ability to communicate goals, we shall feel directionless and lost.
It is impossible to guess with any quantifiable certainty as to how much the next president will accomplish his blueprint – but we want to believe that this time around, the transition will certainly usher in a game-changer – a president who will have an obligation to deliver upon landmark promises such as Vision 2030 and the 17 Sustainable Development Goals which are an urgent call for action by all countries in the global partnership.
In sum, the next president should fully implement the Constitution (2010) without seeking "to circumvent it", moreover, must tackle the unfinished issues of equal distribution of resources and land that partly led to Kenyans to turn against each other in 2007.
A presidential election is far more than a popularity contest or a struggle for party power. It's a profound choice of goals for the nation.