Barrows to helicopters: Matiang'i deals deadly blow to Hustler No 1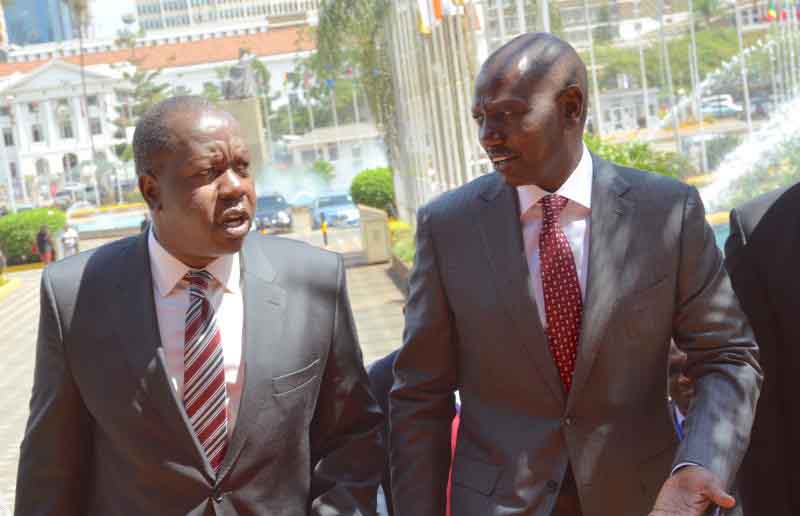 Kizaazaa is a term that Kenyans like to use with reckless abandon, although it was specially made for certain, specific occasions, like the one facing Deputy President Wiliam Ruto. I can smell kizaazaa from a kilometre away, having gone through one just recently.
It was a bright, Saturday morning, so I called the fundi to fix a soap holder on the wall, but he called back to say he had punctured a water pipe instead. I spent the rest of the day trying to fix the pipe, which meant scraping off paints and drilling into stone. The leak finally stopped, but I still don't have a soap holder.
But the kizaazaa facing Hustler Number One who, ironically, is also known as Number 2, is more slippery than soap and water. And I could tell something was afoot from the swagger on Internal Security minister Fred Matiang'i as he swung into Parliament Buildings, accompanied by his Permanent Secretary Karanja Kibicho.
They were the men in black and matching shirts and ties. We all know Matiang'i to be mtu wa kifua, which is to say, he can be unnecessarily pushy. And the only line he was determined to pursue when push came to shove, was that Bill Ruto hasn't turned into a cry baby in his bid to win sympathy from Kenyans, he wasn't exactly a hustler.
That was a dramatic shift, but isn't that the hallmark of kizaazaa? One moment, Ruto was swearing by the gods of Sugoi that he'd hired G4S guards because the State had taken away his armed guards, the next, he was speaking kizungu mingi to insist he only owned barrows, in place of choppers.
And because Matiang'i has a sense of humour, he said some folks were claiming he had the supernatural powers to switch off the moon and the sun so that neither light nor heat will come the way of his targets.
When Matiang'i was done, the narrative had shifted from matters of bows and arrows, rungu and baton, to the value of Ruto's assets under armed guard, at taxpayers' expense. From the inventory listed as the earthly possessions of the Hustler from Sugoi, there was no single mention of a wheelbarrow, only choppers and airport hangars. And the beach hotels and thousands of acres of prime land and plum residencies.
But Matiang'i appeared to derive a particular glee when explaining that a chicken farm owned by Ruto was under four armed guards and whose entries in the Occurrence Book would only feature details like which birds mated when, which ones laid eggs or hatched.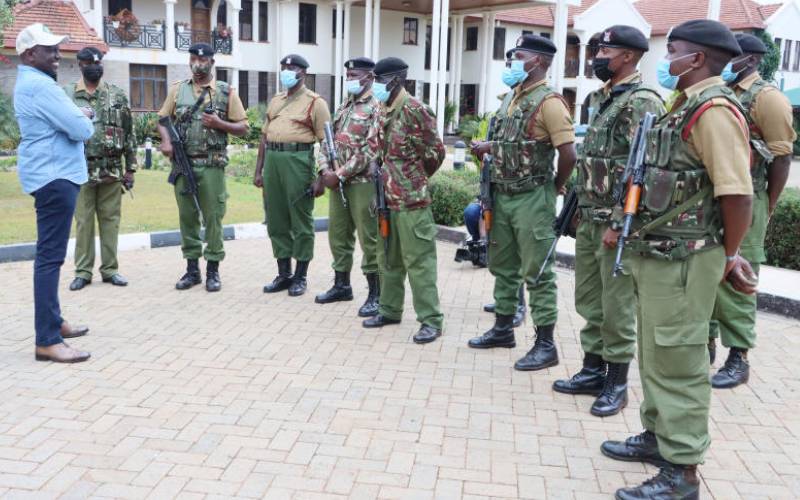 That's an exaggeration, of course, but Matiang'i made no mistake that Hustler Number One is no ordinary hustler. He has amassed enough to merit change of status.
Maybe it might be easier to change the narrative by insisting, with a straight face, that indeed, there were typographical errors in the list provided by Matiang'i.
He could say somebody had added a few zeroes to every figure listed on Matiang'i's list.
For instance, his 15,000-acre farm in Laikipia is simply15 acres, and so on and so forth. As for the choppers under the hangar at Wilson Airport, he could insist it's the same contraption as the barrow, only that this one can fly.
And in his make-believe world that so many Kenyans now inhabit, that's not just a pulpable possibility, but an alternative fact.