Ruto's abortive Kampala mission and farmer wheeling barrows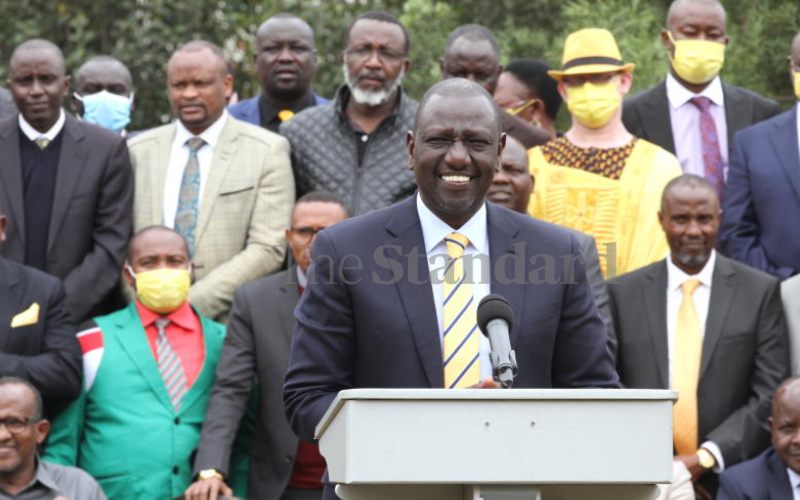 Veep William Ruto's botched trip to Kampala does not even begin to describe the well-worn Kenyan expression, kama ndrama kama vindeo. No need for translation here, as I think you get the drift… We now know of the bureaucratic entanglement over Ruto debacle at the airport, when he was notified he wasn't boarding any flight out of the country without "clearance" from his boss.
That was Tuesday, and for someone who had spent the previous afternoon in a crammed airport room, making frantic calls and possibly foaming at the mouth, Ruto appeared surprisingly calm when he appeared on Inooro TV's breakfast show, on Wednesday.
Perhaps this was familiar territory for him: the interviewer was dressed in colours of his new party, the United Democratic Alliance and vigorously nodded her assent to his every response.
"My dear sister Nyokabi," Ruto started, before truncating the name further to "Nyoks." Nyoks has a strange roll on the tongue and if Ruto wants to persist with this informality, he should try "Kabi" for a change. It sounds fancier.
Let's for a moment ignore the roundabout arguments and counter-arguments about the bureaucracy surrounding external travel by civil servants and get to the crux of the matter.
Ruto should travel to Kampala as regular hustlers do. A boda boda ride to town would have delivered him to a Busia-bound bus in town, for overnight commute. Another boda boda ride using panya routes would have enabled him to cross into Uganda by dawn, without having to sign any papers anywhere.
And since his main mission was to get this fruit farmer from Turkey to town, wheeling a barrow across the border hawking a few gorogoro of maize would have ensured they arrive on Ugandan soil without a hitch.
A "please call me" message, even using a borrowed phone, was all he needed to alert his host, M7, that he needed instant evacuation from Busia.
The idea that our Veep has become a "broker" of sorts soliciting for business for a neighbouring country isn't sinister. Having been shunted to the periphery by his boss, Ruto has to get something to keep himself busy.
And given the volumes of food we import from Uganda, why shouldn't our Veep deliver a farmer to a neighbouring country in the spirit of East African Community?
But there was other business in Kampala, according to Ruto's ally Oscar Sudi, the Kapseret MP who was also in the entourage. He and the Veep's team, he said, wanted to "benchmark" by studying closely how M7's National Revolution Movement (NRM) works.
I can tell you for nothing. NRM is M7 and M7 is NRM. And opponents are either in detention (or under house arrest) or in exile. And although there is consensus about M7's ability to cling to power, opinion is divided about his ability to win polls.
Some say he hasn't won any, actually, save for his January 1986 triumphant romp into Kampala, when he emerged from the bush, after a five-year campaign, to drive Tito Okello out of town.
"This is not a mere change of guard. I think this is a fundamental change in the politics of our government," M7 told the New York Times then. To succeed as M7, I suppose Ruto has only one path: he must start from the bush, though no one is hiding there.