I've seen many things in Kenya including democracy at work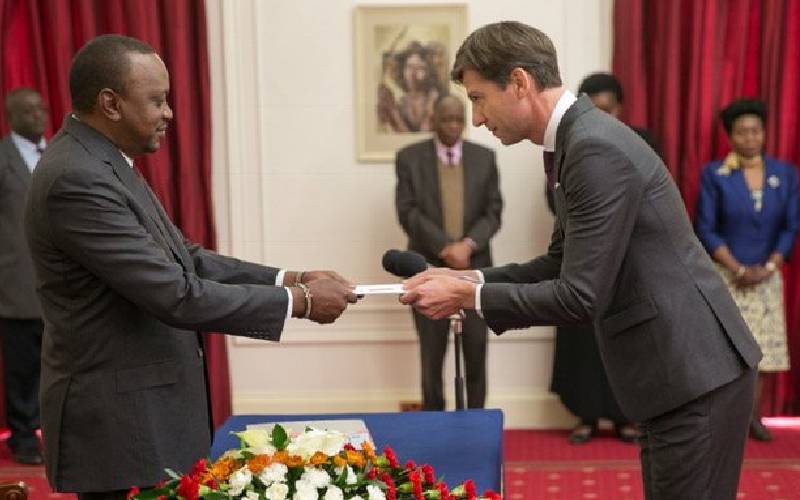 Last month, President Uhuru Kenyatta made an official visit to Brussels where he met two key Belgian interlocutors: His Majesty King Philippe and Charles Michel, the President of the European Council.
For the end of my tenure in Kenya as Ambassador of Belgium, I could not dream of a better crowning event.
I landed in Nairobi on August 30, 2017. It was early morning and on my way to the CBD, I smiled at the sight of the marabou storks hanging out on the billboards along Uhuru Highway.
The next day, flabbergasted, I witnessed on television the annulment of the presidential election in Kenya, the first time this had ever happened in Africa.
A re-run was soon organised, and President Kenyatta won a second term. Tension ensued with the opposition but thereafter came "the handshake", and tranquility was restored.
What I actually witnessed in my first months on the job was democracy at work. A democracy that, like any other, encountered potholes on the way but succeeded in maintaining peace among its citizens by giving a premium to dialogue.
When I settled in my office, which is nestled at the edge of Karura Forest, the relations between the European Union and Kenya were cordial but I sometimes felt that what the union and its Member States offered to Kenya in terms of trade, grants and expertise was not recognised at its true value.
But the past four years and the Covid-19 crisis-during which the EU pulled its weight for Kenya-showed who was the first partner and friend of Nairobi.
Last month, President Kenyatta and President Michel elevated this relation to a strategic dialogue. The timing was no coincidence. The tectonic plates of the Horn of Africa have been moving these recent years. Kenya is an anchor stability for the Region and certainly for Europe.
Human rights
Contrary to what some might think, an ambassador is less interested in the cocktail parties he is obliged to attend, and far more in understanding the social fabric of his or her country of adoption.
While in Kenya, I devoted much time to better gauge the human rights landscape, and in particular gender issues such as female genital mutilation, or the challenges faced by people of a different sexual orientation.
The visit of Her Majesty Queen Mathilde, as United Nations Children's Fund ambassador, gave me the opportunity to grasp the stakes of youth education in rural and urban areas.
What I gathered from all these contacts was that Kenyan youth are eager to learn, are full of creativity and are hungry for a better society. If their energy and talents are harnessed, the future of Kenya will only be brighter.
Just like Kenyan coffee, state-to-state loans from Belgium have been my daily staple at the embassy. Travelling within the country made me see that a growing Kenya is in need of more infrastructure. This is precisely what Kenyatta had in mind when he launched the Big Four Agenda.
Belgium may only be the size of Tana River County, but its engineering skills date back centuries. Water treatment plants, cutting edge technology for the treatment of medical waste, ICT infrastructure for the counties, firefighting trucks, and so many other things… One can really say that during my tour of duty, the Belgian Treasury and Belgian companies made a high-quality contribution to a more secure and competitive Kenya.
There is still so much to learn, so much to do and so much to see in Kenya. If only I had more years to work and represent Belgium in the hub of East Africa.
But it is time to say "Kwaheri" and "Asante".
So, before leaving, I will gather in the palms of my hands a tile of Biashara Street, a patch of fluffy white cloud, the wings of a black kite and the shine of a smile.
Mr Nihon is the outgoing ambassador of Belgium to Kenya.