The Judiciary Ombudsman has done a commendable job so far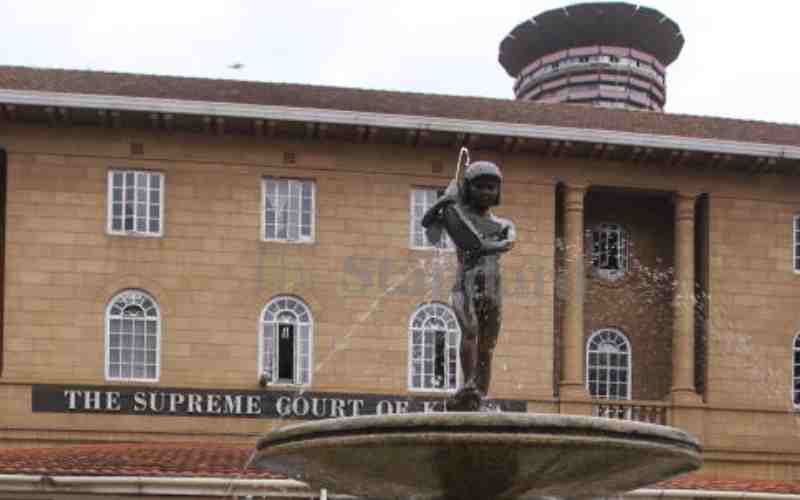 The Judiciary is charged with administration of justice. Before the promulgation of the 2010 Constitution, the institution was largely regarded as accessible only to a privileged few. The poor had it rough in the corridors of justice. There was no specified complaint handling mechanism to turn to. The institution was closed to the public in terms of sharing information, raising concerns and generally getting the all-important public participation and feedback on service delivery.
Judiciary then embarked on a journey under Chief Justice Willy Mutunga to open up to the public, giving people a platform through which to lodge complaints including over delays in court, suspected maladministration or lack of integrity, misconduct on the part of the presiding judicial officer(s) and/or staff, among others. The Judiciary Ombudsman undertakes to give feedback within 24 hours from the time of lodging a complaint.
The Judiciary is accountable through its decisions which must be impartial, judicious, clear and well-reasoned. Judiciary's accountability is enhanced through a range of institutional mechanisms such as the Office of the Judiciary Ombudsman, which exists to promote independence, enhance service delivery and the ability to dispense justice effectively and efficiently, thereby increasing public confidence in the institution.
The Office of Judiciary Ombudsman was established as the institution's accelerated grievance handling mechanism to receive, investigate and recommend necessary action against those found culpable of maladministration in the Judiciary.
This was intended to enhance integrity and the fight against corruption as well as address injustices occasioned to litigants and to ensure expeditious delivery of justice. The office was and is still a great milestone to the Judiciary mainly because before it was established, members of the public and Judiciary employees had no avenue to air their grievances. This meant that any dissatisfaction from any quarters of the court was an end to itself with no remedy.
The establishment of the Judiciary Ombudsman gave effect to Section 8(e) of the Commission on Administrative Justice Act, 2013. There is the Commission on Administrative Justice (CAJ/Office of the Ombudsman) which is a constitutional commission established under Article 59(4) of the Constitution, and the Commission on Administrative Justice Act, 2011, whose mandate is to tackle maladministration in the entire public sector.
The office receives complaints of all kinds from justice consumers that are broadly categorised into missing files, delayed judgements/rulings, corruption/integrity concerns, adjournments without notice, delayed orders, cannibalised files, poor service, slow service, delays in cash bail refunds, delayed proceeding and complaints from private sector actors doing business with the Judiciary such as contractors and suppliers. These complaints are summarised and recorded in an online real time system (OTRS) and issued with a unique reference number.
The office, however, does not handle complaints concerning a substantive legal or evidentiary issue, otherwise known as merit-based issues (court proceedings); an issue that is subject to appeal by law for example on unfair judgements/rulings; complaints requesting court orders to be given or done away with; complaints regarding matters that are subject of police investigation and complaints against judges. The latter are the sole preserve of the Judicial Service Commission (JSC).
Since its inception in 2011, the Judiciary Ombudsman has improved public awareness of judicial processes and the complaint redress mechanism available to them through outreach and sensitisation (public clinics and prison visits); ensured the liaison persons at court stations are continuously trained on how to respond to complaints through the OTRS, hence facilitating timely and accurate feedback to complainants; enhanced the office's presence and interactions on social media; ensured compliance to management directions and carrying out investigations by visiting court stations unannounced; and collaborations with other agencies.
This has led to successfully addressing malpractices. The office upon investigation of complaints, refers those meriting action to the JSC, which takes disciplinary action against offending judicial officers and Judiciary staff on lack of integrity issues and other malpractices.
The Judiciary Ombudsman has received and processed over 10,000 complaints since its inception with an average success resolution rate of 85 per cent. In the financial year 2019/2020, the office received and processed a total of 1,569 complaints.
In the current financial year, the office has so far received 1,493 complaints, 49 per cent of which have been successfully concluded while the remainder are at various stages of investigation. It has introduced three hotlines and launched an upgraded OTRS, making it easier for the public to lodge their complaints and compliments.
Like all other institutions, the Judiciary Ombudsman's operations have been adversely affected by the coronavirus pandemic, curtailing in-person visits.
However, it has instituted measures such as online complaints forms easily accessible through [email protected], a physical complaints box at the entrance gate for dropping off complaints, telephone numbers, virtual interviews and e-mail statements.