University dons grappling with changes caused by deadly virus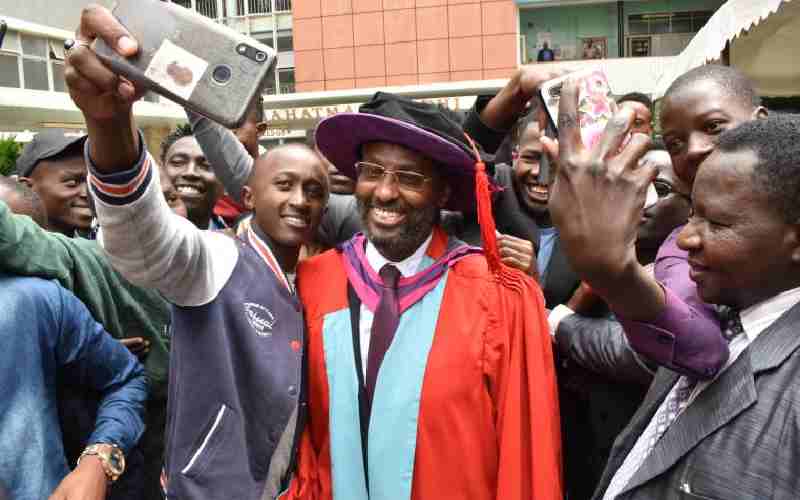 University vice-chancellors are caught up in a joyless and lonesome task that belies the glamour usually pegged to their offices.
While their corner suites are magnificent and exalted, the task at hand is wretched and cheerless. They are having to grapple with reduced funding, low enrolment, delays in payment of tuition fees, curriculum reforms that demand massive layoffs and intricacies brought about by Covid-19.
"You are damned if you do and damned if you don't," University of Nairobi vice-chancellor Stephen Kiama Gitahi summed it up last week as he forlornly announced that the institution was shedding jobs for more than 100 lecturers in drastic reforms to keep it afloat and safeguard learning quality.
In the last five years, universities have had to admit fewer students than previously owing to the lowering of the cut-off grade for admission from B to C+ and the massive reforms at the Kenya National Examinations Council, which substantially reduced cheating in national examinations especially in the Kenya Certificate of Secondary Education (KCSE) exam.
The overhaul quickly resulted in fewer students making the cut for entry to universities. The institutions, which principally depend on student fees to remain afloat, have in the last five years been enrolling only about 20 per cent of KCSE candidates each year.
This year, only 143,140 students, about 19.2 per cent will be joining universities out of 747,161 who sat KCSE last year. The numbers have been going down from 170,000 in 2015 to 125,463 in 2019, with an incremental change this year.
In the 2016/16 academic year, the universities had a total enrolment of 537,689, 522,059 in 2017/18, 519,462 in 2018/19 and 509,473 in 2019/20.
This shrinking enrolment has forced many universities to shut down campuses due to under-utilisation and more significantly forced the end of Module II programmes, popularly known as parallel degrees.
The end of these programmes has meant the termination of a major revenue stream for universities because private students would pay up to about Sh500,000 annually for courses in medicine, pharmacy and engineering while the regular ones paid about half and were eligible for the Higher Education Loans Board loans.
In addition to shrinking enrolment, the government in 2019 announced the scrapping of 107 degree programmes, which were either duplicated in other courses, deemed irrelevant to the job market or were attracting few takers.
It ordered the universities to undertake rationalisation of the degree courses in a phased-out process.
Several universities including University of Nairobi, Moi, Egerton, Kisii and others have taken the cue, slashing a number of courses and merging others. Only last week, the University of Nairobi announced it was removing 247 courses from its stable.
These curriculum reforms have themselves spawned a massive staff rationalisation resulting in the laying off of hundreds of lecturers, whose services are deemed surplus to requirement. More than 100 part-time lecturers at the University of Nairobi have already been told their contracts will no longer be renewed.
To compound the problem, lecturers who are unionisable are taking the university managers head on, resisting the redundancies and salary cuts and taking the battle to court, much to the consternation of the vice chancellors.
Still, public universities have seen funding from the exchequer dwindle, leaving them heavily in debt. In the 2021/22 budget, university education was allocated Sh99.9 billion, down from the Sh109.3 billion last year.
The VCs recently told MPs that public universities are reeling under huge debts, including nonpayment of taxes, statutory contributions to pension schemes, Saccos, NHIF, NSSF and insurance premiums to the tune of about Sh37 billion.
Their efforts to increase tuition fees by threefold to plug the income shortfall have been met with a veritable wave of resistance from students and MPs although Treasury Cabinet Secretary Ukur Yatani has called for a review of the capitation rate per student.
As these problems have festered, eating away at the edifices of knowledge, the Covid-19 pandemic emerged in 2019 to cause a further deterioration of the situation as well as present its own peculiar bag of challenges.
The prolonged closure of the institutions in 2019 and part of this year meant little or no tuition fees, and at the same time called for huge investments in online platforms, ICT upgrade and training of lecturers and students on how to adapt to a digital learning environment.
Still, the pandemic has led to massive lay-offs of employees across many sectors, leaving many parents unable to pay tuition fees for their university children or even buying them laptops and data bundles to keep them learning.
A huge casualty of the Covid-19 crisis has been research, arguably the core mandate of universities, and which generates some income for them, as the institutions have been forced to prioritise basic teaching and examinations to keep the academic calendars alive.
The universities may yet overcome these challenges and regain their buoyancy as enrolment picks up in the future and the institutions get more aggressive in generating income to break away from over reliance on tuition fees.
For the vice chancellors however, the journey is tough and unforgiving, mirroring the three wise men in TS Eliot's 1927 poem; The Journey of the Magi.
The writer is a consulting editor. [email protected]