How Philip Ochieng evaded trouble by hiding in linguistic garb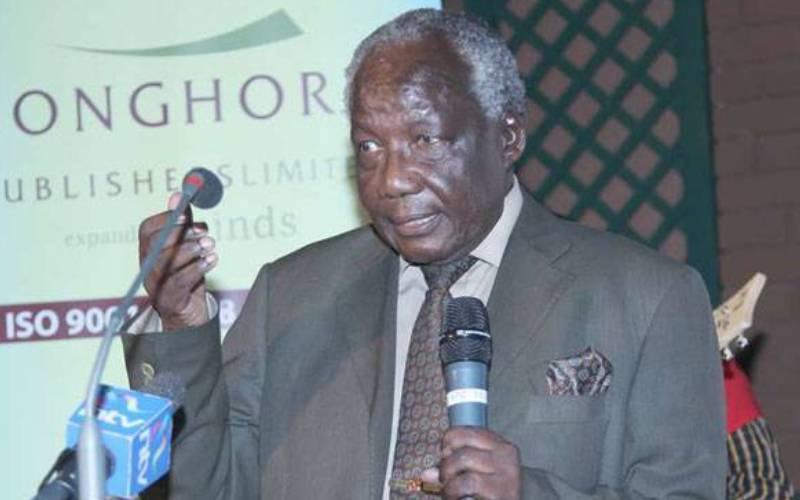 Over the past week, much tribute has been written for the late Philip Ochieng, the consummate provocateur and pioneering journalist who witnessed Kenya come of age in its post-colonial iteration, and proceeded to prodigiously chronicle the nascent nation's growth and challenges using his superbly dexterous pen. His outstanding erudition, clarity, honesty and fearlessness only added to a soaring mystique.
His books, I Accuse the Press and the Kenyatta Succession revealed an extremely smart and profound author who conjured gems every single sentence he penned. Oftentimes, he wrote content concealed in proverbs, couched in impenetrable, jargon-littered English. He also oddly adopted Greco-Latinic etymology and Luo mythology as his pet subjects. With signature arrogance and irreverence, he adamantly refused to be a 'normal journalist', or to walk down his ivory tower to accommodate his whining readership, who often expressed desperation with his complicated language. Instead, he challenged them to read widely, up their own game and catch up. Ochieng seemed to have attained that mythical ability to always deploy the most appropriate English phraseology for any occasion.
This week we reflect on our own interactions with Ochieng and the lessons we picked from his illustrious career.
Although I (Wahome) never got to meet Ochieng physically, I became spellbound by his columns – especially his public tussles with Sarah Elderkin – right out of my teens in the 1990s. At some point, I gathered enough courage to launch my own scathing attack on his writing style in a local daily – certainly not out of conviction, but as a cheeky attempt to attract the attention of this literary colossus!
Subsequently, I conducted very enriching email conversations with him, in which he revealed to me that he was then immersed in a personal study of quantum physics (built on complex Max Planc's and Schrodinger's equations) – a truly remarkable professional detour for a career journalist! From that day on, my conscience was clear whenever anybody questioned why I, a career mathematician, should be writing newspaper columns!
My last correspondence with Ochieng was the most significant. I wrote to him that "today, I just want to wish you a happy birthday. It has been said that when an African elder dies, a whole library of knowledge perishes with him. What shall Kenya say after your own day of reckoning comes – and may it tarry – since you embody a masterly of English that will be difficult to replicate anywhere, anytime soon?" Thankfully, his biography The 5th Columnist, A legendary journalist soon came off the press.
Since my (Chacha) childhood, I always wanted to be a political scientist or journalist, but I ended up a historian who oscillates between the two disciplines. During my secondary school life at Nakuru High School, my interest in journalism was so enormous that I would often interview my fellow students and publish their responses in an improvised 'newspaper'.
Later on in the 1990s, I had the good fortune of working for the Kenya Times as a features writer. This was during an era of intellectual awakening and resistance in Kenya, a state of affairs which elevated Ochieng to a defining character. The time I spent at Kenya Times was a joyful and tremendous learning experience, especially because of the tutorage of Philip Ochieng, who was the editor-in-chief. I observed that Ochieng was a lone ranger, never chumming up with the other journalists despite the fact that he mentored all of us. He always encased himself at the corner of the office – an unusual location for a boss – wearing a serious, barakoa-like working face. He exhibited personal exceptionalism, apparently believing that his brand of journalism was the best and that the younger generations were diluting the profession.
But surely, why such labyrinthine language?
We believe that Ochieng deliberately sheathed his unrelenting criticism of the Government's failings in language that would go over the top of the heads of dangerous political nincompoops. It was potentially treasonable to loudly correct the powers that be, especially during the long era of political intolerance.
He seemed to adopt the subtlety of Tabitha Kanogo, a historian writing on the roots of the Mau Mau, who did so in strict historical language, letting the archives speak through her narrative instead of doing a popular book. Or that of Ngugi wa Thiong'o, who deployed satire and dramatic activism in the time of tyranny.
To his credit, Ochieng's writings, if difficult, always featured a deliberate, accompanying subtext from which the keen reader could always decipher intended meanings.