Leaders have shown open disdain for law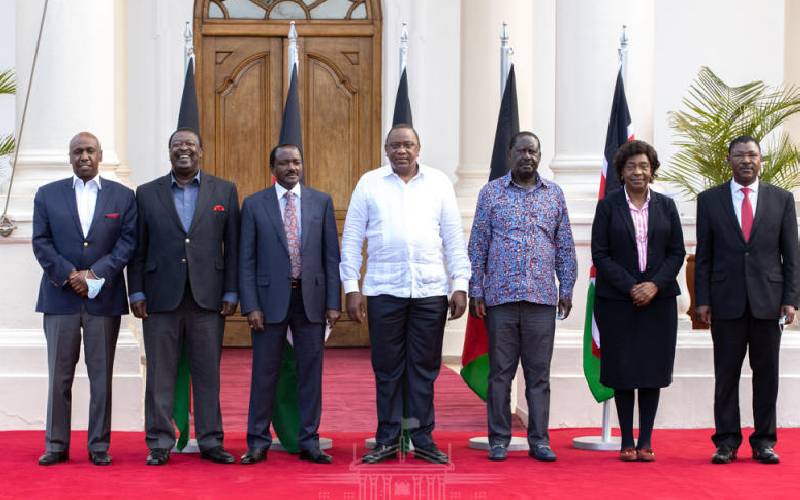 Kenya shall have a new President in September 2022 barring any repeat presidential election as was the case in 2017/18.
His name shall be…wait …perhaps the name shall be his Excellency Raila Amolo Odinga, perhaps it will be his Excellency Dr William Ruto, his Excellency Musalia Mudavadi, his Excellency Gideon Moi, his Excellency Kalonzo Musyokaor any of the big and small horses warming up for the big race.
Let me begin with the downside of all this 2022 presidential campaign business. That there is no woman presidential candidate – at least that we know of to date – is not nice. Those of us who strongly believe in the goodness of our mothers, sisters, aunties, daughters, nieces and so forth, know that a woman president would probably change the narrative of tribalism that the gentlemen who have lined up themselves for our consideration next year exploit even if they may not want to admit it. Of course, a woman president will be more than a narrative changer.
She will compete with these men, hopefully, emerge victorious because as it is said "what a man can do, a woman can do better." I still remember Her Excellency Charity Ngilu going for the big seat in 1997. It was fresh air in a male saturated political space.
Second, all systems are up gearing for elections, clearly, against the law of the land that it is not yet time to hold campaign rallies. The very people who want to govern through legitimate power are the very ones disregarding any resemblance for the very constitution they have sworn and will swear to protect.
What, pray, makes us believe these candidates will uphold the law if they cannot hold back and wait for the right time to campaign? What law will stop them from pursuing their narrow interests if under the light of the sun they will hold public rallies to sway voters 16 months to election time? Okay, I give up. Law cuts both ways.
Worse, we voters are out of our minds. We have the time to watch adults abuse each other and cheer. We have the time to attend rallies that undermine the very Constitution we want our leaders to uphold. We have the time to line up to politicians in public rallies to pledge our loyalties. I will spare the rod for the cunning politician who will stand to "say a few words" regardless of where the podium is. But, more than that politician, we voters need to reflect deeper and see our part in entrenching a culture of political lawlessness.
Away from that venting, those who are salivating at the possibility of occupying State House, should go back to March 9, 2018, and read every newspaper and watch every audio-visual clip on what happened that day. In other words, everyone who contemplates becoming president should not imagine there will not be a need for a handshake. Let me jog our memories since, as Kenyans, we are known for forgetting history very fast.
The economy was coming to a standstill. Ethnic hatred was picking like we had an obligation to hate each other. Public transport and housing discrimination were becoming the new norm. The country was being ruled somewhat – in a very negative sense – by two leaders. One had legit powers with no legitimacy to rule all Kenyans and the other had legitimacy over half the country but not legit powers. We were staring at a civil unrest.
TRANSPARENT MANNER
Thankfully, the two leaders put the country before their ambitions. I really don't care whether they were coerced as long as they put behind their ambitions and soldiered on as patriotic citizens.
The presidential campaigns for next year's election may split the country into two or three radicalised groupings. Seemingly, the intended post-election coalitions may not really uplift the spirits of Kenyans who would have lost – hopefully in a transparent manner so no one claims victory, or lose in a way that puts the rest of us at risk.
The reason for this fear is that the candidates we have so far, have not, in any meaningful way, raised their campaigns beyond radicalising their followers. Surely, there are a million and one other ways to campaign without radicalising supporters. The occasional sparks of violence in the recent past are worrying. The presidential candidates in the field have very intelligent teams around them. Make use of them.
Precisely because the candidates don't care anymore about the law, there is no guarantee they will when outcomes are announced next year. We therefore ask them from this point on, to consider a handshake for the sake of this country when the time comes demanding.
Dr Mokua is the Executive Director of Loyola Centre for Media and Communication