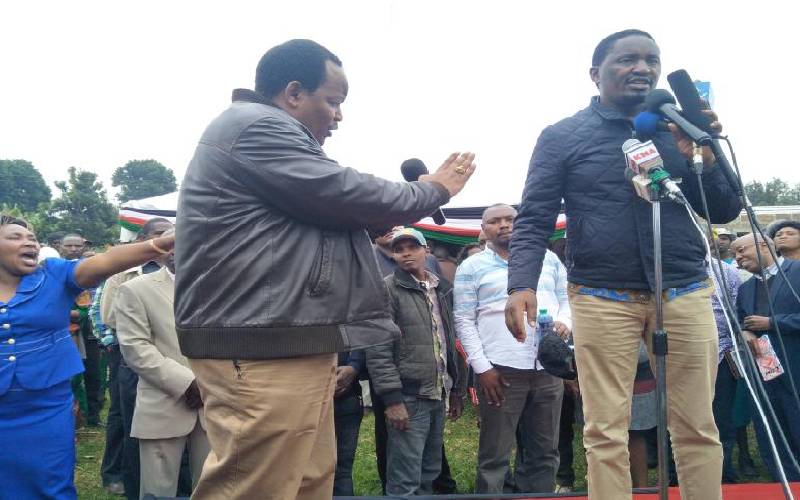 The old Kenyan saying, 'What's good for the goose is good for the duck', is playing out on the 'Animal Farm' as we speak.
At this rate, we need a Good Shepherd to cover the sheep as the geese and ducks cluck it out.
See, it's never a good scene when geese fight. They are vicious birds, and they can fight to the death. I know this from personal experience. A long time ago, my mother had the idea to buy two goslings, a male and a female.
In no time at all, they had grown up and begun to have little geese of their own. While Mama Goose was laying eggs, Baba Goose became very territorial.
Read More
You couldn't even look in Mama's direction without her baby daddy getting his tail feathers in a twist.
So, one day I walked past her nest while Baba was keeping watch, forgetting for a moment how cantankerous he had become.
Believing that I was looking for an egg to make an omelette, he charged at me with his beak pointed forward like a weapon.
When I saw the weapon trained on me like a missile, and his little legs hurtling in my direction at break-neck speed, I took off like a rocket, almost falling over my feet as I scuttled to safety.
But who is Baba Goose? He chased after me while making the most sinister hissing sound, a sound that I have never been able to get out of my head.
Charged again
He chased me around the house, leaving no gap to quickly go through the front door. By the time I was rounding the corner to the back of the house I knew that flight was not working – it was time to fight.
So I turned on the monster goose and screamed at the top of my lungs, hoping that, like most men, he would choose to avoid the drama. He did not.
Rather, he paused for a moment, probably a bit confused, but then charged again.
The moment of truth had arrived and I was left with no choice but to attack. I began to flail my arms and my legs in his general direction hoping that I would land a blow.
From that point onwards, all I remember is feathers flying and the goose squawking. My eyes were only half open because I was so afraid, but when he fell silent and I lifted one lid just a bit higher, I saw him limping away with his head turned back as if to say, "You may have won this round, but I still have my eye on you".
I didn't kill him but I maimed him for life. Ever since that day, every time I passed by Mama Goose and her nest, he would hiss like a snake while brandishing his beak, but that was all.
He never charged at me again, never once limped in my direction. He became the very definition of a lame goose, or in political parlance, a lame duck. All quack and no attack.
Current war
Politically, a lame-duck refers to a leader who remains in power but will soon be replaced by a newly elected successor.
Typically, this decreases the power of the officeholder as attention shifts to his incoming replacement.
It is clear that attention has shifted in this great republic of ours. There's a lot of quacking going on but not much action to back it up. Which is not unusual; in fact, it is expected.
The only problem is that in our context, words that fly from one politician to another can seem empty and ineffectual, but there is always a constituency, two or three that take those utterances as a call to arms.
What's good for the goose might be good for the gander (if I may site the proper usage of the saying), but it is usually bad for the voter.
The current war of words in political circles is pushing this country ever closer to the precipice where things could fall over and shatter once again.
It's unfortunate that despite our past, which is very well documented, we continue to sit by and watch as the election bonfire is built.
In the end, it will take just one or two unsavoury utterances for the match to be lit, and the thing to catch fire. End of the day, it is preventable. Politicians need to choose their words wisely.
It's as simple as that. If there's one thing I learnt from my war with a bird, it's that beaks should never be used as weapons.
Ms Masiga is Peace and Security Editor, The Conversation