Rural women farmers need support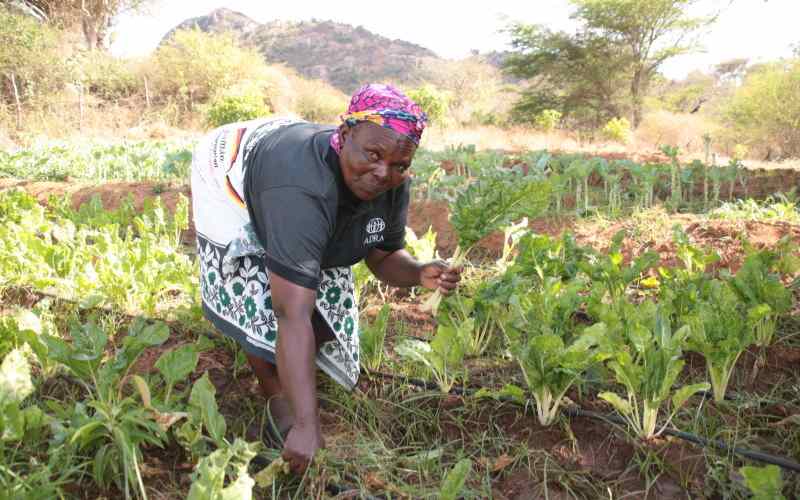 I grew up in Nairobi's Kibra but visited my rural home in Bondo, Siaya County on several occasions with my parents. I noticed a unique trend that often moved me. My mother spent considerable time on the farm toiling hard while my good old man (now late) on the other hand, spent time under a cool shade listening to soothing oldies on his transistor radio.
Later, I learnt that this farm was firmly and securely under mzee's name. Well, that unequal state of affairs is replicated in most homesteads in Kenya and across Africa. For most rural women farmers, the conditions they face are far worse than my mother's because it is akin to slavery. Although women contribute to food security, and spend more hours on farms compared to men, they do not own the land or have a say on it.
According to the Food and Agriculture Organisation (FAO) of the United Nations, women comprise 43 per cent of the world's agricultural labour force.
Unfortunately, majority of women face gender-specific obstacles—such as lack of access to land, financing, markets, agricultural training and education, suitable working conditions, and equal treatment. The biggest hurdle is unfavourable land rights.
Thanks to our patriarchal society, land inheritance, ownership and use is a preserve of our fathers, husbands and brothers in most African countries. According to research, in developing countries, only 10 to 20 per cent of landholders are women, and in some parts of the world, women still cannot legally own or control land. But why is land ownership a big deal for women farmers?
When a female farmer isn't empowered to make decisions about the land she works, she cannot enter contract farming agreements that could provide higher earnings and change her fortunes.
Other than land rights, women also lack access to extension services. Reports by FAO show female farmers only received 5 per cent of all agricultural extension services. And globally, only 15 per cent of those providing these crucial extension services are women.
Worse still, women tend to be employed for labour-intensive tasks for instance plucking coffee and they generally earn less wages than men. They work up to 13 hours per week longer than men in agriculture. We can change this narrative. Abolishing gender-specific barriers in farming, the UN reports, would not only empower women to achieve their economic potential, but would also feed a hungry world.
Giving female folk access to same resources and education as males could increase food production by up to 30 per cent, says FAO.
The good news is there is positive progress on the ground. There are various donor-led initiatives to give women a place at the decision-making table and empower them on matters agriculture.
The FAO/ United Nations Women project seeks to empower rural women farmers. Last week, FAO and UN Women launched the Kenya Economic Empowerment of Women through Climate Smart Agriculture in arid and semi-arid areas. The four-year project funded by the Korea International Corporation Agency seeks to strengthen women's capacity to meaningfully engage in climate smart agriculture in Laikipia, West Pokot and Kitui counties.
FAO Representative Carla Mucavi said food security starts and ends with women, who account for 60-75 per cent of the labour force in smallholder agriculture in Africa. Anna Mutavati, the UN Women Kenya Country Representative said the project intends to increase technical know-how of farmers on sustainable agriculture approaches in the wake of climate change.
She noted that women are disproportionately affected by overlapping challenges of poverty and food insecurity caused by floods, droughts, locusts, climate change and now Covid-19.
Indeed, when women are empowered and can earn an extra income, they are diverting resources to health care, nutrition and education for their children.
We need to empower our selfless and hardworking mothers, aunties and grandmothers with resources so they can feed and nourish people and the planet.
And yes, empowering and investing in rural women has been shown to increase productivity, reduce hunger and malnutrition and improve rural livelihoods. A wise man said, "If you teach a man to farm, his family will eat. If you teach a woman to farm, the community will eat."
-The writer is a journalist at The Standard with interest in women empowerment and environment conservation.