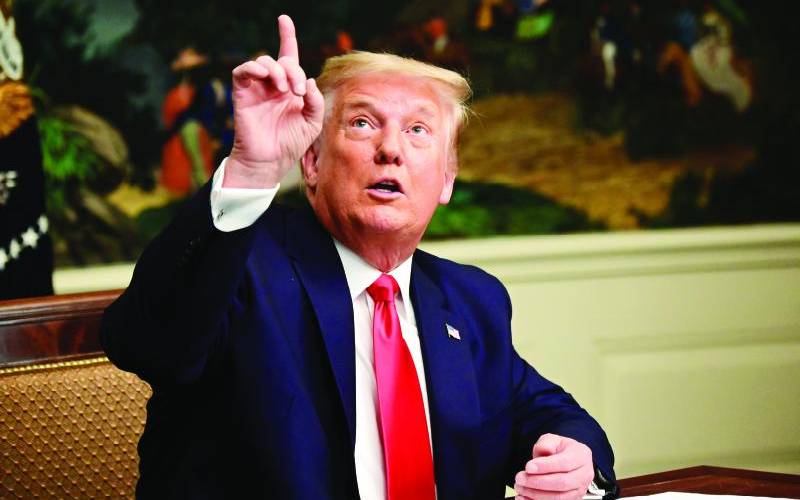 Joe Biden becomes the 46th President of the United States of America today. Mr Biden beat President Donald Trump (pictured) in the November 2020 General Election though the latter has, to date, refused to accept the outcome of those elections. Trump still believes he won but was rigged out.
Trump's reign was characterised by controversy, especially after his unconventional approach to issues became apparent.
Locally and internationally, Trump did not come across as a team player. He was more of a dividing factor than a unifier.
On the international stage, Trump pulled the US out of several international agreements that have far reaching impacts globally.
Read More
Among them were the Paris Climate Agreement and the Trans-pacific Partnership. He did so because he believes that America comes first.
Additionally, Trump pulled the US out of the Iran Nuclear deal and re-imposed harsh sanctions against Iran. He also pulled the US out of UNESCO. His view of Africa was unflattering.
For a long time, America has stood out as the most open society on earth, yet from the outset, Trump set out to insulate the US from the rest of the world with his Make America Great Again mantra.
His determination to stop Mexican immigrants, and indeed other people from having easy access to the US, ostensibly because they contributed to an increase in crime rates in the US earned him the bigot tag.
Trump went as far as stopping issuance of the Green Card and building a wall along the US, Mexican border to stop Mexicans from entering the US.
Trump's open support for White supremacists brought the issue of racism to the surface. There has never been a more controversial president in the history of the US than Trump.
Many things attest to this, but what stands out was his defiant break from tradition when he refused to concede defeat to Biden, his spirited attempts to discredit the electoral process and outcome through courts and the infamy of inciting his followers through social media to carry out an insurrection at the Capitol Building in Washington. Trump's pledge to make America great again faltered and was lost under him.
That is where Biden's work begins; restoring America's lost glory and making it truly great. Biden takes over a divided nation and has the unenviable task of healing it. Besides, he must undo the damage wrought by Trump's manner of handling Covid-19 in the US that has led to highest death rate globally.