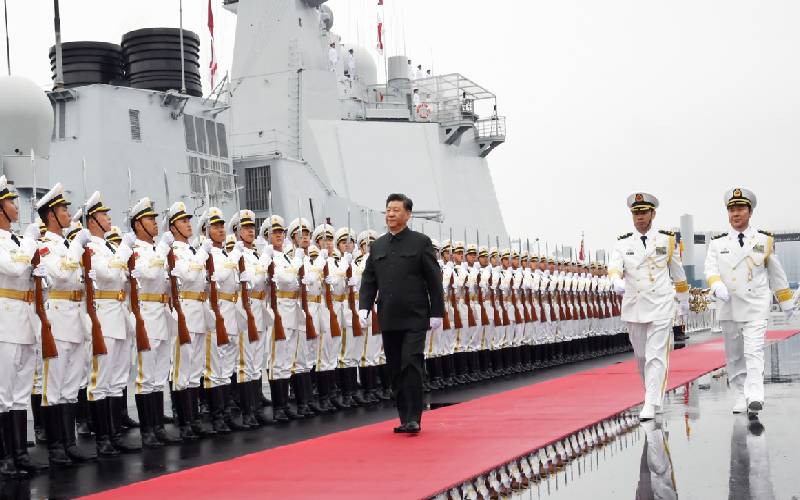 The world is at a crucial stage of evolving international landscape and shifting balance of power, facing growing destabilising and uncertain factors and new problems and challenges on multiple fronts. The human society has once again come to a crossroads of history.
Should one opt for openness or isolation, cooperation or confrontation, win-win or zero-sum game? These are questions we are all thinking hard about. The choice made by major countries will significantly impact the world's future and the entire mankind. Indeed, everyone has a role to play, including those who are trained for adversarial roles.
In January 2015, China President Xi Jinping asked the country's military to "start a new phase of military diplomacy." Xi noted that the China Communist Party has always viewed military diplomacy as an important tool for advancing China's overall diplomatic goals, safeguarding national security, and promoting the construction of China's military.
Over five years later, military diplomacy is even more prominent in China's national diplomacy and security strategy. In a December 2014 article, stated that "This year, China's periphery was definitely not peaceful. China's military diplomacy made greater efforts to use peaceful methods to insist on its positions and dissolve crises."
Read More
According to China's Global Influence: Perspectives and Recommendations, "The international profile of the People's Liberation Army has grown significantly over the last decade, with a notable increase in the frequency and complexity of its activities with partners abroad.
The publication notes that "As the Chinese military participates in multilateral meetings and engages foreign militaries around the world, it is strengthening diplomatic relations, building the People's Republic of China's (PRC) soft power, and learning how to deploy and support military forces overseas for longer periods."
An analysis by Shannon Tiezzi published in January 2015 in THE DIPLOMAT, China's military diplomacy has three main goals - deterrence, agenda-setting, and reassurance. On August 17, 2017 top military leaders of the United States and China signed an agreement aimed at improving communication between their militaries and reduce the chances of miscalculations. The joint staff dialogue mechanism was signed at the Ba Yi, the People's Liberation Army headquarters.
The joint staff dialogue mechanism was the result of diplomatic and security talks in Washington earlier in the year, after a meeting between President Donald Trump and Chinese President Xi Jinping in April, Florida. According to information published by the US Department of Defence, the agreement is intended for crisis mitigation, which was made even more crucial at that time when the region and world were facing the dangers of a nuclear-armed North Korea. The military-to-military contacts between China and the U.S. are important in easing potential friction between the two superpowers.
"To be honest, we have many difficult issues where we will not necessarily have the same perspectives," Dunford said at the opening of the military-to-military talks. "But from the meeting, we had in Washington, D.C., and the meeting we just had, I know we share one thing: we share a commitment to work through these difficulties. With the guidance from our presidents and the areas of our cooperation, I know we will make progress."
Under Xi, China has modernized its military and boosted investment and trade with its neighbours. Xi has also pushed a plan to revive the ancient Silk Road trading route to Europe, part of his "Chinese dream" to rejuvenate the Middle Kingdom and expand its sphere of influence beyond economics to politics and culture.
In a meeting with senior diplomats and military officers early this year, Xi urged them to "keep in mind new tasks that should be carried out under new conditions" and to work hard to "creatively pursue China's diplomacy in both theory and practice, and highlight the global significance of the Chinese dream."
Xi stressed that China must keep abreast with global developments and make "sound, accurate and thorough assessments of the changing international environment" if it wants to be strong and achieve the Chinese dream.
According to the State Councilor and Minister of Foreign Affairs Wang Yi, 2020 will be a key milestone in China's national rejuvenation. The country's diplomacy will focus on the following six major tasks: doing our utmost to serve the domestic development agenda; firmly safeguarding her national interests; continuously deepening partnerships; resolutely upholding multilateralism; actively expanding international cooperation and; vigorously modernising the system and capacity for conducting diplomacy.