We, the children of Saba Saba, must keep the spirit of change alive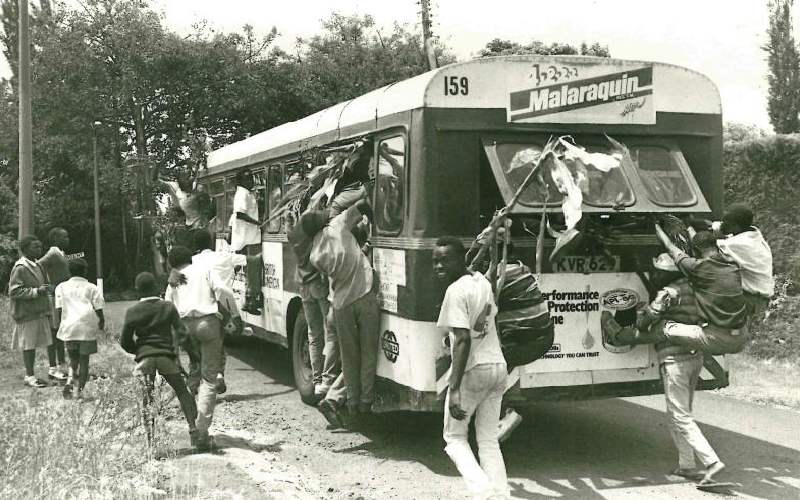 Thirty years ago today, on Saturday, July 7, 1990, more than 5,000 citizens of this great nation – fathers, mothers, daughters and sons – were arrested all over the country and many others maimed or killed for daring to utter the word "multiparty".
Heeding a call by Kenneth Matiba and Charles Rubia, they came out into the streets and towns, markets and village squares to demand a return to multipartyism. That first Saba Saba was as a day of liberation, a day of sacrifice, a day of believing that change was possible. That change was necessary. A year later, in December 1991, President Moi repealed Section 2A of the then constitution and Kenya became a multiparty state.
How had we become a one-party state? At independence, Kenya was a multiparty state, with a decentralised system of governance and a bicameral parliament and regional assemblies. But Jomo Kenyatta engineered the collapse of political parties into one - Kanu - and changed the Constitution to remove the regional assemblies and replace them with a centralised system of government.
When Jaramogi Oginga Odinga formed Kenya People's Union (KPU) after falling out with Kenyatta, he and his colleagues immediately lost their parliamentary seats and the ensuing mini elections were rigged. KPU was banned on October 30, 1969 and Kenya became, in practice, a one-party state. Dissent was ruthlessly crushed and many Kenyans of conscience were detained, tortured, killed or exiled.
In 1982, following the failed coup d'état, President Moi introduced Section 2A to the Constitution, turning Kenya into a one-party State by law. State fear became institutionalised.
These excesses of the State drove Kenyans to start mobilising for a new Constitution as far back as 1985. In 2010, 35 years later, that new Constitution was promulgated. The Constitution is a headstone on the graves of the slain activists, artists, academics, clerics and many others who have been killed for demanding change. The foundation stone of our Constitution is built on the unmarked graves of scores of Kenyans killed in the politically instigated ethnic clashes of 1992 and 1997, and on the mass graves of the victims of the 2007-08 post-election violence.
Sadly, on the 10th anniversary of our hard-won Constitution, two feuding politicians staged a handshake and announced a Building Bridges Initiative (BBI) which is purported to have collected the views of Kenyans and produced a report whose main thrust is a referendum to change the Constitution. The key problem with this proposal is that the Constitution they want to change has not been implemented in full. Secondly, changes to the Constitution have historically been used by the leadership to entrench dictatorship. Any such move must be vigorously resisted by every Kenyan.
Today, political pluralism is threatened. The Uhuruto brigade has overseen the neutering of the institutions that safeguard governance; the Executive has taken control of parliament while the Judiciary has been starved of resources and is continuously under attack. The result is that citizens have been left exposed to the excesses of a militarised State and extra-judicial killings that go unpunished have increased exponentially. The Covid-19 pandemic has exacerbated an economy that is already on its knees. Our non-responsive government has taken advantage of the pandemic to disinherit us.
And this is why Saba Saba @30 is about #TekelezaKatibaBoreshaMaisha. Kenyans must congregate and hold conversations on what Saba Saba means to us. Come together over a livestream at Facebook discuss what Kenyans need to do or join the Social Justice Centers' activists on the #ThePeople'sMarchForOurLives countrywide to demand the basic rights of access to water, food, shelter, healthcare, an end to extra judicial killings and an end to official theft (corruption). March to the nearest village square or town and petition a government officer on these issues.
Saba Saba has been alive for 30 years. It brought us back multipartyism, it brought a change of government in 2002, a new Constitution in 2010, devolution in 2013 and a more accessible Judiciary from 2010. We have made progress, but the fruits of our progress are being devoured by our so-called leaders and our 30 years of struggle are being erased before our very eyes. We must wake up to this threat and urgently devise a plan to take our country back.
After all, we are freer today to talk openly, to criticise the president and his government, to form political parties, to march in protest, to form civic organisations - because there was a first Saba Saba in 1990. We are all children of Saba Saba. We must keep the spirit alive. And believe that because we protest today, freedom is coming tomorrow. Aluta continua.
- The writer is a governance expert, literary scholar and activist ([email protected])