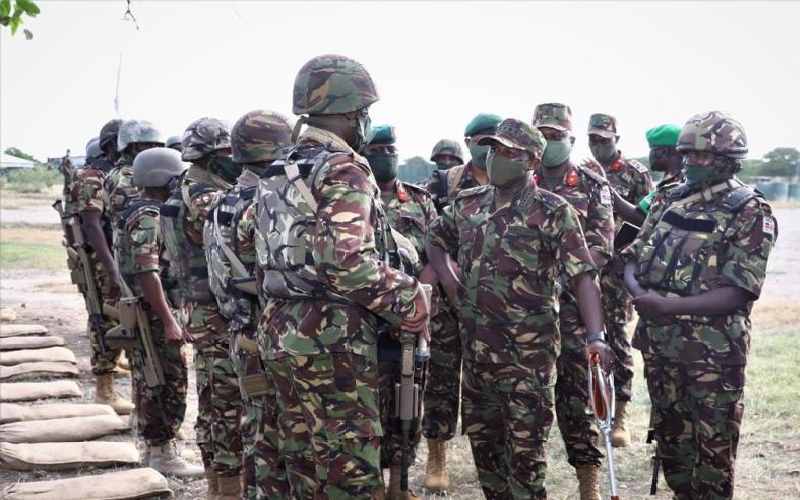 The appointment of a female officer as the Foreign Liaison Officer of the Combined Joint Task Force – Horn of Africa comes at a very important time.
News reports over the past few months have indicated that gender-based violence is increasing due to people staying at home longer than usual. Unfortunately, some men are venting their frustration over the Covid-19-induced situation on the women and girls in their lives.
At the same time, with schools closed, girls are not receiving an education and are statistically less likely to return to school once they reopen.
Read More
This is for a number of reasons, including an uptick in teenage pregnancies due to more time spent at home. In Machakos County, for instance, there are unconfirmed reports of hundreds of teen pregnancies since March.
More women than men also work in the informal sector, which means that more women have been rendered jobless due to the pandemic and are economically vulnerable.
It is important therefore that girls have positive female role models to look up to as they get through this difficult time. The Kenya Air Force Lt Col Rodah Mwasigwa is the first female KDF officer to hold the position of Foreign Liaison Officer of the Combined Joint Task Force – Horn of Africa.
Mwasigwa's responsibilities will include facilitating accurate communication between the task force and the KDF, organising key leadership engagements and facilitating expert exchanges and participation in exercises among military forces across East Africa.
In addition, the Lt Col will liaise between KDF headquarters and the African Union Mission to Somalia (AMISOM). This includes liaising between fellow African militaries as well as coalition partners from North America and Europe.
Fulfilling all of these roles will be no easy task, but Mwasigwa is certain she is the right woman for the job. She was quoted an in-house KDF magazine saying: "In line with the KDF gender policy of 2017, which provided a comprehensive overall framework to guide gender-mainstreaming, KDF has endeavoured to give equal opportunities to all genders who meet the criteria".
There is no doubt that she meets the criteria. During the terrorist attack on Camp Simba at Manda Bay in January, she was part of a joint operation command centre that shared information vital to the counter-attack operation. Playing this key role during a volatile situation shows that Mwasigwa is ready for the challenge, whether in peace time or during more volatile periods.
Her appointment came shortly after that of Zipporah Kioko as the new KDF spokesperson— the first female officer to hold the position.
The appointments are also aligned in general with President Uhuru Kenyatta's forward-thinking gender policies. Ever since Kenyatta became president, Kenya has been a step ahead of the rest in terms of advancing the position of women, especially in leadership roles.
While stereotypical gender roles and the oppression of women is still culturally pervasive in many countries on our continent, and indeed around the world, the ground is shifting in Kenya. There is the realisation that a country cannot rise if half of its population is kept down.
Progressive thinking
The First Lady's continued commitment to ending maternal deaths, female genital mutilation, improving educational opportunities available to girls, and increasing the participation of women in leadership is all part of building an economically developed, progressive-thinking nation.
Increasing the participation of women in leadership positions in the military is especially important to this mission because the military is traditionally perhaps the most male-dominated space. The more we shatter limitations based on gender as a country, the closer we get to our ultimate goal: Reaching the status of middle income country.
There is no space for a traditionally patriarchal country in the cluster of economically prosperous nations. While we still have not had a female president, the past several years have seen more women entering politics and running companies.
These are the kinds of role models that our young girls need to be seeing on a regular basis. And as forward-thinking adults, these are the kinds of women we should be supporting and putting all our trust in.
If the KDF is able to shatter the glass ceiling, then the rest of society is bound to follow.
- Ms Chege is the county MP for Murang'a