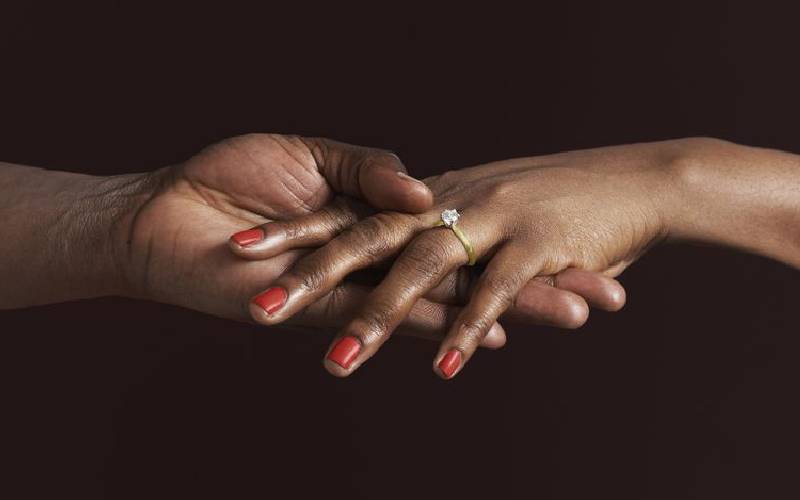 In his 2012 book Rescuing African Marriages in the Diaspora, Abraham Kicha aptly notes that "Marital unfaithfulness … is probably the most damaging thing happening to African marriages in the diaspora. It is also one of the most painful problems African married couples face". Although it is an entire African diaspora problem, a casual look at just the Kenyan diaspora confirms every bit of Mr Kicha's assertion.
Kenyans living abroad, especially in the USA, are baffled by frequent news of domestic violence and even homicides perpetrated by spouses caught up in illicit affairs.
In 2011, a Kenyan was sentenced to 76½ years for murdering his wife and two of their children in their Vadnais Heights apartment in Minnesota. Most recently, in March 2018, Henry Okongo, 51, shot his wife Lydiah multiple times inside their home in New Jersey before turning the gun on himself.
Church's staunchest
Nobody knows exactly what should be done as such incidents are on the rise. Even the church, a refuge for most Kenyans, seems clueless as some of the most outrageous sexual scandals have happened amongst the church's staunchest faithful.
For instance, a few weeks ago, a jilted husband went to a popular WhatsApp group and posted pictures of a man - complete with his name and church – who he accused of sleeping with his wife and siring two children for him! While the incident provided some sort of comic relief in this otherwise very cold and boring winter, the impact on both families and society as a whole is not lost to concerned observers.
Illicit affairs are now the norm here rather than the exception, and sadly some have led to vicious violence or even death. Two years ago, an enraged Kenyan man hacked a woman with a hand axe and almost killed her after he suspected her of having abetted his estranged wife's cheating escapades.
Domestic violence is not acceptable and is a crime in the USA punishable by long jail sentences. One would then imagine that this duplicitous behaviour, which leads to most of the violence, would be checked. But no! Cheating is so prevalent among Kenyans living here that it tops the list of favourite icebreakers whenever two or three Kenyans gather. It is what keeps every husband and wife awake at night. The situation is even grimmer when you consider we are a small community in which almost everyone knows just about everyone. Therefore, you're more likely to know who is cheating with your partner.
According to fatherly.com, it is impossible to know how many people cheat on their partners (data is scarce because people who are unfaithful aren't always the most forthcoming). In fact, the rate of infidelity, according to social scientists, has risen steadily over the past decade.
That it happens is not a surprise; what is always a bit more surprising, however, is the why. But for Kenyans living abroad, the why is probably not complicated: It is sex for convenience and the naive belief that they will never be caught! A case in point is that of a Kenyan pair sharing an apartment room in Minnesota. Both are from Nyanza. What is puzzling is their barefaced, cold blooded infidelity to their Kenyan partners for they make no effort to hide.
Although the man is married back home and the woman has a fiancée dutifully waiting on her in Nairobi, they are involved in an intricate love triangle. The woman has never been faithful even for a single day to her Kenyan fiancée for the period she has lived in the USA. Right off the plane, she went straight into warming the man's bed and she has never left ever since.
Interestingly, their spouses in Kenya are oblivious of this open-air affair. But that's not even the zestier part of the tale. It turns out the woman did not know anyone here after she won a US visa. Her married aunt connected her to the man so he could provide her housing and help her get a job. Turns out the married aunt is also the man's mpango wa kando.
So, the woman is effectively cohabiting with her aunt's boyfriend! Being the louder and more conspicuous of the duet owing to her brusque attitude, she has been going around telling her peers that the man is her uncle, but her demeanor with the 'uncle' has baffled everyone. Yet the man and woman aren't an exception, rather an archetype of the numerous Kenyans cohabiting with married women and men. Most of the victims caught in this kind of situation live in Kenya, faithfully biding their time waiting for their lovebirds to fly home and shower them with gifts and hard dollars from America.
Deny the facts
Many Kenyans are not aware of the goings-on here owing to distance and little information available about how Kenyan communities are set up here. Some people therefore exploit this iron-clad curtain to cheat barefaced. When the man and woman were confronted with this story, they did not deny the facts nor were they remorseful. Instead, they resorted to intimidation and threats, promising unexplained consequences.
It is logical for an adult to seek love from another adult but in this case, and in our situation, this kind of deceitful and salacious behaviour has provoked tragic endings like the two instances highlighted earlier. There are numerous affairs that don't capture headlines which have led to acrimonious separations and divorce, leaving in their wake depressed individuals and badly shattered families.
Mr bw'Onyambu is an educator and human rights watcher in the Twin Cities, Minnesota