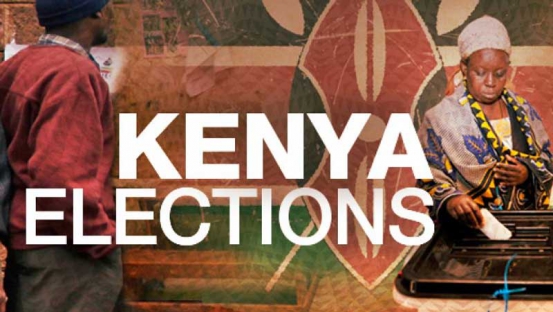 A day before the election, I went to the supermarket for the usual daily supplies. There was frenzied panic buying as thousands thronged the facility in preparation for what seemed like bomb raids.
For an entire week, we were holed up in 'the bunker' following news of the election. A week earlier, a disaster management expert had taken a group of us through a 10-minute crash course on how to prepare for 'Kenya's election'. We needed enough stocks of petrol, just in case flight was necessary, he urged. We were advised on the wisdom of stocking up on non-perishable foods, and how to stay alive in this anxious times.
That our election was considered a disaster worth preparing for was telling and troubling.
Meanwhile, the elections ended as Uhuru Kenyatta was declared winner even as the Opposition protested the win. Violent protests broke out, followed by a brutal crackdown from the police. If these protests are understood as a message and not as affronts against the state, we will emerge stronger. If Kenya does not learn from her history, she is condemned to repeat it.
For the President, this win might as well be costly, if the faults that defined his previous term are continued. To whom much is given, the wise say, much is expected. Kenya risks rolling back the immense gains she has made in the last two decades if we do not hold four very important conversations.
Read More
First, we need to have a conversation on governance, and by extension how we conduct elections. We must not allow elections to impose an artificial state of emergency on us. In all major cities, everyone stayed indoors, transport was slowed or grounded, food production stalled, social events postponed, businesses shut and the daily routine of Kenyans terribly disrupted.
Elections need not pause our lives. Elections must not feed the narrative that Africa is a land of doom and gloom when politicians jockey for power. The Constitution, whose defining feature is devolution, was designed to shift formal, competitive politics to the counties from the centre. Sadly, this has not happened. The presidency appears to be a central organising if not disruptive force, which continuously exposes our awfully ethnicised politics.
To cure the panic that greets every General Election, we have two choices; the first, we must separate the elections of president from those of the legislative arm of government. This will not only eliminate the need to travel upcountry to vote as one can ideally vote for the president anywhere, but will reduce the tension that surrounds elections, and reduce the thousands of spoilt votes.
Also, Kenya must have a conversation around a parliamentary system of government. In this case, Kenyans will simply elect MPs for specific political parties. Those parties with a clear majority by themselves or through a coalition, win the mandate to form government. While this will not entirely cure our tribal censuses every five years in the name of General Election, it will allow for more accountability, less disruption of the everyday, and a possibility for the Ekuru Aukots to have as much a chance of leading this great country as the Uhuru Kenyattas, Raila Odingas or the William Rutos.
Second, we need a conversation on the Kenya we want. I hold the view that the protests, especially from Kisumu, Kibera and Mathare, should not be seen as the random, isolated grievances from sections of our society, but as part of a wider message and verdict on the prospects of inclusion and exclusion in this country. Huge parts of this country feel left out. Uhuru's legacy will not be judged on the speed of Chinese built trains, or the number of title deeds issued, but on the extent to which Kenyans feel part of the project called Kenya.
Kenya is hurting. The purported Kenyan project built on 'tyranny of numbers', where a cabal of tribal chiefs lord it over others is hazardous for the country. Neither is it the future we wish for our children and their children. Such a provincial focus on nation building will only embitter and isolate the many Kenyans who genuinely want to be part of the Kenyan story. The buck stops with Uhuru Kenyatta. He must lead conversations on the type of Kenya we would all want to live in.
Such a conversation must not be elite driven, but must be broad based. To win an election demands magnanimity. The suggestion by the Deputy President that implementing the Truth Justice and Reconciliation Commission Report (TJRC) will cause chaos is rubbish. It is also myopic. We cannot afford to transfer the scars and wounds of yesteryears to our children and their children. That is bucking responsibility. Implementing the TJRC is not a historical witch hunt, it is a vital process of healing that our nation must address.
If Uhuru will not implement the TJRC report or lead a process of national healing, a time will come when another leader will lead it. Such a leader will be the father this country groans for, but has never had. I get confused when I hear Kenyans argue over the issue of peace and justice, and which should be primed over the other. Our national anthem settles it. Only after justice becomes our shield and defender can Kenyans live in peace and unity. Justice begets peace.
A third conversation we must have is the kind of media we want. Media historians have cited Kenya's media as among the very few in Africa that rattle the reliability scale. I am not sure if this is still the case. In this and the last poll, the media has generally not done very well in driving the agenda, asking and following up the critical questions and being socially responsible. Instead, we have seen triviality displace the serious, and superficiality dislodging analysis. We bear the banners of 'truth' 'boldness' or 'fearlessness' but struggle to live and work by them. I do understand that the newsroom ethnography is complex, and often ownership, patronage, dominant partisan interests obstructs and wrestles against good old time professional journalism.
But all these power dynamics cannot completely muzzle a media that at the very least will be bold enough to ask 'why and why not'. Recently, Kenyans might have briefly relieved the Kanu days when offshore media companies like the BBC and Al Jazeera provided a more complete picture of the post poll controversy, even as local media inundated viewers with too much English and very little insight.
Certainly, as has happened before in our media culture, the consumers of media will go forth and look for what speaks to their reality. And as always, media change will not be prompted by internal imperatives, but shall be imposed by the shift in media consumption of average Kenyans.
Finally, Kenyans need a conversation over the type of policing they want. The police reforms have clearly failed. Rather than a service, what we have is a force. We cannot have both, we must choose one.
Dr Omanga is a lecturer of Media studies, Moi University