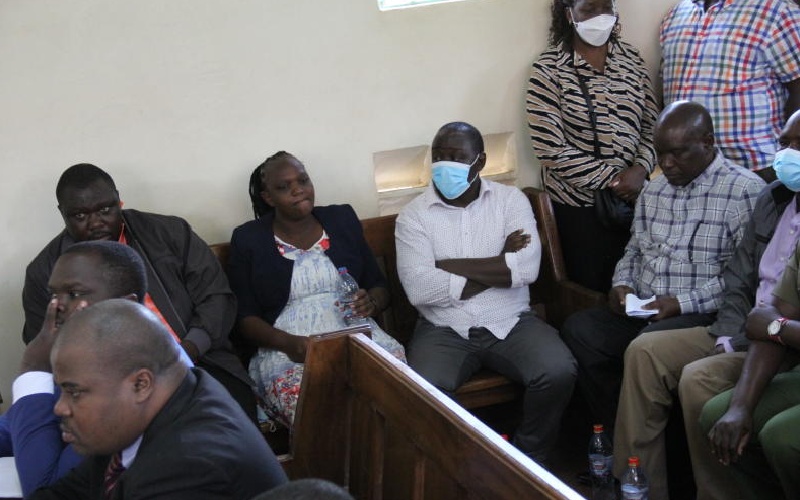 Five former officials in the Homa Bay County Assembly who were convicted of embezzling Sh27.8 million have been slapped with a Sh59.04 million fine after being found guilty by a court.
The five, Bob Kephas Otieno (clerk of the county assembly), Caroline Chepkemoi Sang (principal finance officer), Maurice Odiwuor Amek (principal accountant), Michael Owino Ooro (majority leader), and Isaac Ouso Nyandege (minority leader) also received different jail sentences.
In what came as a shocker to the five accused, the court also barred them from being elected for any seat or holding a public office in the next 10 years from the judgement date.
"None of the convicts will be elected or appointed for a public office," said Senior Principal Magistrate Thomas Obutu.
The judgment casts a dark shadow on the political future of Nyandege, who is eyeing the Homa Bay Town West ward MCA seat.
The former officials were charged with ten counts in total. In the first count, each of them was charged with conspiracy to commit an offence of corruption and were each fined Sh500,000 or three years' imprisonment.
In the second count, Otieno was found guilty of misappropriating Sh4.3 million and was fined Sh8.6 million or six years' imprisonment, while in the third count, Sang was convicted of misappropriating Sh7.21 million and was fined Sh14.42 million or a jail term of six years.
Amek was charged in the fourth count of misappropriating Sh7.21m and was fined Sh14.42 million or a jail term of six years. Ooro was convicted of misappropriating Sh4.24 million and fined Sh8.4 million or serve a jail term of six years.
In count six, Nyandege was fined Sh3.5 million or a jail term of five years. Otieno, Sang' and Amek were also charged with four more counts of abuse of office, with the court slapping them with a Sh300,000 fine for each count or a jail term of three years for each count.
Obutu ruled that the jail terms will run concurrently. They have 14 days to appeal the sentence.