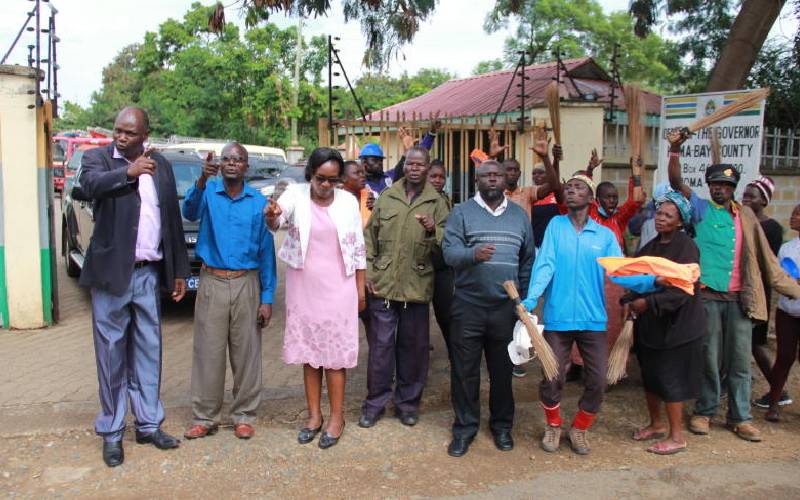 The absence of governor Cyprian Awiti from the public scene at a time residents of Homa Bay County are facing a myriad of challenges is causing concern.
Health services in the county have been paralysed for the second week after medics downed their tools demanding payment of their two months' salary arrears.
Other county workers joined in the strike on Monday this week, also, over the nonpayment of their salaries.
Many residents are also faced with an acute shortage of water, especially in urban centres, for the last two months. The shortage of water started when Kenya Power disconnected electricity to the main water pump over unpaid bills.
Yet the governor has remained silent and has also not appeared in public over that period, causing residents a lot of concern.
Leaders led by the Chief Advisor of the Intergovernmental Authority on Development (IGAD) Kenneth Kambona, Homa Bay Town East MCA Juma Awuor and Homa Bay County Bunge La Wenye Nchi Speaker Walter Opiyo want Governor Awiti to break his silence.
Kambona expressed concerns that the crises are going to injure the lives of the county residents, especially in a situation where no public hospital is functional.
Dr Kambona argued that it is wrong for health facilities in the county to be dysfunctional.
He blamed Governor Awiti over his silence and absence in the county.
"Shutting down public health facilities in the county because of salary arears is wrong. It is unfortunate the governor can neither be heard nor seen in the count to address the issues," Kambona said.
He argued that lack of clean water in the county is predisposing residents to risks of contracting communicable diseases.
"Clean water is key for good health. Use of untreated water will cause serious damage in the county. Let the governor come out and address the issues," Kambona said.
Awuor pushed the county government to pay the workers their salaries.
"Let the governor come out and pay the workers their dues to enable county government services to resume in Homa Bay," said Awuor.
Opiyo described what is happening in Homa Bay as a serious violation of human rights.
"Access to clean water and healthcare are rights of the people. The crises in our county must should dealt with amicably to rescue our people," said Opiyo.
However, the Chief of Staff in Governor Awiti's office Eliud Otieno said the governor is working on the issues.
"The governor is aware of the issues and he is working on it every day to ensure the workers get their pay. Let residents be calm," Otieno said.