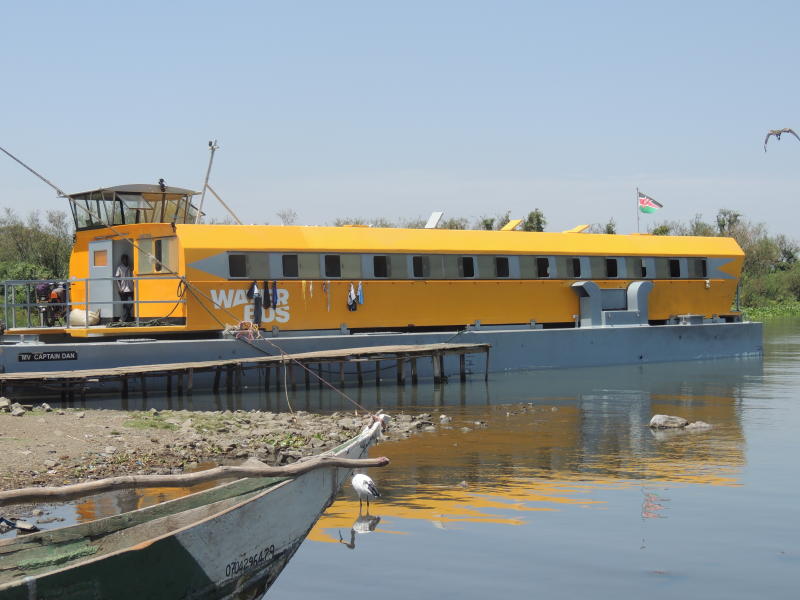 Hundreds of travellers on Lake Victoria were stranded for more than two hours on Tuesday after protesting residents blocked a new boat from landing at the Luanda Kotieno beach.
The vessel christened MV Captain David was launched on Sunday and started operations on the Mbita-Luanda Kotieno route on the morning of the protests.
The route was previously served by a single boat, the MV Sigulu. Sources said the alleged bone of contention was that Waterbus East Africa, which manages both vessels, had not consulted locals before launching the second boat.
Angry residents lit bonfires and barricaded the landing site with boats, forcing company officials to seek the intervention of the Kenya Coast Guard Services.
It was only after the intervention of the chairman of Luanda Kotieno beach that the MV Captain David was eventually allowed to dock but on the condition that it would not pick any passengers for the return journey to Mbita.
The travellers were left with no option but to use small-engine boats to cross the lake.
"We are not against the operations of the water bus company on this route but our concern is the move by the company to add another vessel," said a resident, adding that they were not involved "yet they are key stakeholders in that sector".
They warned that the vessel will not be allowed to ply that route until the small boat operators can strike a deal with the company on how they can work without incurring losses.
Lake trials
But in a quick rejoinder, the water bus company denied the claims of not involving the local community, saying MV Captain David was at the beach for about one week doing lake trials.
Waterbus East Africa Business Development Manager Annie Ng'ang'a urged residents to embrace the new transport changes.
"In as much we would wish to give the local community first priority, we also need to be compliant lest we be suspended from operations," said Ms Ng'ang'a, adding that withdrawing the vessel from the route was not an option.
The manager said the idea behind introducing the MV Captain David was as a result of the suspension of ferry services by the Kenya Maritime Authority two months ago.
"As a company, we can withdraw our services if there is hostility but this will have a negative economic impact in Luanda Kotieno," she said.