Untapped transport potential on L Victoria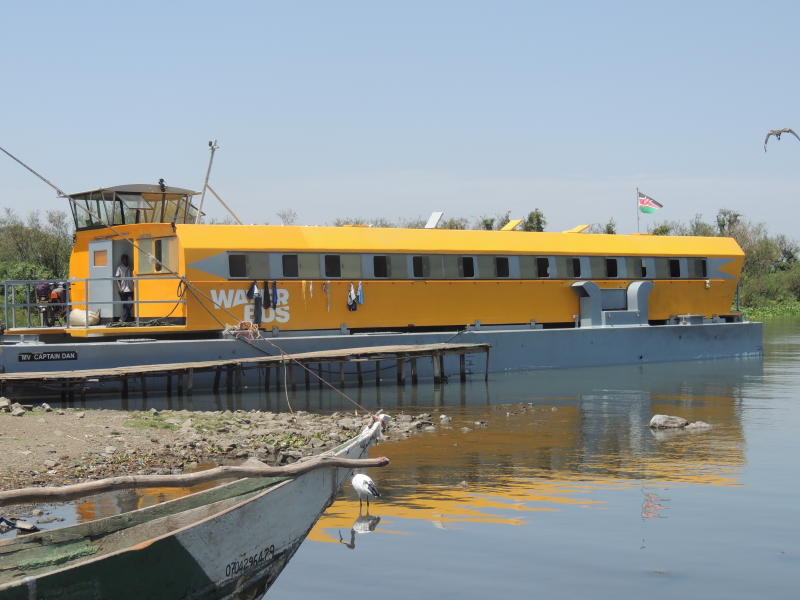 Martin Siso engages the gear sending his boat roaring through Lake Victoria towards Mageta Island.
I lie back and enjoy the lull of the vessel as it laps on the vast fresh waters of the lake.
The vessel came to the rescue of traders who have to cruise through the lake daily after the water bus, which they had been using for over a decade, was involved in an accident in May this year.
"Many people welcomed the vessel, but boat owners were not happy as they believed the vessel had come to take away their business," says Siso, who is also the chairman of Victoria Transport Services Group.
Unlike the wooden outboard engine boats that make two trips a day, the 50-passenger water bus made eight trips, making it convenient for those who have businesses on the island and vice versa.
Stephen Odhiambo who operates a phone and electronics shop in Mahanga Beach reminisces the vessel's comfort, speed and safety.
However, the Victoria Transport Services Group has written to the management of the Mbita Ferry Services requesting a ferry that would ease movement in and out of Mageta Island.
According to Siso, there are more than 300 people who use lake transport daily from Usenge to Mageta Island.
"This is a big number plus the goods that are ferried to the islands. The vessels we have are not enough," adds Siso.
Ben Otieno, a resident of Luanda Kotieno beach says if well utilised, lake transport is the best because of the connectivity it offers and zero maintenance on the waterways like roads that wear out.
"The lake needs no repairs and no congestion like what is being experienced on our roads. This, therefore, makes it an effective means of transport especially for moving goods," says Otieno.
He adds that the utilisation of lake transport will help in cutting travel time by up to three hours.
Omondi Were, who plies Osieko-Marenga route, cites lack of funds by local transport boat operators to invest in the sector. He explains that for one to construct and equip a 100-capacity passenger boat, at least Sh1.5 million is needed.
"Constructing a wooden boat will take between Sh300,000 and Sh450,000. Registration by Kenya Maritime Authority will take about Sh6,000 while the purchase of life jackets for 100 passengers and training of two coxswains will cost Sh120,000 and Sh200,000 respectively," explains Were.
With a single trip per day, Were says he is not able to construct another boat because of the little income.
"The safety requirements are good but they don't favour upcoming investors in the sector like most of us who live from hand to mouth," he adds.
For Were and Siso, more investors, including the national and county governments, should tap into the potential trade. Notably, Siaya County government plans to construct jetties at Uhanya and Luanda Kotieno in Bondo and Rarieda sub-counties, respectively.
This, according to those interviewed by The Standard, is very little for a sector that not only provides employment to thousands of people, but also generates the highest revenue to the county.
According to John Omanga, the acting director-general at Kenya Maritime Authority (KMA), the resource is largely underutilised.
He explains that in order to make use of the resource, there needs to be an infrastructural framework like building piers that will allow bigger vessels to dock.
"Once you've established the infrastructure then you make it possible for people to have ships. After this, you will get money to give to investors and establish a tax framework to guide the investors," explains Omanga.
Omanga also adds that in order to realise full utilisation of the lake, awareness should be created to ensure that the consumers appreciate what they have.
"Other countries have established a maritime cluster development fund that helps in making money available to investors, creation of infrastructure along the water and dealing with pollution," he says, adding that a regulatory framework should also be created to guide the investment.
Last year, Mbita Ferry Services announced plans to launch at least two passenger ferries on the Kisumu-Homa Bay and Siaya-Migori routes, signaling a return to the once-vibrant lake transport, which collapsed decades ago.