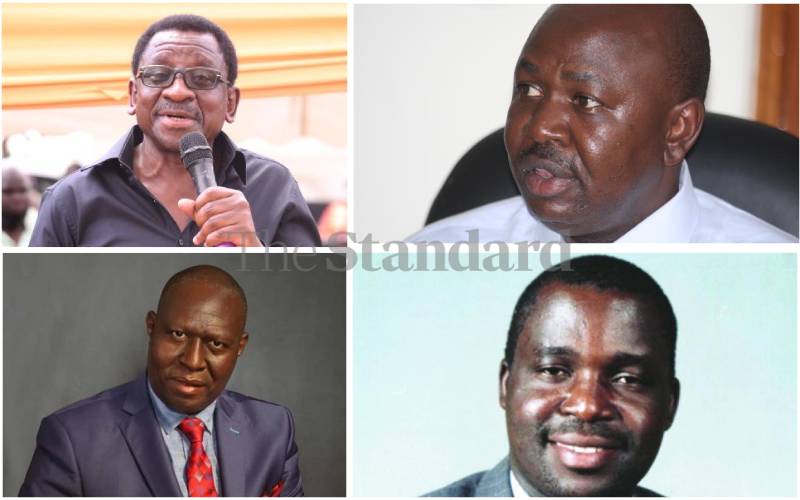 Just months to the August 9 elections, a tight contest is shaping up in Siaya County where a little-known party, Movement for Democracy and Growth (MDG), is hoping to wrest the governor seat from Raila Odinga's ODM.
Siaya is the home county of ODM leader Raila Odinga.
In 2017, former Rarieda MP Nicholas Gumbo narrowly lost the governor race to Cornel Rasanga. Mr Gumbo — who ran as an independent candidate — got 179,368 votes against Mr Rasanga's 198,889.
Gumbo has announced that he will contest on an MDG ticket.
Aspirants eyeing the ODM ticket are Rasanga's deputy James Okumbe, Siaya Senator James Orengo and former police spokesman Charles Owino. The winner of the primaries will face off with Gumbo.
Choice of political party and running mate, development record, and clannism are among factors that are expected to decide the race.
MDG believes it can surprise ODM, which has dominated politics in Nyanza since its formation.
Gumbo has teamed up with Ugenya MP David Ochieng in campaigns. He and Ochieng are against the six-piece voting pattern Raila is advocating in his perceived strongholds to cut out opponents.
Orengo believes his role in building ODM and his closeness to Raila give him an advantage over opponents. He enjoys massive support in the region with all elected ODM MPs and party members from the region endorsing his candidature. They also have been campaigning for him on public forums ahead of party primaries.
On Sunday, Orengo asked residents to reject non-ODM members vying for any seat in the county.
"Siaya is the backyard of Raila. It will not be easy for a governor who is not an ODM member to work with Raila should he (ODM leader) become president," said Orengo who spoke at Siriwo in Gem Sub-county.
"Having an ODM candidate as governor will make Raila's work easy during his trips to the county," Orengo said as he dismissed the candidature of Gumbo and declared he is best-suited to succeed Rasanga who has served the maximum two terms.
Gumbo fell out with Raila and ODM following the party's shambolic nominations ahead of the 2017 elections, and went ahead to team up with several independent candidates.
Then, Gumbo's camp included former Gem MP the late Jakoyo Midiwo and the late Florence Aluodo.
A few days ago, Owino while addressing mourners in Ugenya, told Gumbo to forget about the governor's seat, saying political matrix of the region will automatically rule him out, especially if East African Legislative Assembly MP Oburu Oginga, Raila's elder brother, goes for the Senate seat.
Owino argued that with Raila going for the presidency and Oburu for the Senate seat, it will not make sense for Bondo and Rarieda constituencies to get the governor's seat.
"I ask Gumbo to pray so that Orengo goes back to the Senate because if Oburu is going to be the senator, Gumbo will be in problems," said Owino.
Orengo, who is backing Oburu in the Senate race is from Ugenya Sub-county while the Eala legislator is from Bondo.
Orengo is said to be consulting with local leaders and hopes to get a running mate from Alego Usonga Sub-county to boost his chances. His possible running mates are politician William Oduol, who vied in 2013 but lost to Rasanga, and medical doctor, Kevin Osuri who at one point was interested in Alego Usonga parliamentary seat.
In 2017, local ODM leaders divided crucial seats among the six constituencies. Alego Usonga took the governorship, Ugenya got the Senate seat, Rarieda was given the county assembly speaker while Gem and Ugunja constituencies got Woman Rep and majority leader of the county assembly respectively.
Gumbo asked Owino to drop his bid and join his camp saying: "Owino, you are a good man and you can make a good governor. However, you are not better than me. Join my team so we can make Siaya greater. Let us work together so that good plus better can become the best."
Gumbo also questioned "Orengo's sudden interest in the county's top seat yet he had declined the job when local leaders wanted him to vie for it in 2013".
"Orengo had said, during a meeting attended by all Siaya leaders who included Raila, that he was not capable of being an administrator and was most interested in national politics and running his law firm in Nairobi. What changed?