Wanga urges State to buy ferries, ease trade on lake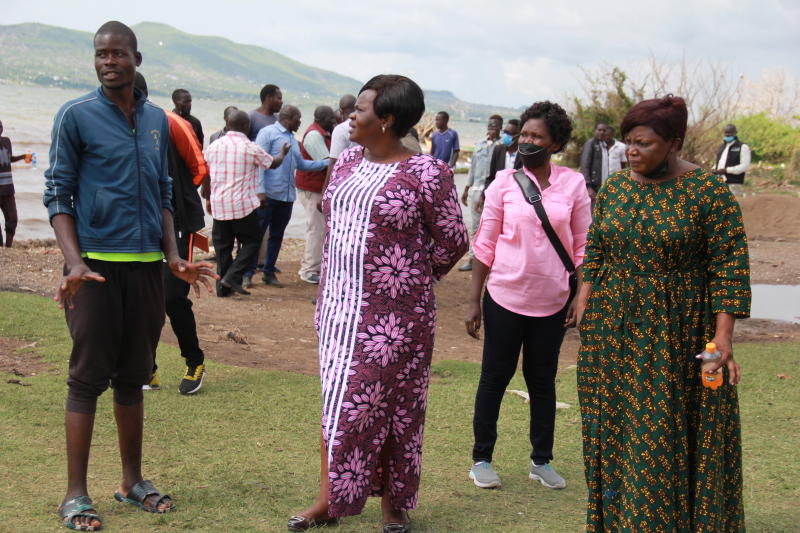 The government has been urged to buy a public ferry to enhance the blue economy in Lake Victoria.
Homa Bay Woman Representative Gladys Wanga said the ferry will be used to access islands on the lake.
Ms Wanga, who was speaking on Tuesday at Nyachebe beach in Suba North constituency during a meeting with fisherfolk, said money to buy the boat should be factored in the budget for the next financial year.
She argued that the blue economy could not be tapped satisfactorily without a vessel owned by the State that could be used to ease transport from the mainland to the islands, and between islands.
"I am appealing to the government to allocate funds in the budget so that a ferry can be bought for people using Lake Victoria. Setting aside the money in the budget means the vessel will be bought by either this government or the next government that comes to power in August," she said.
Lake Victoria has many islands that serve as landing sites for fishermen. This makes it possible to prepare and eat the fish while it is still fresh.
Some of the islands surrounded by the fish-rich waters are Remba, Ringiti, Kibuogi, Kiwa, Takawiri, Mfangano, Rusinga and Migingo. "The blue economy is the current focal point in economic development. Lake Victoria is a significant resource which can transform lives of the people. This can only happen if proper means of transport to our islands is available," Wanga said.
The MP said that many development projects in Mfangano Island had ground to a halt due to lack of ferry services.
This is after the Kenya Maritime Authority (KMA) suspended operations of two ferries that were operating between Mbita town and Mfangano Island, and Mbita town and Lwanda Kotieno trading center in Siaya County through Lake Victoria. The KMA issued the restraint order on December 21.
Wanga called on KMA to lift the travel orders issued on December 21 and allow Mbita Ferry Services Ltd, which owns the ferries, to resume operations. She argued that any compliance issues could be addressed with the boats on the lake.
"It is ideal to have a government ferry but the KMA should allow the management of this private company to operate. People are suffering and many development activities are at a standstill."