Nyamira politicians left stranded after pastor orders mourners to leave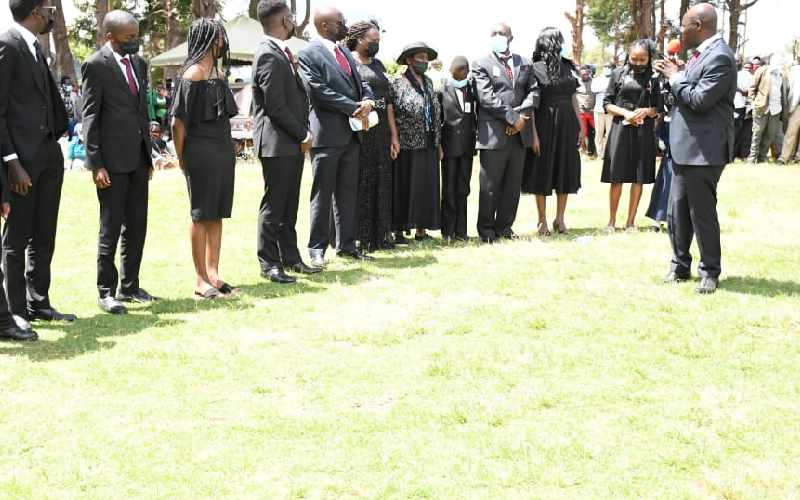 A pastor presiding over a funeral in Nyamira has left people talking after he prematurely ended a funeral service denying politicians a chance to speak.
Pastor Charles Obara of Christ is the Answer Ministries (CITAM) was presiding over the burial ceremony of Wilkister Nyangito, when a group of politicians arrived accompanied by an unruly crowd.
Instead of concentrating on the sermon, the crowd continued heckling and disrupted the funeral service that was being led by the Church provoking the pastor to order the mourners to leave the venue.
The late Nyangito was the wife of Philemon Morara, a Nairobi based advocate. The deceased was a sister to the former health Principal Secretary Dr Hezron Nyangito.
She died two weeks ago after a long battle with cancer. Her remains were being interred in Gesore within Nyamira Township.
Efforts by the pastor and ushers to calm the crowd so that the sermon could be delivered bore no fruits as they continued to heckle while occupying the entire tent that was meant for the church guests.
"There is a lot of noise and if you are not going to keep quiet, I know what I will do," the clergyman said.
When the pastor was done with his sermon, he ordered the family to leave the venue as he led them to the burial site.
Left with no option, other mourners followed the family leaving the politicians with their supporters who had accompanied them.
The politicians eulogized the deceased as a dedicated legal mind and politician whose star was dimmed early.
In 2012, the government banned politics in funerals and ordered chiefs, assistant chiefs and district officers to arrest politicians who flout the directive.
Politicians were directed to notify the police if they want to hold a political rally instead of turning funerals into political forums.
Then Internal Security Assistant Minister Orwa Ojode said the government does not send security officers to funerals, as they are not political platforms.
"Let politicians be warned that we will arrest them if they do not stop their political speeches in funerals. Let them hold political rallies instead of using funerals to chart their agenda," Ojode said.
He asked the Church to take a leading role in ensuring that politicians do not turn funerals into political podiums.
The move followed an incident in Oyugis where then Immigration Minister Otieno Kajwang, Kasipul Kabondo MP Oyugi Magwanga among others were caught up in chaos at a funeral.
The leaders fled as stones and other crude weapons were hurled during the funeral service of the immediate former Oyugis County council mayor.