Another Bondo goldmine collapses, one person confirmed dead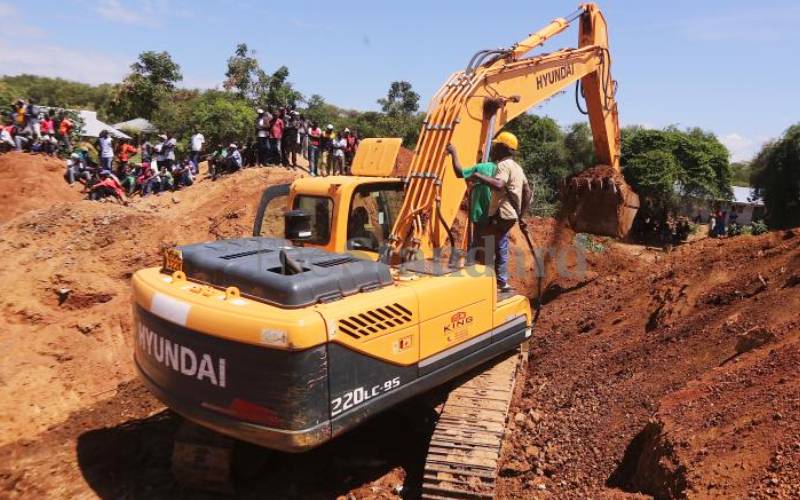 One miner has died while at least four others were rescued after a gold mine collapsed in Waringa village, Bondo subcounty.
Odhiambo Oliech is the name of the deceased.
According to sources, the miners were on their normal mining operations when the incident happened around 2pm.
Area police boss Roseline Chebosho confirmed the incident, saying officers are already at the scene.
"One person is confirmed dead and I will give details after the assessment of the scene is done," said Chebosho.
The incident comes barely two weeks after another gold mine collapsed in Abimbo village, trapping eight people.
Six people were rescued alive while one was recovered dead. The search for the eighth miner is still on, with the family still camping at the site.
The search for one miner who is still trapped in Abimbo goldmine in Siaya County has entered the second week.
The family of Tom Okwach is still camping at the site, with hopes that the more than one-week-long rescue operation will end soon.
On Tuesday, family, and friends of Jacob Onyango, a survivor of the December 2 tragedy held celebrations at their home in Malela, Rarieda sub-county.
Caren Adhiambo, Onyango's mother told The Standard that she was happy to see her son alive after the horrifying incident.
"Even as we celebrate, we are still holding prayers for the family of the miner who is still trapped," said Adhiambo.
Onyango, who could not hide his joy thanked God for rescuing him but appealed to the government to deploy experts at the site in order to rescue Okwach who is still trapped.
With the big crowd that had gathered at the site fading away and operations in the nearby mining sites resuming, Okwach's family now clings to hope and prayers.
Last week, the Anglican Church of Kenya Mothers Union conducted prayers at the site and donated some foodstuff to affected families.
Even though there is scanty information about the state of the trapped miner, rescuers say they're racing against time to save Okwach, who was among the eight miners trapped while mining last week.
Until five days ago, the rescuers said they were communicating with Okwach through a pipe that was also used to pump in oxygen.
When The Standard visited the site yesterday, the compressor that was used to pump in oxygen after every ten minutes had gone silent, with a section of Okwach's family members fearing for the worst.
"I will not leave here until I see my son even if it will take me months. I am not sure whether he is alive or dead," said Okwach's mother.
On December 8, three victims were rescued and taken to Bondo Sub-County Hospital where they received treatment.