Kin hang on to hope as one miner still trapped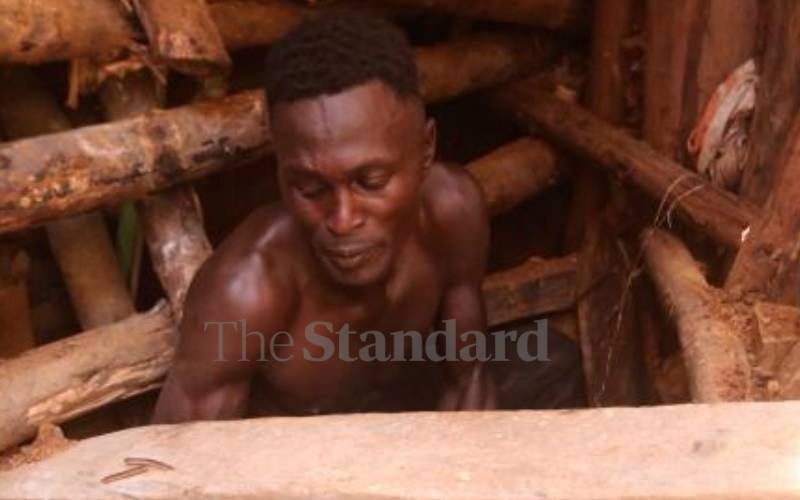 The search for a miner who is still trapped inside Abimbo gold mine in Siaya continued for the eighth day.
Rescuers say they're racing against time to save Tom Okwach, who was among the eight miners trapped while mining last week on Thursday.
On Wednesday, three victims were rescued and taken to Bondo Sub-County Hospital where they are still receiving treatment.
With the big crowd that had gathered at the site fading away and operations in the nearby mining sites resuming, Okwach's family now clings to hope and prayers.
On Wednesday, the Anglican Church of Kenya Mothers Union conducted prayers at the site and donated some foodstuff to affected families.
Bondo MP Gideon Ochanda raised concerns over delays in the rescue operation, saying there was a lot of bureaucracy from the national government.
"We asked for assistance from the National government but up to now, there is no response. We thank the county government of Siaya for its effective response," said Ochanda.
Martin Sikuku, Okwach's father, told The Standard that he is optimistic his 35-year-old son will be found alive.
"The rescuers say they've been communicating through a pipe and that makes me believe that he's still alive," he said. His son is trapped more than five metres underground.
Edwin Ogilo, one of the rescuers, said they are working hard to ensure they rescue their colleague despite teething challenges.
"We managed to get closer to him but the soil around where he is collapsing. We're still trying to find ways of getting him out alive," he explained.
Yesterday, local leaders maintained the site should not be closed, saying it's the sole source of livelihood for the community.