Initiative to sensitise men on gender violence and rights kicks off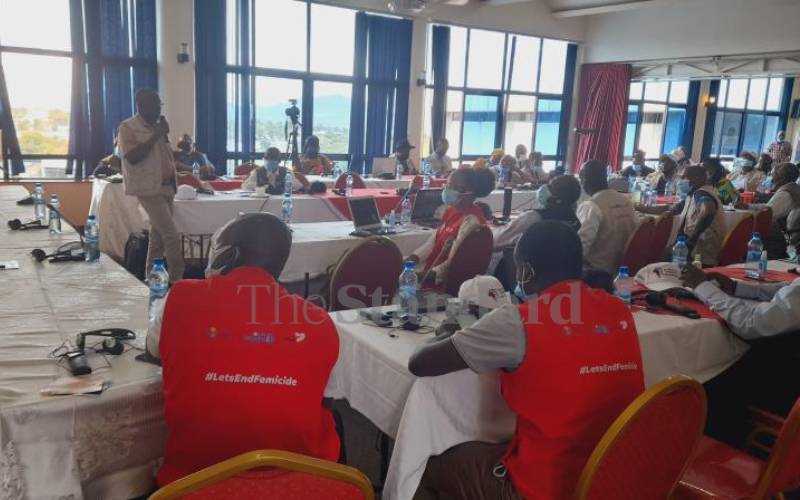 As the world marks 16 Days of Gender Activism, one organisation has launched a programme to sensitise men to stop violence against women.
The programme dubbed "Men to Men" was organised by The African Women's Development and Communication Network (FEMNET) and hopes to engage men and boys on how to end violence against women and girls.
"The data we have indicates that 93 per cent of people who violate the rights of women are men. That is why we have formed the strategy of coming together to discuss the matter as men. Our sole objective is to convince one another to stop violating women's rights," said FEMNET's Peter Gichanga.
"If men sit together, we get the opportunity to share various ideas and challenges which can convince a man who abuses a woman to change his attitude," Gichanga added.
The programme brought together delegates from 14 countries, who held meetings in Homa Bay and Kendu Bay towns to sensitise residents on how to prevent gender-based violence.
Awat Awat from FEMNET said the programme brings men together to talk, noting that the fight against gender-based violence will be won only if men change their attitude towards abusing women's rights.
"If there are men being battered, please come out and speak so that we can get a solution," Awat said, adding that they intend to end all forms of violence including assault against men.
He noted that there are a few cases where men are battered by women but they shy off from speaking about it due to stigma.
The meeting brought together FEMNET delegates from African countries like Malawi, Rwanda, Tunisia, Lesotho, Mozambique, Liberia, Mali and Zambia among others.